Philippines Escapes & Hideaways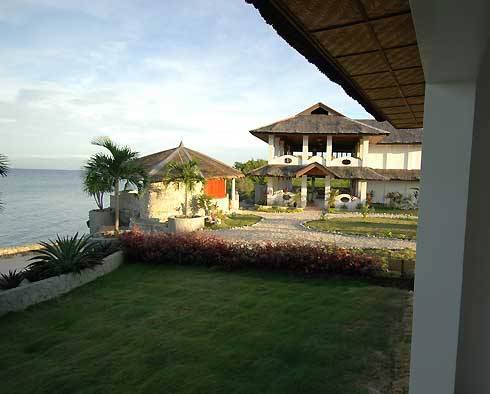 on the beach, From £72
Kasai Village Beach Resort
Moalboal, Philippines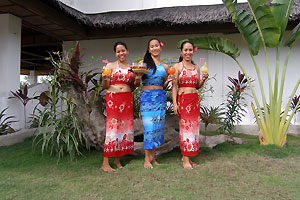 This new, boutique dive resort, located just a few minutes boat ride from the popular Panagsama beach on the Moalboal peninsular, south West Cebu, is an excellent choice for divers coming to explore some of the best known Philppines dive spots, including Pescador Island.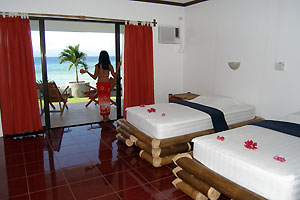 Accommodation comes in 2 standards: 9 large sea front rooms located directly on the shore with their own private terrace and magnificent views across the Tanon Strait and neighbouring island of Negros, and 4 slightly smaller, but still spacious, fan-cooled pool side rooms. More poolside rooms are planned.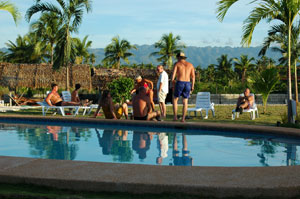 All rooms have air-conditioning, fully stocked minibar, ceiling fan. en suite bathroom with hot & cold water and patio with bamboo tables and chairs.
There is a bar area on the beach and an upstairs restaurant nearby with spectacular vistas over the sea.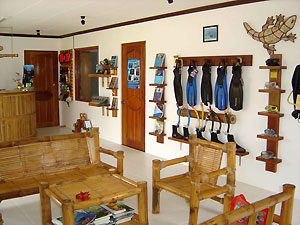 The in house dive centre is expertly managed by renowned, Danish international dive operator, Oxygène, who have other dive operations around the Philippines as well. The dive schooling system is PADI and all courses are offered from try dives to instructor development programmes and technical diving.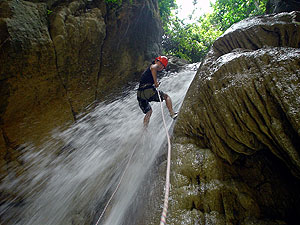 In addition to diving, there are numerous other activities to get involved in around the area, including island hopping, horse riding, "river climbing" and canyoning (using ropes to climb up and abseil down waterfalls) and motorcycle safaris.
Kasai Village Kid's Club – Aqua Rangers
Kasai Village Dive & SPA Resort is considered as a family friendly dive resort.Though dive holidays can be tricky with non-diving children, your child of any age will be cared for and entertained here at Kasai Village resort so you can fully enjoy the dive vacation during your holiday.
For children ages 0 to 4 years, they have caring, intuitive, well trained local ladies who will work with your schedule to maintain a healthy routine for your child. Before you arrive at the resort, you will be consulted about you and your child's specific needs by the resort's onsite childcare facilitator. Whether you want to do at least 3 dives daily and enjoy your meals while baby is cared for elsewhere or planning to take it easy, dive occasionally and spend as much time as possible with your child, or somewhere in between, You, the onsite childcare facilitator and your allocated Filipino nanny) can create a specific childcare plan tailored to your ideal vision of this dive vacation.
*Though their Nannies are very good at what they do, they do have to mention that there are limitations in their language abilities other than English. However, the child care facilitator will always be available to clarify any communication issues that may arise between you and your child's nanny.
Child care for the age range of 5 to 12 years can also be arranged outside of Aqua Rangers hours. Say, if you wish to have a romantic dinner for two or do a night dive, a personalized childcare plan will be established after discussing your needs with the onsite childcare facilitator. Special children's meals and mealtimes can also be organized.
Aqua Rangers
For older children aged 5 to 12 years, Kasai Village Resort has Kids Club -Aqua Rangers (children aged 3 and 4 years can also join Aqua Rangers with their nanny). A variety of fun and educational scheduled activities designed to entertain, amaze and educate your child include:
Nature hunts
Ocean AWARE
Giant bubble games
Beach kite making and flying
Palm weaving
Treasure hunts
Snorkeling
And much more Fun!
Kids Club begins at 7.30 am until 12.30 pm (time for parents to enjoy the two scheduled morning dives) and recommences after lunch at 2 pm until 5 pm (time for parents to enjoy the third scheduled dive or maybe an afternoon house reef dive). Snacks are provided in the middle of each session and as the ratio of Aqua Rangers Conductor to child is a maximum of 1:3, conductors are able to keep your child hydrated and recognize when the group is in need of rest time and indoor activities. Depending on the number of children at the resort during your stay at Aqua Rangers, activities can also be personalized – a dive boat for a snorkel or a Land Tour can be arranged for your child.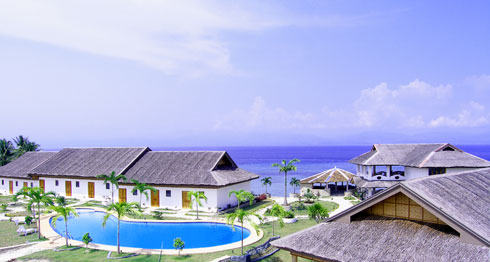 browse all escapes & hideaways
* NOTE. Prices indicated on this website are shown as a guideline only and may be subject to currency fluctuations, banking fees and other changes outside our control. Pricing information is available in
other currencies
.