Philippines Dive Packages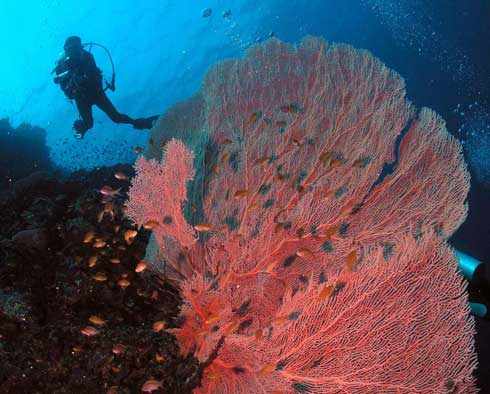 From £518 per person*
Dive Moalboal with Kasai Village
Overview
|
Kasai 7D Dive Package
|
Kasai 4D Dive Package
Choose where you sleep
Kasai Village Beach Resort
Kasai Village offers three different types of scuba diving to the renowned dive sites around the Moalboal Peninsular and in the Cebu-Negros channel - Boat diving from a specially designed, locally crafted outrigger boats (or "Bancas"), shore diving on the excellent Kasai house reef, and Liveaboard cruising. Night dives are made on the house reef and guests staying a week or more may also enjoy 1-2 guided boat night dives.
Boat Diving
Because of its very fortunate location there's a wide range of superb dive sites within reach for the Kasai dive boats. There are than 30 sites that are regularly dived, ranging from 5 minutes to up to a maximum of an hour boat journey away. Most sites are within minutes from the resort.
Prior to each dive there will be a briefing by your guide. A sketch of the dive objective is displayed, the likely conditions discussed and a dive plan rehearsed. Known marine inhabitants and their locations are explained, along with specific advice for photographers. Your guide will enter the water first and, if conditions are as expected, the "pool is open". Otherwise, your guide will amend the dive plan before giving an OK to enter the water. Boat dives always have trained guides to locate and point out marine life and/or assist divers as needed.
Snacks and Fruits are served between consecutive boat dives.
Shore Diving
Simply gear up, step right out on the beach, get in the water, flip your fins a few times and enjoy some of the most amazing reef life you will ever see!
On the house reef you can spend hour upon hour throughout your stay. Most dives will be in a slight current meaning that you will drift at various speeds along the reef while exploring it's beauty. You can enter and exit the water right in front of the resort at high and medium tide while at low tide you will need to use the jetty. Due to our location you can shore dive at any tide.
You can dive the amazing house reef in buddy teams beginning at 06.00 a.m.
Night Diving
Night diving at Kasai Village house reef is fantastic! One or two night dives (depending on length of the trip and weather) will be offered from the boats. You can dive any night on the house reef in front of the resort (unguided). Simply gear up in the diver preparation area and walk-in off the beach.
Night dives should be finished at the latest by 9.00 p.m. but special arrangements can be made to dive at other hours.
Liveaboard Cruising on the Queen X (more to come)
Nitrox Diving
Kasai Village offers Nitrox fills for Nitrox certified divers. Nitrox certification is available at the resort for those who are not certified and would like to earn this certification while on holiday.
Notes
This dive package can be incorporated into a Symbiosis tailor made holiday to The Philippines that can be adapted and tailored to meet your dates, preferences and passions. Please contact one of our bespoke holiday planners to create the ideal itinerary for you.
* NOTE. Prices indicated on this website are shown as a guideline only and may be subject to currency fluctuations, banking fees and other changes outside our control. Pricing information is available in
other currencies
.