Cambodia Temples & Religion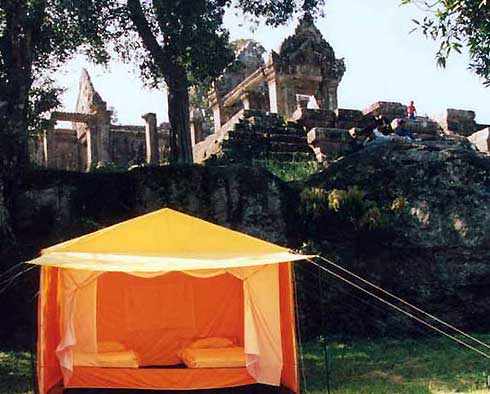 Price upon request
Temples of Angkor Camping Safari
Overview
|
Jungle Temples or Northern Cambodia
|
Phnom Penh to Angkor Wat
|
Siem Reap to Phnom Penh
|
Koh Ker Short Safari
|
Banteay Chhmar Overnight Safari
Temple Camping Safari - Traveling in Style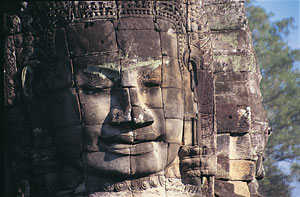 Everyone has heard of Angkor Wat, but few people who have never been to Cambodia (and many who have too) are aware that there are ancient temple ruins from the Angkor period and even earlier literally scattered all over the country, and the only way to explore the remote ones in any comfort is to go camping... deluxe style!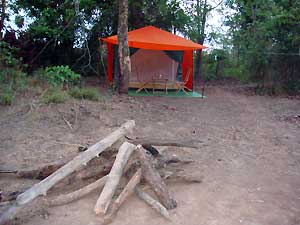 For the historian or simply for anyone curious about this extraordinary bygone civilisation and who wants to go beyond the tourist attractions, exploring rural Cambodia to find some of these ancient sites is an adventure.
Unlike Angkor Wat and the temples of the Angkor Historical Park in Siem Reap, most of Cambodia's temples have not been rebuilt, and many are still swathed in forest...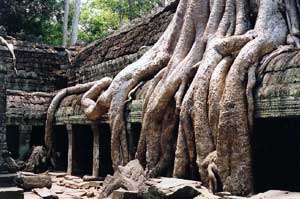 much as Angkor Wat was when the French explorers rediscovered during the colonial period. Like those times too, most of Cambodia remains quite undeveloped and living conditions in the provinces are primitive, including hotels.
Our solution is tents, modelled on those long used for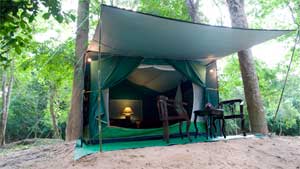 exclusive wildlife safari tours in Africa but adjusted for the local environment. We travel by 4WD, often deep into forest and remote countryside areas where road conditions are terrible.
During our journey we discover typical Khmer villages and rural Cambodian life that few tourists are privileged enough to see.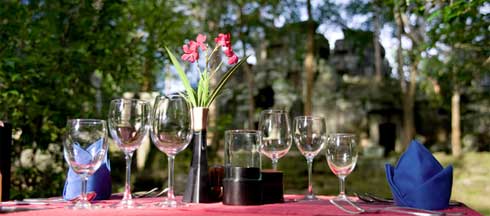 Temple Safari was originally conceived to take visitors off the beaten path to encounter the magnificent jungle temples beyond Angkor, far from the madding crowds. The roads were sometimes bumpy and the temples sometimes dilapidated, but the intimate experience of camping at the walls of an ancient monument more than compensated for some hardships along the way. Many of the roads have since been rebuilt and many of the temples are under renovation, but the essence of the experience remains the same – Temple Safari delivers the Angkor experience of old, timeless temples with not a visitor in sight. Witness the most atmospheric temple ruins on earth, forgotten in the forests for almost a millennia. See sunrise inching over the horizon, the temple ruins lost amid the jungle canopy, the modern world forgotten for a moment in time.

Seasons
The safaris are very much a seasonal adventure, and the best season from November through to April, roughly corresponding to the dry season and the tourist high season. May, June and July need not be a bad time either, as it is hard to predict when the rains will come. October is also usually possible, as the rains are easing up at this time, although later in the month is a safer bet. We would not recommend a safari trip during August or September.

Travel
Travel on safari is by comfortable 4WD. The usual vehicle of choice is a Toyota Landcruiser, as this is built to tackle tough roads. However, we also use Nissan Patrols and Mitsubishi Pajeros for the more accessible Temple Safaris at Banteay Chhmar and Koh Ker.

Camping Safaris by Motorbike
Cambodia Safaris can be tackled by motorbike with support vehicle for the more adventurous at heart. Those with some dirt- biking experience will find the trails of Preah Vihear province some of the most exhilarating biking in the world, with the pay-off of camping out at remote jungle temples at the end of the day. Motorbike tours include a support vehicle, a mechanic and motorbiking tour guide.

The safaris are not for everyone. It may be camping in style, but it is still camping. For those used to African adventures, it will be very familiar, but for others used to hotel chains and sanitised surroundings it may not be ideal. Cambodia remains a very poor country, with limited infrastructure, and this becomes more apparent the further visitors venture from the Siem Reap/Angkor bubble. However, as a taste of the 'real' Cambodia, it is an unrivalled experience that will remain with you forever.

Quad Bikes
For incentive groups or VIPs looking for something very different, we can also arrange a quad biking adventure from Beng Mealea to Preah Khan along the ancient Angkor highway known as Route 66, complete with incredible naga-flanked bridges in the jungle.

The Itineraries
The itineraries linked above are just samples to inspire your travel planning. However, there are many more combinations possible that are not included here. For those that are really looking to have the complete safari experience in Cambodia, it is possible to plan a two-week tour, that includes a couple of nights up the Mekong, some time in the lively capital, a detour to the south coast and a Beach Safari experience, and the signature Temple Safari experience on the road to Angkor.
Notes
This is a tailor made holiday concept which can be adapted and tailored to meet your dates, preferences and passions. Please contact one of our bespoke holiday planners to create the ideal itinerary for you.
* NOTE. Prices indicated on this website are shown as a guideline only and may be subject to currency fluctuations, banking fees and other changes outside our control. Pricing information is available in
other currencies
.