Cambodia Temples & Religion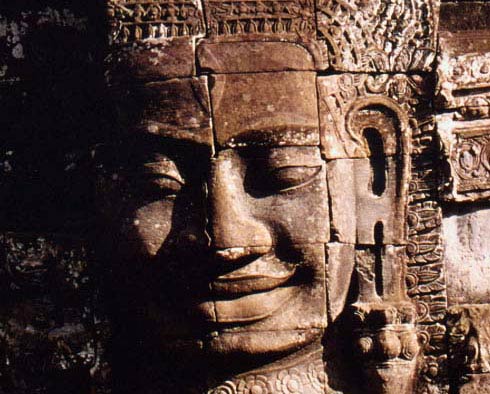 Price upon request
The Empire of Angkor Safari
Overview
|
2 week sample itinerary
A Safari of Ancient Temples & Ruins
Following in the footsteps of the devout and the destructive before us, we discover the heart of the historic Khmer empire on a 15-day odyssey through the Kingdom of Cambodia.
An immense stone face looms out of the jungle, its enigmatic smile hypnotising all those who fall under its gaze. Five stone towers soar skywards from the dense forest, the world's largest religious building, a masterpiece of scale and symmetry. A river flows from the mountain, water weaving its way over lingas and incarnations of Vishnu and Shiva as it tumbles to the plains below.
Welcome to the temples of Angkor, capital of Cambodia's ancient Khmer Empire, and the inspiration for a pilgrimage to this historic kingdom. The perfect fusion of creative ambition and spiritual devotion, the hundreds of temples surviving today are but the sacred skeleton of the vast political, religious and social centre of an empire that stretched from Burma to Vietnam, a city which at its zenith in the 12th century had a population of one million.
However, just as Angkor is more than its wat, with myriad temples scattered throughout this ancient capital, so to is the cultural heritage of Cambodia much more than Angkor, and in the steaming jungles of Cambodia, forgotten to the world for centuries, lie several stunning religious monuments. We come face to face with a millenium of history spread throughout contemporary Cambodia.
Starting in the bustling capital of Phnom Penh, we journey south to discover the legacy of the pre-Angkorian Funan kingdom of the Mekong basin. Moving into the 7th century, we journey north-west to Sambor Prei Kuk, the first temple city in South East Asia, once known as Isanapura.
Continuing to Siem Reap, our base for a extensive encounter with Angkor, highlights here include the vast walled city of Angkor Thom, magical Ta Prohm, swallowed by the jungle and left as it would have been found by French explorer Henri Mouhot, who "rediscovered" the temples in the 1860s, and the unique River of a Thousand Lingas at Kbal Spean.
From Siem Reap, we embark on the ultimate cultural adventure, taking a Temple Safari to the remote jewels of the Angkor empire, using luxury Angkor Safari Tents. We journey north-west to the narrow fortress of Banteay Chhmar, renowned for its 32-armed sculptures of the Buddha of Compassion. Veering east, we make for Preah Vihear. The views from this most mountainous of temple mountains are breathtaking, the foundation stones of the temple stretching to the edge of the cliff as it plunges precipitously away to the plains below.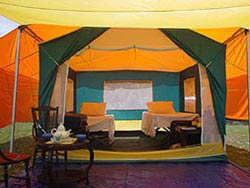 Returning towards Siem Reap, we explore the usurper capital of Jayavarman IV at Koh Ker, the immense pyramid temple of Prasat Thom towering over the dense jungle. Finally, we experience Beng Mealea. Abandoned for hundreds of years, no restoration work has been carried out here, allowing nature to run amok, prising ancient stonework apart, crushing corridors and slowly reclaiming this land as its own.
Cambodia has a unique history, an evolving history, a living history. Experience this history on our journey "Historic Kingdoms of Cambodia: The Empire of Angkor". Join the journey of a lifetime on special departures with Lonely Planet Cambodia author Nick Ray as your tour leader and lecturer from 4-18th December 2004 or 19 March - 2 April 2005. These tours are limited to a maximum group size of 18. Hotels for these scheduled departures are international 4* standard in Phnom Penh and Siem Reap, 2* in the provinces and luxury tents at the remote temples. Meals are on a full board basis and include a local guide throughout, as well as Nick Ray.
Included: tour leader and lecturer, local guides, accommodation, all meals
Excluded: all flights, insurance, visa, departure taxes, drinks
"Historic Kingdoms of Cambodia: The Empire of Angkor" can also be run as a tailor-made trip for individuals or small groups at any time with any standard of hotel, however Nick Ray may not be available for tailor-made trips.
Notes
This is a tailor made holiday concept which can be adapted and tailored to meet your dates, preferences and passions. Please contact one of our bespoke holiday planners to create the ideal itinerary for you.
* NOTE. Prices indicated on this website are shown as a guideline only and may be subject to currency fluctuations, banking fees and other changes outside our control. Pricing information is available in
other currencies
.