Cambodia River Cruises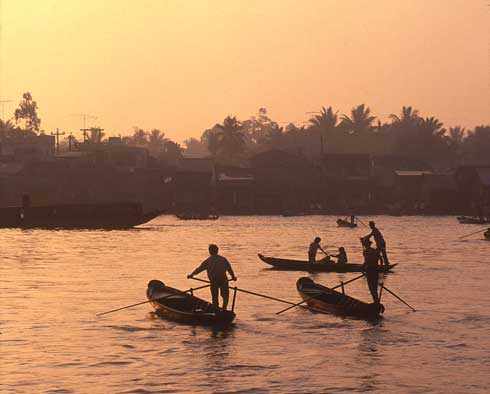 Price upon request
Lower Mekong River Cruises
Overview
|
Pandaw
|
Toum Tiou
|
Jayavarman
Choose where you sleep
RV Jayavarman

RV Mekong Pandaw

RV Tonle Pandaw

RV Toum Tiou

RV Toum Tiou II
There can be no tapestry of river life as fascinating and varied as the River Mekong, the life blood of Indochina. Indeed there can be no more striking a cultural contrast as that between the bustling Vietnam delta and the tranquility of Cambodia.

And there can be few more relaxing ways to explore this watery hinterland of Cambodia and southern Vietnam than by taking a leisurely river cruise through the verdant delta of the mighty Mekong River, the most biodiverse river in the world.
The Mekong River, one of the world's great waterways, is navigable all the way from the busting southern Vietnamese capital of Ho Chi Minh City (commonly referred to by its former name, Saigon), via the iridescent Mekong Delta to the Cambodia Capital of Phnom Penh. From here, depending on the river's water levels, you can continue across the vast Tonle Sap lake to visit the ancient temples of Angkor in Siem Reap, or continue up the Mekong to the quaint colonial-era town of Kratie that marks the lower end of a huge and fascinating wetland that stretches 150km south from the border with Laos. This is the home of the rare Irrawaddy freshwater dolphin.
The shipping link between Saigon, Phnom Penh and Siem Reap is immensely practical for the traveller as it makes it possible to connect three important destinations on one trip with easy plane connections at either end: Saigon, the exotic Frenchified former capital of South Vietnam; Phnom Penh, the quaint Cambodian capital; and the stupendous World Heritage monuments at Angkor. One need no longer check in and out of hotels and endure bumpy roads to visit these magnificent places.

Along the way, passengers will get the chance to visit a number of iconic and fascinating spots on or near to the Mekong river, including temples, villages, local markets and rural countryside, plus… of course… the ancient temples of Angkor, the capital Phnom Penh and the thriving metropolis of Saigon (Ho Chi Minh City).

During your lower Mekong river cruise you will see temples, villages and rural communities whose ways of life have changed little over the centuries. You will be able to walk through local markets and visit stilt houses where families still employ traditional methods to weave fine silks, or to make pottery and other traditional handicrafts. You will see fishermen casting their nets, and ferry ladies rowing their boats using their feet.

If you choose a cruise that continues across Cambodia's vast Tonle Sap Lake where whole communities live in floating villages on the water. Completely self-sufficient, these villages are equipped with floating schools, factories to make ice for fish preservation, churches, pagodas, service stations, pigsties, stores, boats or television repair shops, video clubs, karaoke bars, police stations… everything on the water. All trades are represented and everybody from children to grandparents travel by boat through the network of canals that cross this little town.

You will also get to visit the majestic temple ruins of Angkor, including the most famous of all, Angkor Wat.

At times when the water levels in the Tonle Sap at too low for navigation, you can take a cruise further on up the Mekong to the provincial capitals of Kampong Cham and Kratie.

There are now several river cruise boats plying this route, some large and grand, and some more boutique. You can find links to their schedules above, and to detailed information about the boat options on the right hand side of the page.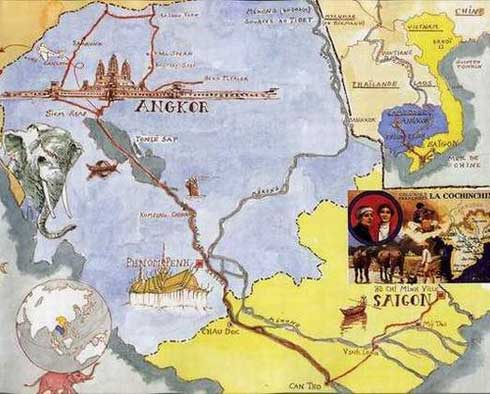 Notes
This Mekong River cruise can be incorporated into a Symbiosis tailor made holiday to Vietnam and Cambodia that can be adapted and tailored to meet your dates, preferences and passions. Please contact one of our bespoke holiday planners to create the ideal itinerary for you. Prices shown below are per person sharing a cabin.
* NOTE. Prices indicated on this website are shown as a guideline only and may be subject to currency fluctuations, banking fees and other changes outside our control. Pricing information is available in
other currencies
.