Cambodia Escapes & Hideaways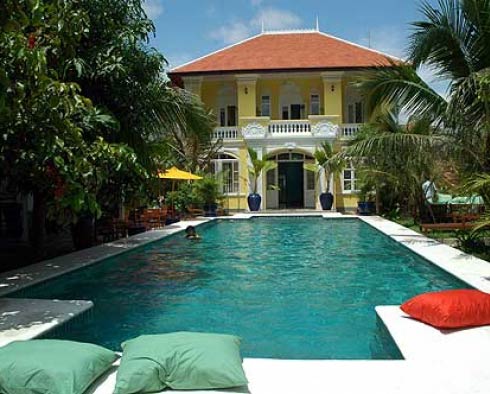 in town, From £35
Le Pavilion
Phnom Penh, Cambodia

A 1920's colonial villa that used to be a Royal residence, lovingly restored with French chic to become a classy guesthouse (as opposed to an hotel!). Lounge beds set around a tropical garden with small swimming pool, garden bar and restaurant make this place somewhere you just want to hang out at. However, this is a guest house, so do not expect international hotel standard service!
Kids not encouraged.
General Information
Name : The Pavilion
Destination : Cambodia
Location : centrally located in between the Royal Palace an d the Independence Monument, Phnom Penh
Seasons : Year around
Capacity (max no. guests) : 39
Accommodation
Room Types : 19 rooms in all, including: 1 Deluxe double, 2 twin rooms, 1 triple room, 4 rooms with private plunge pools & 1 with private jacuzzi
Showers & toilets : En suite,
A/C : Yes
Hot Water : Yes, from solar panels
Further Information
Electricity : 220V, flat 2 pin
Fire warning system : N/A
Fire extinguishers : Yes
Fire escapes : N/A
Entertainment : 14m Swimming Pool, bar & restaurant
Other:
Free wi-fi internet access
anti-mosquito machines protecting the garden
Lounge beds around the garden
TOMAINTAIN THE PEACEFUL AMBIENCE OF THIS CHARMING OASIS IN THE MIDDLE OF THE CITY, CHILDREN UNDER 16 NOT WELCOME!
browse all escapes & hideaways
* NOTE. Prices indicated on this website are shown as a guideline only and may be subject to currency fluctuations, banking fees and other changes outside our control. Pricing information is available in
other currencies
.