Cambodia Escapes & Hideaways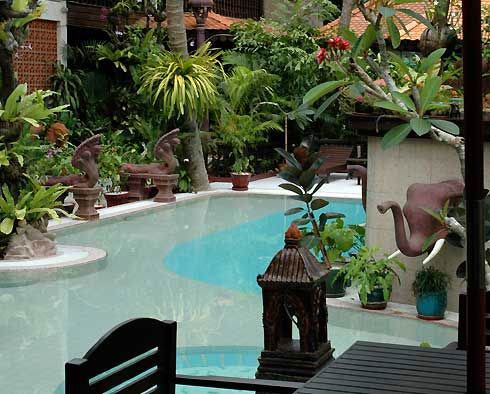 in town, From £62
HanumanAlaya Boutique Residence
Siem Reap, Cambodia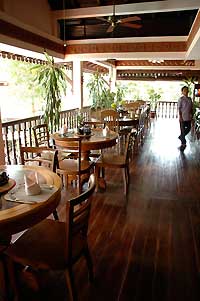 The HanumanAlaya Boutique Residence is one of our favourite places to stay in Siem Reap. This is a place that has grown out of a passion, and feels much more like a home than an hotel.
Although only a few of years old, it is designed in traditional Khmer style and furnished with many Khmer antiques and handicrafts. The rooms are comfortable with the usual mod cons of a modern hotel, but the communal areas, including the first floor veranda, garden bar & restaurant, and the swimming pool area are what makes this place feel intimate.
The in house Spa adds an extra dimension too - this is a place where people feel unrushed, wishing they had booked a longer stay. A Symbiosis favourite!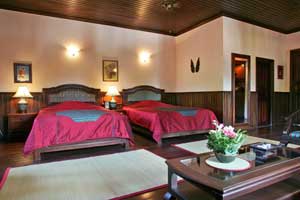 Rooms
HanumanAlaya Boutique Residence features 15 rooms, including 5 superior single/twin, a deluxe single and deluxe twin, 7 deluxe double, one family studio and the Alaya Suite, all thoughtfully finished with the same attention to delicate detail. The furnishings are finished in wood with a silk trim. All rooms include air-conditioning, ceiling fan, IDD phone for
international calls and satellite TV with more than 50 international channels including the best in news, sport and drama.

The in-room minibar includes a selection of soft drinks, local and international beers and snacks and a further range of drinks is available from our fully stocked bar through room service. The large wooden wardrobes include dressing gowns for the use of guests, as well as a safety deposit box for peace of mind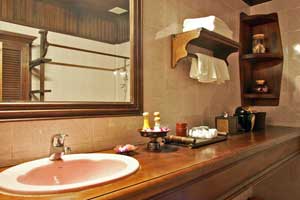 when you are out and about around Angkor. The well-equipped bathrooms include generous-sized bathtubs complete with hot and cold water and shower. Hairdryers are included with every room, as are basic amenities like soap and shampoo. Put all the ingredients together and you have the making of a comfortable and cultured stay.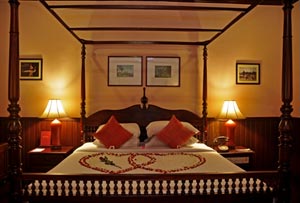 Alaya Suite
The Alaya Suite is the most desirable in HanumanAlaya and is popular with honeymooners and couples celebrating an occasion such as an anniversary or birthday.

Located upstairs, the Alaya Suite features a striking four-poster bed and a spacious attached bathroom complete with a spa tub for a relaxing soak. The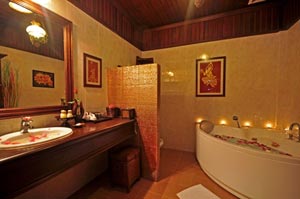 beautiful decoration features traditional art and handicrafts from Cambodia and the Mekong region beyond, including photographs from Cambodia during the French colonial period.

The Alaya Suite includes wi-fi access for guests and flatscreen TVs featuring a range of leading international television channels.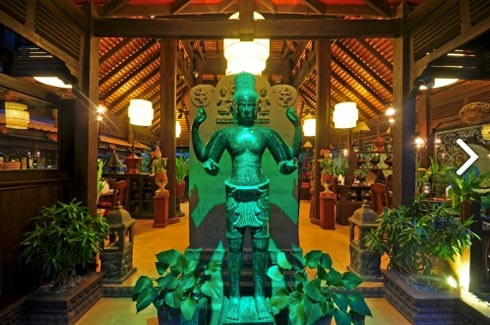 Fine Dining at HanumanAlaya
Despite its intimate size as a boutique hotel, HanumanAlaya has several epicurean experiences available for guests including the renowned Reahoo Restaurant, the welcoming Asura Bar and the relaxing Rama Lounge, complete with a well-stocked library on Angkor.


Reahoo Restaurant is beautifully housed in a traditional wooden structure, complete with silk lanterns and exquisite decoration. Reahoo Restaurant is dedicated to bringing the best of Khmer cuisine to our guests and our menu includes a full selection of popular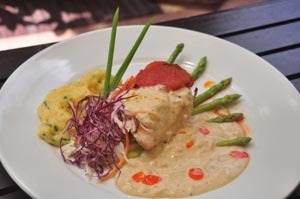 national dishes, including such favourites as amoc, steamed fish with coconut, chilli and lemongrass in banana leaf.

As well as the best of Cambodia, the cuisine includes some international favourites and a breakfast choice from three continents, Asia, Europe and America.



Downstairs is the attractive Asura Bar, which comes fully stocked with a range of local and international beers, fine wines and spirits
from around the world. Sit at the bar and strike up a conversation, relax in the garden or take a dip in the pool after a long, hot day. Or head upstairs to the Asura Lounge and read up on Angkor over a cocktail, the choice is yours. Don't forget to try the signature Hanuman cocktail, similar to the Singapore Sling but with a unique twist.
The Boutique Residence's Sita Spa offers a number of relaxing and invigorating treatments, including:

Reflexology / Foot Massage
Starting with an exfoliating scrub, followed by a relaxing massage with aromatic oils. At the end, your feet will be ready for another day of exploring the temples.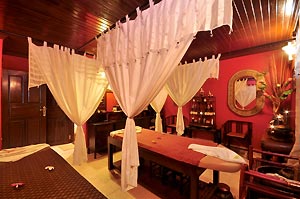 Body Massage
Indulge your muscles and joints with a full body massage from head to toe. The traditional body massage uses deep tissue pressure points and stretching to relax and recover the body. Alternatively an aromatherapy body massage will stimulate circulation and reinvigorate the senses, using unique herbs and essences.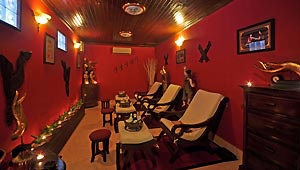 Sita Spa
Pamper yourself like a Princess, or a Prince, with Hanumanalaya's signature Sita Spa treatment. Begin with a salt scrub for the body, which can be classic or refreshing depending on the combination of essences you choose. Enjoy a full body massage after the scrub, to relax the body for a full body wrap. the wrap uses seaweed and special nutrients to tone and condition the skin. Your skin is now shining and it is time for a relaxing bath in our Jacuzzi.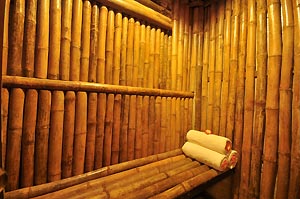 Herbal Steam Sauna
Try a special sauna experience with a selection of secret herbs to bring the body back to life. Bubbling under the sauna is a mix of local herbs and spices creating steam that rises up into the sauna, penetrating your pores and smoothing your skin. An ancient tradition, this is a favourite with visitors to Cambodia. Includes complimentary high tea and cookies.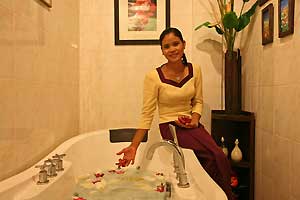 Indulgent Baths
After any of the above treatments you are welcome to experience a complimentary 'soak in style' with an indulgent bath. The Jacuzzi bathtubs are the perfect place to lie back and enjoy life. Choose from a honey milk bath to soften the skin, a floral bath to perfume the body or an Indian spice bath to stimulate the senses.
General Information
Name : Hanumanalaya Boutique Residence
Destination : Siem Reap, Cambodia
Location : Located in a quiet village just off the road leading to Angkor Wat from Siem Reap town, 10 minutes by tuk tuk from dowtown.
Seasons : year round
Capacity (max no. guests) :30
Accommodation
Room Types : 13 rooms, including 11 twins, one family suite and one single, all thoughtfully finished with the same attention to delicate detail. The furnishings are finished in wood with a silk trim. All rooms include air-conditioning, ceiling fan, IDD phone for international calls and satellite TV with more than 50 international channels including the best in news, sport and drama
Showers & toilets : en suite with bath tub & shower
A/C : yes
Hot Water : yes
Further Information
Electricity : 220V, 2 pin (flat)
Fire warning system : yes
Fire extinguishers : yes
Fire escapes : N/A
Facitilies : swimming pool, spa, restaurant & bar
browse all escapes & hideaways
* NOTE. Prices indicated on this website are shown as a guideline only and may be subject to currency fluctuations, banking fees and other changes outside our control. Pricing information is available in
other currencies
.