Cambodia Escapes & Hideaways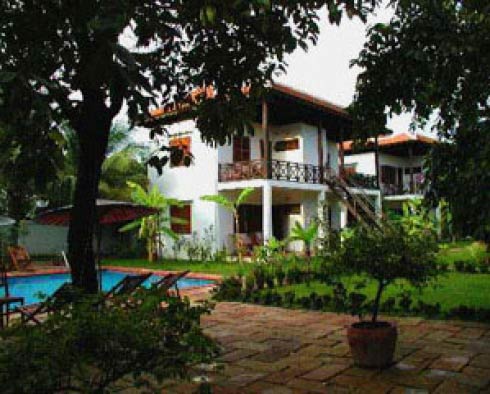 in town, Price upon request
Borann: l'Auberge des Temples
Siem Reap, Cambodia
Borann L'Auberge Des Temples has bungalows built in traditional Khmer architecture. Borann means antique in Khmer language thus local arts and crafts, finishing details and old furniture pieces build the character of the structure. The look of the property complement the old town of Siem Reap. The 5 bungalows it holds are set in a 3500 square metre flower garden.
The hotel is located in the heart of Siem Reap, on the eastern side of the river that makes it possible to access to as many attractions in the area. It is just few minutes from the magnificent Angkor Temples and the international airport is just a 25 minute travel by car.After visiting the temples, just relax! Located in the heart of Siem Reap, Borann's five inviting bungalows are set in the middle of a beautiful flowery garden (3500M2). This peaceful, relaxed location is just on the eastern side of the river and conveniently situated for access to many of Siem Reap's attractions and only minutes away from the magnificent Angkor Temples, and the International airport. As each of Borann's 20 rooms have their own private veranda, you can just seat on our long wooden chairs reading or just relaxing...Borann, what does it mean? Borann means antique, tradition in Khmer language. Designed according to traditional architecture, each house recreates the atmosphere of ancient Cambodian homes using antique furniture, traditional tiles, sand stone tiles in the bathrooms, traditional bathing but with modern comfort including hot water, air-conditioning, fan.Facilities like restaurant, swimming pool and souvenir shops, selling local arts and crafts, are found within the hotel. Extra services that the hotel offers are luggage checkroom, transfer service, money exchange, room service and tourist information services.
The 5 bungalows contain a total of 20 rooms, all having private veranda for outdoor relaxation. Each room is neatly appointed with antique furniture pieces, traditional tiles and sand stone tiles in the bathrooms. Air conditioning units, fan and hot and cold water system are added to provide additional comfort.
General Information
Name : Le Borann
Destination : Cambodia
Location : Siem Reap
Seasons : All Seasons
Capacity (max no. guests) :
Accommodation
Room Types : Room serviecs
Showers & toilets :
A/C : A/C rooms availabel
Hot Water : Hot/Cold water
Further Information
Electricity : 220V
Fire warning system : yes
Fire extinguishers : N/A
Fire escapes : N/A
Entertainment : Bedroom,Good Photo,Ceiling Fan,Air Condition, Safe rooms
browse all escapes & hideaways
* NOTE. Prices indicated on this website are shown as a guideline only and may be subject to currency fluctuations, banking fees and other changes outside our control. Pricing information is available in
other currencies
.