Cambodia Escapes & Hideaways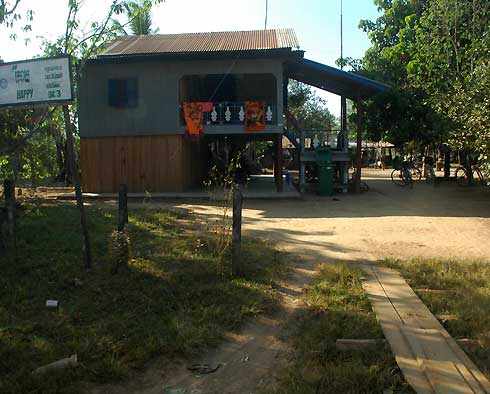 in the bush, Price upon request
Chi Phat Homestays
Koh Kong, Cambodia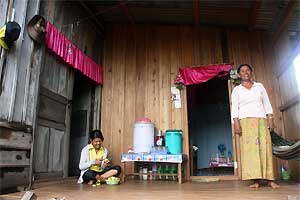 The Chi Phat CBET project has 12 guesthouses and 5 home-stays that are official members of the project. Membership in the CBET (Community Based Eco Tourism initiative) means that the facilities are monitored by the CBET committee, they are being cleaned regularly, and that facility owners share a portion of their revenues with the community fund, allowing the project to become sustainable.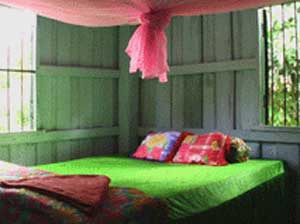 Bookings are made on a rotation basis to ensure business is shared equally among the accommodation providers. However, visitors may also choose their preferred guest house or home stay.

Staying in one of the CBET accommodation provider member's ensures quality accommodation standards and that your money is shared with the community

What is the difference between a guesthouse and a home stay?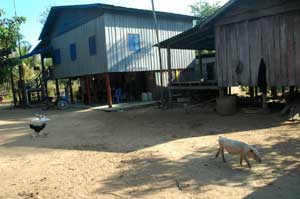 A guesthouse has at least 2 rooms, while a home stay has only 1 room allocated for visitors in the local family's house. If you prefer a quieter, more intimate village experience you may want to choose a home stay. If you want to share your time with other visitors, you may prefer to choose to stay in one of our guesthouses.

Bathroom facilities consist of either a squat or sit down toilet (all home–stays are equipped with western style toilet) and a water cistern with scoop will function as your shower. Laundry services are available on request.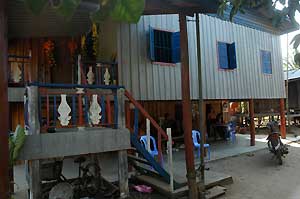 Accommodation providers have a folder of information which includes an introduction to the family, a code of conduct that covers expectations for culturally appropriate behavior, and a set of pictorial communication cards that will assist you in communicating your needs to the host.

The Chi Phat people request that guests respect the local culture by dressing modestly and adhering to a code of conduct provided

Food: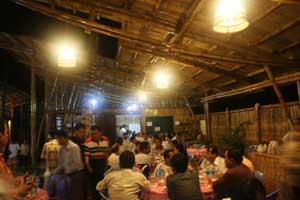 The CBET restaurant is located in the CBET Visitor Centre and is operated by the CBET cooking group, The restaurant serves simple food in a set menu of mainly local dishes. Depending on availability, ingredients are freshly bought every day in the local market.

The menu includes dishes like: Chhar khanhie such moan (Fried chicken with ginger), Bampong kdam ning Bangkang (Deep-fried crab and lobster), Bampong trei (Deep-fried fish), Mi char such kou ning banler (Fried noodle with beef and vegetable), Tong Yam bangkang (Lobster soup), Samlor muchhou khatis (Sour soup with coconut milk), Soup bous (Vegetable soup), Bay Chhar Banler Preng Khachang (Fried rice with vegetable) vegetarian food is also available upon request.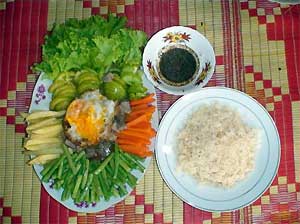 Restaurant hours and food prices: Prices of food includes costs of ingredients, cook fees and a contribution to the CBET fund
Breakfast: is served from 7:30am to 9:30am for $2.5 and includes Fried rice or Fried noodle + coffee/tea + Fruit + water
Lunch: is served from 11:00am to 13:00pm for $3.5 and includes rice + 2 main dishes + fruit + water
Dinner: is served from 18:30pm to 20:30pm for $3.5 and includes rice + 2 main dishes + fruit + water

A few small noodle soup shops serve "Kouyteou" (a local noodle soup dish with pork, beef or chicken, for around $0.5 - $0.75) and rice and operate early morning and at lunch time. These are located in the Market and along the main road outside of the market.

A few Coffee shops sell hot and ice-coffee, this are also located along the main road
browse all escapes & hideaways
* NOTE. Prices indicated on this website are shown as a guideline only and may be subject to currency fluctuations, banking fees and other changes outside our control. Pricing information is available in
other currencies
.