Cambodia Birdwatching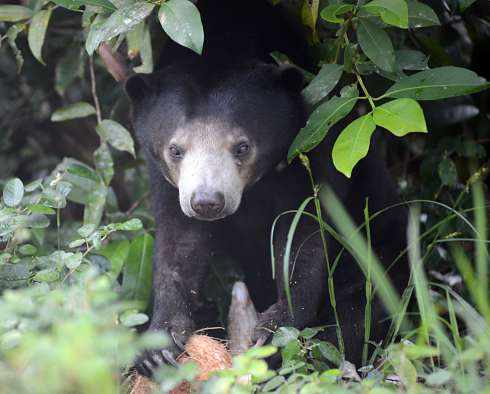 Price upon request
Wildlife Release Station Tours
An unique opportunity to get close to the rehabilitation and release process for rescued wildlife in Cambodia. Help set up came traps in the forest, hike to nearby hilltops, swim in cool streams and observe the Cardamom Mountains' rich wildlife.

Stay in locally built chalets in an natural open grassland on site, while participating in one of many activities offered during your stay at the station, including: hiking to nearby hilltops and swimming in cool streams, setting up camera traps to help document the resident fauna and discovering rescued wildlife at various stages of release.

Savour the jungle:
Enjoy the isolation of this protected forest area set in the heart of the Cardamom Mountains! Sleep in serenity in spacious thatched chalets and wake up to the sounds of rare and endangered creatures, including the morning call of wild pileated gibbons. Hike through the jungle tracking wildlife with your guide and swim in natural streams surrounded by trees.

Meet the animals:
Come see the wild animals around the Wildlife Release Station that have been released by Wildlife Alliance and are making the protected forest area their new home. Species include macaque monkeys, binturongs, civets and birds. Get up close with the bears and other rescued animals living at WRS during their soft release, when they stay in safe forested enclosures to acclimatise to their new jungle habitat before ultimate release.

Get to know the Wildlife Alliance's dedicated staff:
Meet the full-time Cambodian staff rehabilitating and releasing animals rescued from illegal trafficking, raising orphaned animals and protecting the nearby forest. Tour the surrounding jungle with an English speaking guide and help staff set up camera traps and check them the following day for images of bears, binturongs and other wildlife.

Wildlife around WRS
Pileated Gibbon
Malayan Sun Bear
Macaque Monkey
Leopard Cat
Slow Loris
Pangolin
Binturong
Common Palm and Indian Civets
Mongoose
Greater Hornbill and other birds
Asian and Brush-Tailed Porcupines
Wild Boar
Monitor Lizard
Sambar Deer
Red Muntjac Deer
Wild Asian Elephants are elusive yet known to live in the overall region
Location and Getting There
The Wildlife Rehabilitation Station is located in protected forest within the Cardamom Mountains in Koh Kong Province. Arrangements can be made to visit though Symbiosis Custom Travel, but must be made in advance.

Accommodation
You will sleep in comfortable, locally built thatched chalets, funded by loyal supporters of the Wildlife Alliance. Located in a natural grassland clearing surrounded by protected forest and wildlife, each of the three chalets is equipped with:
Two double beds (1.4 m wide) complete with full linens and mosquito nets
A private bathroom with modern showers, Western-style toilets and running water
Solar electricity
Bamboo furniture
Hammocks to hang up on your porch or over your bed, with built-in mosquito net, for a local experience
Solar-powered lighting (fixed in your room and portable flashlights/torches) and USB port for charging phones.
There is no wifi but you can have internet connection on your smart phone if you buy a sim card & internet plan with the phone company, Smart.

Meals and refreshments
All meals are freshly cooked on site by our talented staff using seasonal ingredients.

Dietary preferences can be accommodated; please simply inform us in advance of your needs.
Coffee and tea are provided at mealtimes, filtered drinking water and electrolyte packets are available throughout the day, and other beverages (soft drinks, local beer and rice wine) are available for purchase.
You are welcome to bring other snacks from the city.

Optional Eco-tours
During your stay at the Wildlife Release Station, your guide will accompany you into the jungle and the WRS surroundings to penetrate regenerating forest protected by Wildlife Alliance and the Cambodian Forestry Administration and situated far from human settlements or disturbance. EcoTour packages can include a variety of activities according to your schedule and all are provided as part of your donation to the Wildlife Release Station.

Optional EcoTours and activities available during the day at the Wildlife Release Station:
Preparing and observing feeding of resident sun bears and monkeys and released binturongs and birds, and spotting local wildlife around the station
Hiking in the jungle to explore local flora and look for tracks of local fauna, walk along overgrown logging trails, and engage in the dynamic ecosystem of this protected forest
Jungle trekking to nearby streams and (in wet season, June to November) swimming in the natural pools and small rapids
Camera trap assembly to capture images of wildlife present around the release site and photo checking the following day
Taking in the quiet and natural surroundings from a hammock in this isolated site free of noise pollution and 7 km from the nearest village!
Guide and Safety
Wildlife Alliance staff and your English-speaking guide are stationed at WRS to provide you with safety and comfort during your stay.
A first aid kit and a safety briefing are provided for you. A few pairs of extra rubber boots and tall socks are available for walking on jungle paths around WRS, however we recommend that you bring your own closed-toe shoes (preferably hiking boots) and tall socks for optimal comfort and safety.
Solar powered and rechargeable torches (flashlights) are provided for use on site.
Notes
A visit to the Wildlife Alliance's Wildlife Release Station is an activity that can be included in a longer exploration of Cambodia. Ask one of our experts to help you to plan your visit.
* NOTE. Prices indicated on this website are shown as a guideline only and may be subject to currency fluctuations, banking fees and other changes outside our control. Pricing information is available in
other currencies
.