Thailand Escapes & Hideaways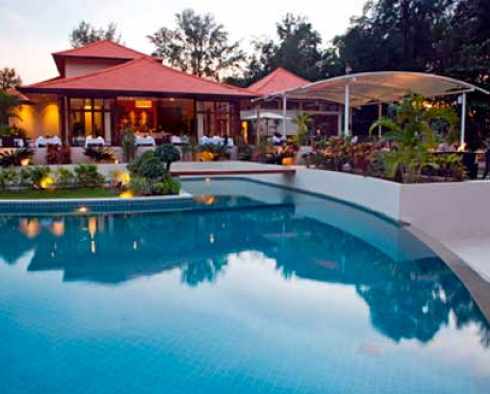 in town, Price upon request
Dewa Phuket Resort
Phuket, Thailand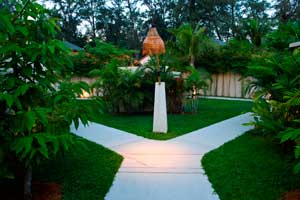 Dewa is a hotel resort catering for the discerning traveler looking for a private pool villa or alternatively a beach view apartment. This boutique beach resort is ideally located meters from the aquamarine waters of the Andaman sea on Phuket's tranquil Nai Yang Beach, adjacent to Sirinath National Park. The resort enjoys a spacious Asian themed and tastefully designed ambient reception area that warms your senses on arrival, and the friendly greeting and Thai hospitality is ever present throughout your stay. Gastronomic delights from the Dining Room, cocktails and cool sundowners from the Lounge, lazy days by the free form pool, tropical landscaped gardens, and delicate hands with aromatic oils from the resort Spa (Qi Shiseido) all await you.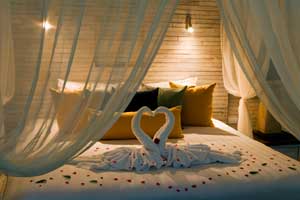 ACCOMMODATION
Pool Villa
A minimum of 130 square meters of indoor and outdoor living space, with private plunge pool. Each Resort Villa sleeps two adults and two children, or a maximum of three adults. Dewa Phuket Pool Villas, with their shady modern Sino-Portuguese interior and complementary furnishings are the ultimate in comfort and privacy.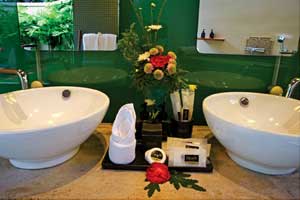 Junior Suite
Junior suite is ideal for a couple. Designed with the idea of maximising comfort without compromise. 67 square meters of bright living space including a private balcony facing in a primarily Westerly direction, a dedicated kitchenette area, fully fitted bathroom suite with natural light, and double doors leading to the master bedroom are but a few of the features. The 1 bed residences have the added benefits of allocated parking, lock up storage, broadband and cable TV, to name but a few.
Family Suite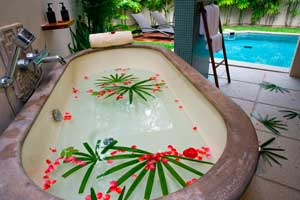 Many families now travel to Phuket with young families, and do not want to have separate hotel rooms. The one level floorplan, with separate dedicated lounge and dining areas, ensures that the family is never far from view, at the same time allowing a large area in which to move around. The master bedroom benefits from a significantly larger bedroom and changing area with en-suite bathroom. Furthermore, we feature either a large wrap around balcony or a central balcony from which the family can enjoy the stunning views across the pool, and beyond the Resort to the West. In short 110 or 145 square meters of sheer luxury.
*All Suite Rooms are internationally designed and constructed to the highest of standards varying in size from 67-143 M2, all with their own balcony overlooking the courtyard pool. All enjoy views west towards the amazing sunsets over the Andaman Sea and Nai Yang beach.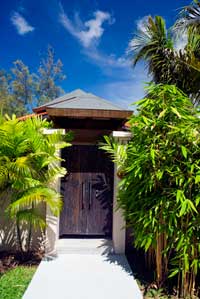 The upper level units also benefit from the accessibility of their own private 35 M2 landscaped roof terrace, complete with a sala providing a secluded shaded area. All Suite Rooms are accessed by lifts serving all four floors, and are uniformly furnished to the highest standards with understated Thai elegance. Additionally a well designed and fitted kitchen area allows the vacationing occupants or outright owners, the flexibility of in room catering. Quality international fittings in all areas of the residence and development, combined with unique Thai hospitality, will ensure your stay, whatever length of stay, will be one of complete satisfaction.
FACILITIES
Resort offers extensive facilities and tailor made services to suit your every need, to further your holiday experience at the Resort and the Residence.
Food & Beverage Outlets
Dewa Phuket offers a varied range of food & beverage outlets and service through the Beach Resort.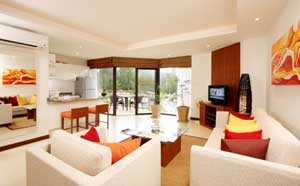 Hotel Resort Spa
Indulge in the tranquility of the resort's spacious double private spa treatment rooms with outdoor bath. Pamper yourself with an array of treatments including traditional Thai massage. Hair treatment, pedicure and manicure, steam bath and Jacuzzi are also available in the Resort Spa.
Resort Library
Relax and unwind with the collection of books and magazines, surf the Web or challenge each other with a selection of board games. Sign out DVDs or music CDs for your viewing or listening leisure in the comfort of your villa or apartment.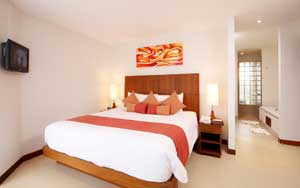 Resort & Residence Swimming Pools
A large free-form pool meanders round lush greenery which is located next to the main lobby area of the Resort, while the Beach Resort Apartments enjoy a 25-meter lap pool for the serious swimmers with a kids' pool alongside.
Resort Fitness Centers
Both Fitness Centers (one in the main Resort building and the other in the Residence) are fully fitted with the latest equipment to ensure you get a thorough and safe workout.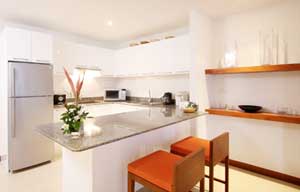 Resort Kids' Club
The Kids' Club, between the Residences and the Resort, is staffed by trained personnel with the experience to keep your young ones safe and entertained while you are in the Resort Spa, on the golf course, on a boat or simply getting some quality time on the beach.
Luxuries & Essentials
In the lobby of the Residence we offer a convenience store stocked with all the basic essentials. For tropical beachwear and accessories, sportswear and special souvenirs for your loved ones at home, there is also the Resort Gallery located towards the beach access.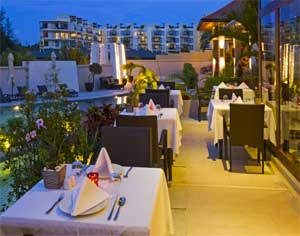 Guest Services
Guest services desk is manned 24 hours a day, with the Resort Hosts on call to assist you with anything you may require, from consultations and reservations for excursions, to dining, baby-sitting, car rental or any other services you may need.
In addition, Dewa has complimentary high-speed Wi-Fi Internet access throughout the resort.
The Dining Room
Glass-walled on three sides, the Dining Room offers guests a view of the beach in air-conditioned comfort as they enjoy the Modern Australian "Fresh Fusion-Style Cuisine"– a blend of flavours and styles from different culinary traditions, using the freshest ingredients available, prepared in simple and healthy ways.
The Dining Room also serves vegetarian dishes and daily "fusion" specials. To accompany your meal we have a range of imported high class wines, available for your selection from the wine rack and built-in chiller in the Dining Room.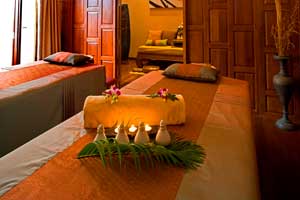 The Lounge
An alfresco dining venue open for breakfast from 6.30am, followed by a healthy all-day dining menu featuring tropical Asian and Western delights. This is the place to enjoy a sundowner and share a platter of Eurasian-style Tapas. Choose from Chef's daily specialties or indulge in a mini soup or salad combo, or maybe even share a plate of cold cuts and Mediterranean vegetables.
Guests may also order light snack menus from 11pm until closing time at 1am.
The Deli
Located In the lobby area of the Residence, serving Continental-style breakfast, antipasto-style platters and take-away party or picnic packs.
From the display fridge, make your choice of charcuterie meats, imported cheeses, dips, dressings, sauces, roast, grilled and pickled vegetables, fresh salads and fruit, olive oil, balsamic vinegar, freshly made sandwiches or rolls. You may also pre-order bread and pastries from The Deli.
Poolside Dining
Breakfast can be enjoyed by the pool from 6.30 to 11am daily and a tropical Asian and Western style snack menu is available from 11am to 5pm.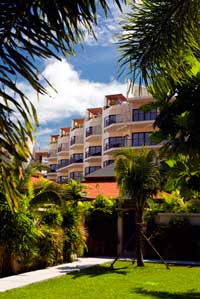 In-Villa Dining and In-Residence Dining
For Breakfast, Lunch or Dinner with the option of a private barbeque (villas only) the choice is endless. Guest may choose from the in-room menu or request a favorite from the menu of any of the dining outlets (during the hours of operation of the outlets).
Romantic Beachside Dining
Enjoy a romantic dinner watching the sun set over the Andaman with your love ones. Pending weather conditions, we require 24 hours notice for booking of this private dining experience.
Bread & Butter Bakery
You can be assured of quality and freshness of the bread, pastries and cookies on offer at Bread & Butter Bakery. Freshly baked daily by pastry chef, Bread & Butter Bakery is also the supplier of bread and pastries to a number of resorts, restaurants and cafes around the island. Located right in front of the resort, facing the National Park and the beach, it opens daily from 8am to 6pm, so drop in for a cup of fresh coffee and select from a variety of pastries, bread and cakes to enjoy.
Pre-arrival grocery shopping
Guests staying at the apartments may pre-order basic groceries, which will be waiting for you in your kitchen when arrive.
browse all escapes & hideaways
* NOTE. Prices indicated on this website are shown as a guideline only and may be subject to currency fluctuations, banking fees and other changes outside our control. Pricing information is available in
other currencies
.