Philippines Escapes & Hideaways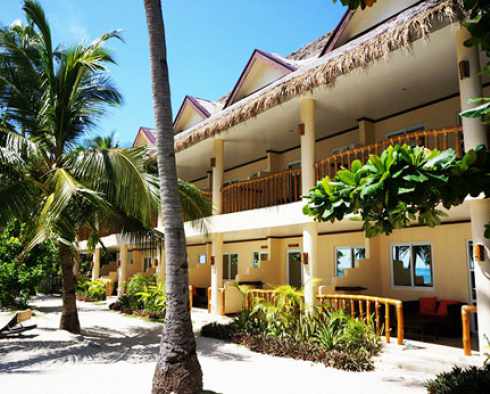 on the beach, Price upon request
Ocean Vida Beach & Dive Resort
Malapascua, Philippines
Ocean Vida Beach & Dive Resort is owned by a German/Swiss couple that moved to Malapascua in 2005. Ocean Vida opened in December 2010 and now managed by a Danish manager.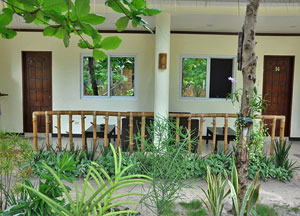 ACCOMMODATION
The 20 rooms are amongst the highest standards on the island. All include private terrace or balcony and are beautifully decorated with abaca and mahogani furniture. The rooms are equipped with air-condition, safety box, mini bar, hot and cold shower, beach towels and free WiFi.
Choose between rooms with beautiful sea view located right on the beach or the quieter garden view rooms just behind the dive centre.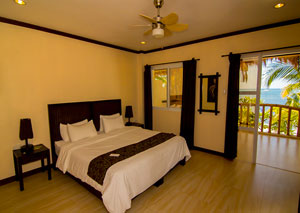 Sea View Deluxe Rooms
The twelve rooms are located right at the centre of Bounty Beach. All rooms have a private balcony or terrace special designed with abaca and mahogni furniture. All Sea view rooms are equipped with air–condition, fan, safety-box, minibar, hot and cold shower, beach towels, complementary coffee and tea and bathrobes.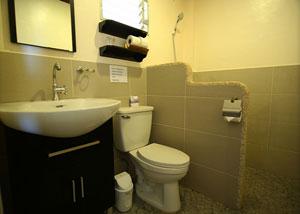 Garden Rooms
The eight Garden rooms are located behind the reception area in a quiet and more private area. The sizes of the rooms are equal to the ones at the beach. All eight rooms are at the ground floor and are equipped with air-condition, fan, complementary coffee and tea, safety-box, minibar, hot and cold shower and beach towels. These rooms are available either with air con or fan only.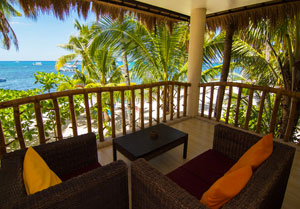 Family Rooms
Family rooms are located in the Garden rooms and are perfect for families with more than 1 child. There's a connecting door, which combines 2 garden rooms. Parents and children have their own bed, their own room and their own bathroom. It´s suitable for 2 adults and up to 4 children, while one child will stay in the parents' room. The family rooms are also equipped with air con, fan, safety box, minibar, hot and cold shower and beach towels.
Food & Drinks
Ocean Vida offers a wide range of different international and local cuisines strictly without any flavour enhancers. The restaurant provides guests with fresh fruits, vegetables and fresh fish. The resort's fish suppliers are the local fisherman, who are coming daily with their freshest catch to offer the best quality possible. Sashimi and Kinilao is available daily. Juices and shakes are made from fresh fruits so everybody gets the taste of paradise here at Ocean Vida.
Restaurant
The restaurant is conveniently located just above the beach bar and dive facilities. However, it is up to you to decide whether to dine in the restaurant overlooking beautiful Bounty Beach or right on the beach. Breakfast is served from 0730am when the dive boats return from the early morning dive at Monad Shoal until 10am. The buffet includes freshly baked bread, buns, croissants, freshly made omelets, bacon, cold cuts, a wide range of marmalades, coffee, tea and the fruit juice of your choice.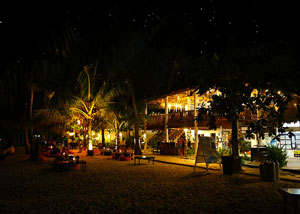 The restaurant opens till 10pm where a wide range of local and European dishes are served. These include baguettes and paninis, soups, salads, Filipino and Thai specialties, wiener schnitzel and cordon bleu, pastas, pizzas and much, much more. It also offers delicious seafood dishes freshly caught by local fishermen and prepared with delicious coconut, mango, papaya and lemongrass. Finally the restaurant also offers a selection of red and white wines imported from Australia, South Africa, Chile, France and Spain.
Restaurant opening hours 0730am to 10pm.
The Beach Bar opens from 08am until 11pm. A big selection from soft drinks, fresh coconut juice, local fresh fruit shakes up to their highly recommended cocktails and cold beers are served the whole day.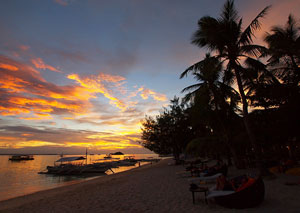 Ocean Vida´s "Happy Hour" is daily from 04pm–06pm with 2 for 1 cocktail. Mango Daiquiris is their specialty and should not be missed.
Chill Out Area
Between 3pm -11pm, the staff will prepare tables on the beach with bean bags. Lampions are hanging in the palm trees for the perfect lighting on the beach. It is an unforgettable and an unique atmosphere on the entire island of Malapascua. A "Must Try" for everybody who is staying on the island.
GETTING HERE
Once at the airport of Cebu you have two options to come to Malapascua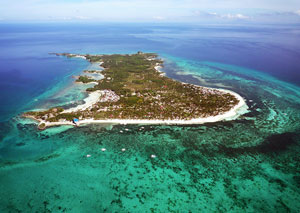 Private Transfer
Private transfers can be arranged from Cebu City to Malapascua daily and at any time of the day. Pick-up starts at any hotel in Cebu City or at the airport. The drive to Maya takes around 2.5 -3 hours depending on the traffic. In Maya, there are boats which will take you directly to the beautiful Bounty Beach in front of the Ocean Vida Beach & Dive Resort. The lovely boat ride takes around 30 min. depending on the weather.
Local bus or Van
You have to take a taxi from the airport to the north bus terminal where you take a journey of 3-5 hours to Maya. Buses are going from as early as 3am to late afternoon to Maya. You can choose between aircon bus or non-aircon. The one way ticket costs around 180 PHP. The vans leave at the bus station as well. Normally they wait at the exit of the bus station, are normally faster and cost around 200 PHP. Once in the pier in Maya you need to pay for luggage handling a fee and purchase a boat ticket. The public boats are going until the afternoon and drop you in the main village in Malapascua from where you reach Ocean Vida by 10 minutes walk. A private boat can be chartered, prices range from 1000-2500 peso depending on time and weather conditions. They will drop you right in front Ocean Vida resort.
browse all escapes & hideaways
* NOTE. Prices indicated on this website are shown as a guideline only and may be subject to currency fluctuations, banking fees and other changes outside our control. Pricing information is available in
other currencies
.