Philippines Escapes & Hideaways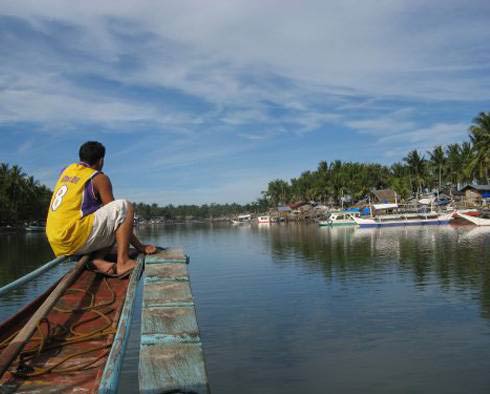 on the beach, Price upon request
Pandan Island Resort
Sablayan, Philippines
Pandan Island is a private resort island located on the west side of Mindoro / Philippines. Facing the South China Sea, halfway on the coastal road between Mamburao and San Jose, lays the small fishing town of Sablayan. Off its coast, only a twenty minutes boat ride away, is Pandan Island, a 12 ha big tropical island. Having been uninhabited for many years, this paradise was "discovered" by a French adventurer, who established Pandan Island Resort in 1986.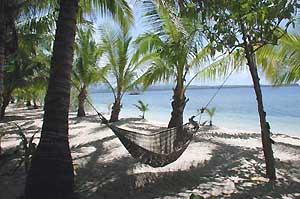 Most of Pandan Island is still covered by primeval forest abundant with all different kinds of birds and butterflies. Two secluded beaches, Wild Lagoon and Spanish Nose, invite to spend an afternoon away from it all and feel a little bit like Robinson. If you like to be more active you may go scuba diving, waterskiing, or join a kayak trip to one of the jungle rivers nearby, play volleyball, pool or darts and of course petanque.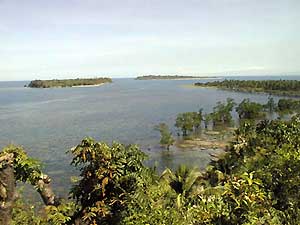 All bungalows are built in native materials, like coconut lumber, bamboo, sawali, cogon grass to let them blend easily into their tropical surroundings. Care has been taken to provide a simple yet comfortable atmosphere with a maximum of privacy for all who need to get away from hectic life. Each house has its private gecko ( lat. gecko gecko) that is said to bring good luck to the house it inhabits. The bungalows are built directly by the sea separated from the beach only by palm trees and / or bougainvillea bushes.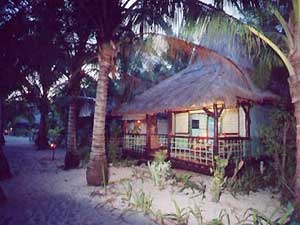 On Pandan Island you can choose between three different types of accommodation:
The family house - If you are having children, want to spend your holidays with friends together or are on your honeymoon, the family house is just right for you. The ground floor has a big terrace, a sitting area inside, two beds and the shower and toilet, in the first floor there is a big double bed and another terrace with a beautiful view over the beach. The standard bungalow -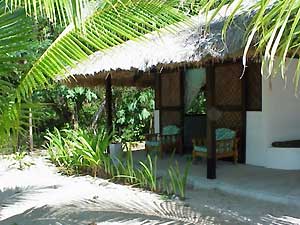 Standard Bungalows come in different styles that reflect the changes that Pandan Island Resort has undergone in the last 13 years. Whereas the earlier bungalows were mostly built on posts 'Single two' is a good example of this earlier period, the more recent house are more 'on the ground' with a solid concrete foundation. All the bungalows have plenty of space around them and are facing the sea. All bungalows have their own shower and toilet and the two mezzanine bungalow have a second floor with a second bed - ideal for families with kids or couples with quarrels.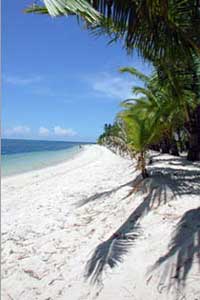 The budget room - The Budget Rooms or ' the Bronx' as they are know by the insiders provide comfortable and affordable accommodation for travelers that are on a budget or people that spend all their time outdoors (or underwater). The five rooms share two bathrooms and two toilets, located on each side of the building. Like all the other bungalows on Pandan Island, also the budget rooms are directly on the beach, facing the South China Sea.
RESTAURANT & BAR - The restaurant serves a blend of Philippino and European cuisine. Tess, our chief cook, combines local dishes and exotic ingredients with European recipes to offer you a varied dining experience. All meat and vegetables are bought daily on the local market in Sablayan. Fish comes often directly from the local fisherman on the way home from their fishing grounds. Lunch and dinner are buffet style and offer a variety of fresh fish and meat with vegetables, seasonal fruits and coffee or tea.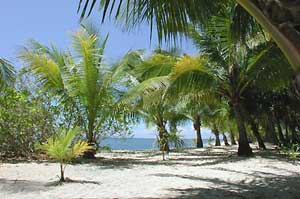 For your small appetite short orders like spaghettis, burgers, sandwiches , soups or salads are available during the day. Being under French management, there is always a selection of white and red wines available.
General Info
Name : Pandan Resort
Destination : Philippines
Location : West coast of Occidental Mindoro
Seasons : Year round - typhoons possible from June to December
Capacity : not many!
Dive location & resources
Dive location : Pandan Island, day trips to Apo Reef
Dive facilities : Inhouse Dive Centre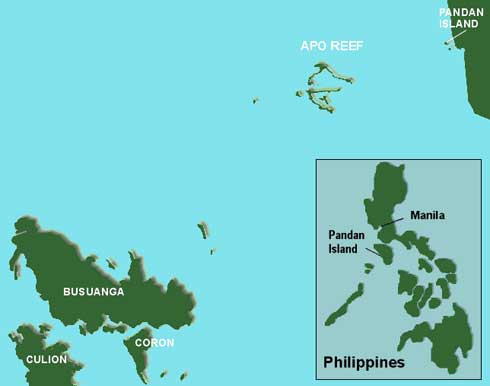 browse all escapes & hideaways
* NOTE. Prices indicated on this website are shown as a guideline only and may be subject to currency fluctuations, banking fees and other changes outside our control. Pricing information is available in
other currencies
.