Papua New Guinea Escapes & Hideaways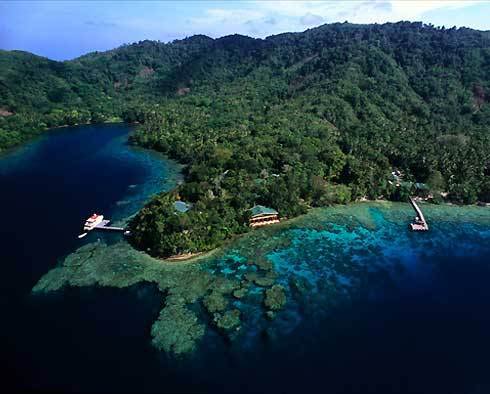 on the beach, From £160
Tawali
Milne Bay, Papua New Guinea
RELATED: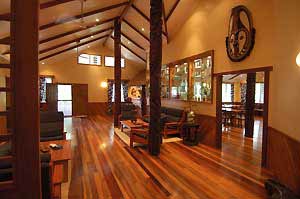 Tucked away, only accessible by boat, sits what may be Papua New Guinea's best kept scuba diving secret - Tawali Resort. Located on a volcanic bluff overlooking the clear protected waters of Milne Bay, Tawali offers travelers a unique location to dive, relax and enjoy the unspoiled wonders of this magnificent part of the world.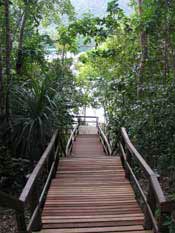 Covered walkways link the main reception and dining areas with the rooms themselves, which are huge. Two Queen size beds, air conditioning, ceiling fan, minibar, fridge, safe, a well-appointed modern bathroom and private balcony.

Overlooking the bay of reef-fringed, deep blue water, and framed by stands of tall tropical trees and the occassional fruit tree, is an outdoor setting that begs to be used to read, sip afternoon post-dive drinks or watch the resident pod of dolphins that seem to visit the bay every day.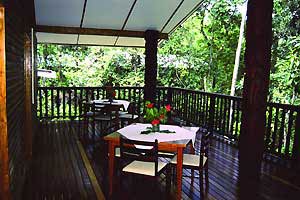 Amongst the attractions are skull caves, bat caves, orchids, birds, and dugout canoes. Diving is really just part of the Tawali experience.

Hiking Tawali
You can take guided bush walks into the rainforest or walk along the coast through local villages. There is even an extended day hike across the mountain ridge rising behind the resort, where you can view the entire coastline and the dense rainforest canopy. Bring a pair of binoculars to view the cockatoos, hornbills and parrots along the way.

Skull Caves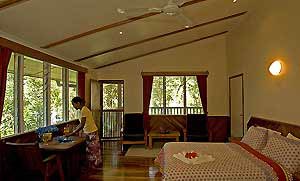 Skull caves are a mostly forgotten reminder of PNG's history. Usually discovered by villagers looking for new garden land, many skull caves in PNG have yet to be discovered and have long been grown over by the forest. Start your hike at the base of a steep cliff over a shallow reef and with help of ropes and guides hike your way up into the rain forest learning about the different trees and plants along the way. Return again to the boats and enjoy a snack or go on to hike to a waterfall for a cool dip.

Waterfall Hike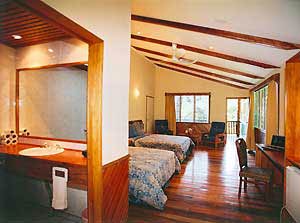 Guides will take you on a forty minute hike up through the lush forest to beautiful waterfalls where guests can take a break for a snack and dip in the pool before heading back down.

Orchid and Botanical Walks
Starting in the local villages, guests can walk into areas dense with beautiful orchids and lush vegetation. Don't be surprised to see some amazing birds - there are 269 species of birds in Milne Bay alone.

All land based activities are scheduled weekly with experienced local guides.
| | |
| --- | --- |
| Nightly Rate | USD per person/night |
| Double Occupancy | 170 |
| Single Occupancy | 210 |
Nightly rate includes accommodation and meals. Does not include any government taxes, round trip transfers ($40.00 per person), reef and chamber fees for divers ($8.00 per person per diving day) and fuel surcharges ($15.00 per person per night for divers and $10.00 per night for non divers).
Nightly Rate

7 Day Rate
Nightly Rate over 7 Days
Beach House
$600
$3,500
$500
Ocean Villa
$700
$4,200
$600
Rates include accommodation only and for bookings over 7 days round trip transfers. Does not include any meals ($55.00 per person per day for 3 meals), diving, government taxes, round trip transfers for bookings under 7 days ($40.00 per person), reef and chamber fees for divers ($8.00 per person per diving day) and fuel surcharges ($15.00 per person per night for divers and $10.00 per person per night for non divers).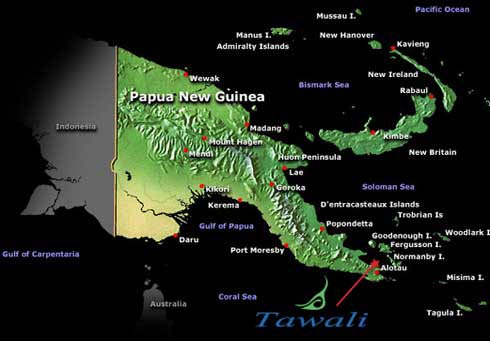 browse all escapes & hideaways
* NOTE. Prices indicated on this website are shown as a guideline only and may be subject to currency fluctuations, banking fees and other changes outside our control. Pricing information is available in
other currencies
.