Papua New Guinea Escapes & Hideaways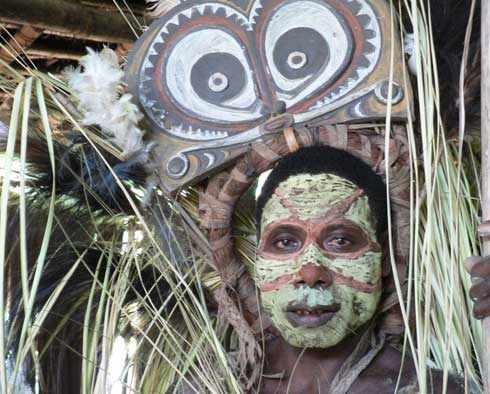 in the bush, Price upon request
Karawari Lodge
Sepik, Papua New Guinea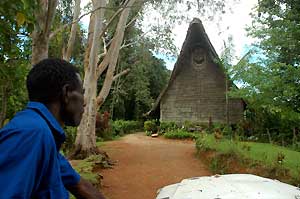 Karawari Lodge stands majestically on a lone ridge amidst a vast expanse of dense tropical lowland Sepik Basin rainforest which extends beyond the horizon for, what seems like, a thousand miles in every direction.
You are in `Arambak' country here, one of the most remote and unspoilt areas of Papua New Guinea, with the Karawari River only 300 feet (100 meters) below as your only way in or out.
T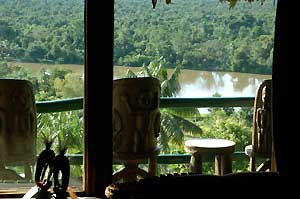 his tropical lowland rainforest is one of earth's most complex of habitats, housing an immense variety of flora and fauna along with a unique culture.
Exploring villages in small river boats along the jungle fringed waterways is as rewarding as it is exhilarating. See the people make use of the land - weaving baskets for catching fish in the river, or gathering,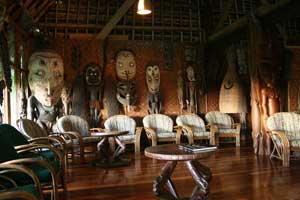 preparing and cooking their staple food from the Sago Palm - taste it for yourself.
The main building of the lodge is built in the form of a `haus tambaran' or spirit house, which contains the dining area, bar, lounge, and an incredible collection of Sepik artifacts.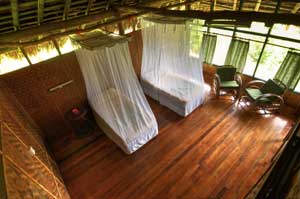 Your cottage, nestled in the spacious gardens, is constructed from locally gathered bush materials and fashioned after the traditional houses, yet having all the luxuries including a modern bathroom, comfortable mosquito-netted beds, ceiling fans, and a breezy verandah. All a welcome sanctuary after a day's exploration.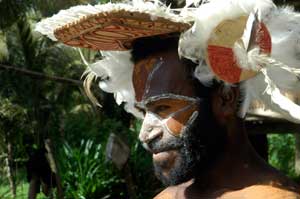 From Karawari, the awe inspiring beauty of the view at dusk has to be experienced to be believed. While contemplating the vast expanse of jungle as the setting sun colors the clouds and snaking river below, one could almost believe that the world was born yesterday.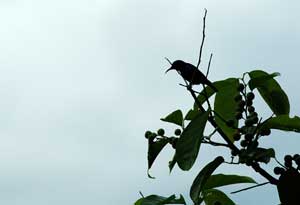 An Optional village stay in a traditional village for 2 days/1 night in a traditional village is also possible from Karawari.
General Information
Name : Karawari Lodge
Destination : Papua New Guinea
Location : Sepik Basin
Seasons : Year round
Capacity (max no. guests) : 24 approx
Accommodation
Room Types : twin
Showers & toilets : en suite
A/C : no
Hot Water : yes
Electricity : diesel generator provides power 220V
Fire warning system : N/A
Fire extinguishers : Yes
Fire escapes : N/A
Entertainment : Village tours to visit Sepik Villages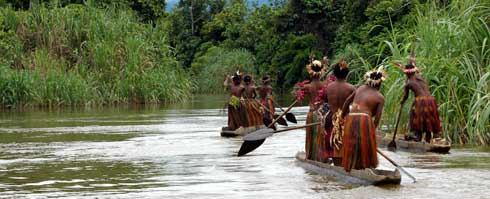 browse all escapes & hideaways
* NOTE. Prices indicated on this website are shown as a guideline only and may be subject to currency fluctuations, banking fees and other changes outside our control. Pricing information is available in
other currencies
.