Malaysia Wildlife Watching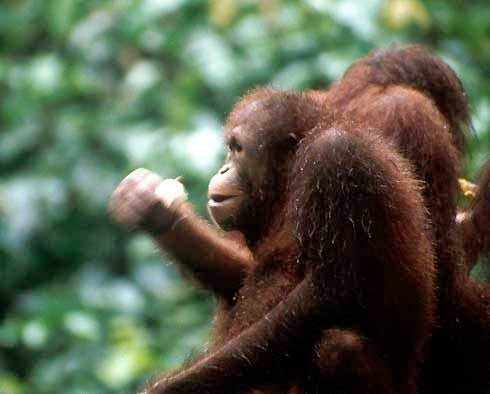 From £538 per person*
The Red Ape Trail
Overview
|
Short Trek, 5 Days/4 Nights
|
Full Trek, 13 Day/12 Night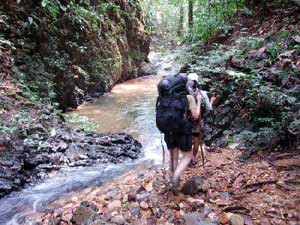 The Red Ape trail is a remote trekking route in one of the few remaining orangutan habitats left in Borneo that has been established in cooperation with the Orangutan Foundation. The trek has helped to raise orangutan conservation and awareness, both locally and internationally, and the money raised has funded community based orangutan projects in Sarawak. Adventurous travellers are encouraged to use the trail, which will also provide a sustainable source of income for the local people.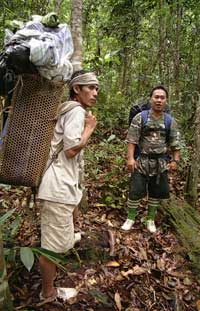 The Challenge
The Red Ape Trail is a real challenge. You will be trekking, with Iban guides for 5 days in a rural and remote region of Borneo, surrounded by dense tropical rainforest. The humidity and the temperature will be high and the terrain will be difficult and very hilly. You will have to cross shallow rivers and streams, pick leeches off of your legs and, if it rains (and it most likely will), you will also have to deal with muddy, slippery conditions.
You will be expected to carry your own pack and sleep overnight in the jungle. There will be few amenities, if any, on route. Amenities such as electricity, conventional sanitation, or running water (except where there is a waterfall) will be all but a dream for the duration of your trip.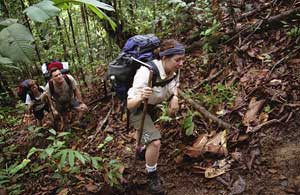 Food supplies will have to be carried with the team and cooked over an open fire. For the duration of the trek, you will be totally isolated from the outside world, meaning, it will be impossible to turn back once the trek has started (except for medical emergencies). It will definitely involve a great deal of physical and mental exertion. The Red Ape Trail is for serious participants only.
The Orangutans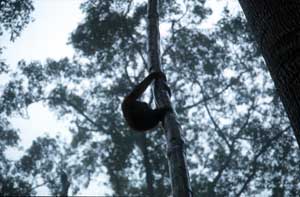 Orangutans were one of the first apes known to the western world, yet for many yeas they were the least understood. Often called the neglected ape, they are rarely seen in their natural habitat. Today, there are probably no more than 20000 wild orangutans remaining and their numbers are declining daily. The exploitation of tropical rainforest for timber coupled with the introduction of commercial agriculture, gold mining and poaching has put their existence under serious threat.
The Route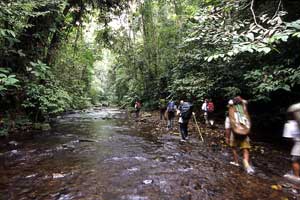 The Red Ape Trail will take you through one of the world's most diverse ecosystems; one that is also refuge to some of the world's most endangered species, including the orangutan. As a participant on the trek, you may have a rare opportunity to see many of these amazing animals (although we can't guarantee it) and increase your understanding of this incredible environment. Although you will not have direct contact with orangutans, you will search for them during the trek.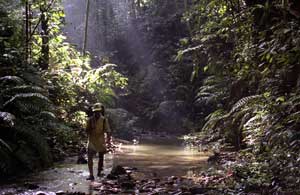 You will also be taught basic observational skills and learn how to spot and age orangutan nests. Your Iban guides will also share with you many of their traditional jungle skills. Most importantly you will gain an insight into how modern Iban communities interact with the forest and its wildlife. This, in turn, will help us establish a community based orangutan conservation project, which will ultimately help protect and preserve the orangutan and its fragile rainforest habitat.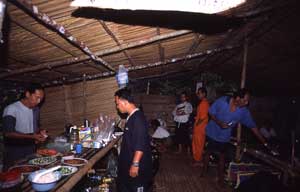 The Orangutan Foundation
(UK registered charity no: 1095660)
The Orangutan Foundation (UK) was established in 1990 and it aims to protect the orangutan and to conserve its rainforest habitat. The Foundation also cares for, and repatriates ex-captive orangutans back into the wild. The orangutan foundation is a member of the Great Ape Alliance, a coalition of 40 charities worldwide, working for the great ape conservation.
Please note that this trail is for the very fit and serious trekker, and requires participants to be able to hill trek for several hours per day in tropical and humid conditions.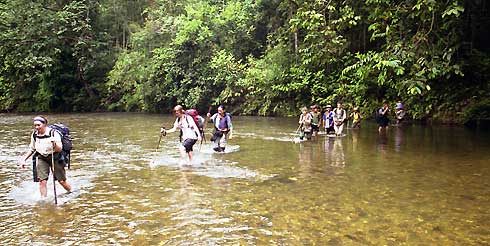 This tough trip is for you if:
➢ You are interested in wildlife, conservation and the natural environment.
➢ You are interested in indigenous people and their way of life.
➢ You are really adventurous.
➢ You are used to outdoor activities.
➢ You are physically very fit and do not mind to rough it out.
➢ You will be able to trek for several hours a day in hot and humid tropical conditions.
➢ You have no problem carrying you own personal belongings.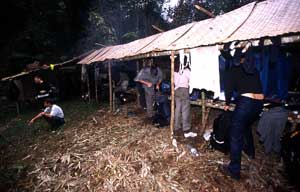 ➢ You do not mind to sleep overnight in the jungle in a hammock just sheltered by a canvas.
➢ You do not mind to get wet and dirty.
➢ Leeches and similar creatures do not put you off.
➢ You will have no problem eating simple meals prepared over an open fire.
➢ You do not mind to return with sore muscles, blisters etc.
How this holiday makes a difference
In line with our commitment to responsible tourism, all guides and assisting staff on this trip are local people from the Iban tribe. All of our guides and assisting staff on this trek are committed to the conservation of Borneo's primary rainforest and educate each group about the local wildlife, flora and indigenous populations that live in the Sarawak and the surrounding area.
This trek is a great way to reduce your carbon footprint with the majority of the tours using people power such as walking or kayaking. The tours are designed for small groups to ensure minimal impact to the local environment. We also provide clients with a list of things they can do to reduce their impact on the environment whilst on the trek such as using biodegradable soaps and packaging's.
The Red Ape Trail segment of this tour is built up around the Nanga Sumpa longhouse and with the help from the local people from this community. Trekking in this region brings an income to a very remote community. A percentage of the money from the trek goes to support the local communities by using local produce and handicrafts.
The accommodation whilst on the Red Ape trail has been chosen for its responsible environmental policies. The accommodation has been designed to fit in with the natural environment by using native building materials and whilst at the Borneo Adventure Lodge the accommodation is keeping with the traditional designs of longhouses. The accommodation has also been chosen for the minimal impact it has on the environment for example the hotels and lodges do not wash linen every day.
Furthermore the Red Ape Trail tour focus on conservation of the orangutans particularly and the wildlife in general. For each individual tour participant, USD100 will be given to The Orangutan Foundation (UK). This fund was established in 1990 and it aims to protect the orangutan and to conserve its rainforest habitat. The Foundation also cares for, and repatriates ex-captive orangutans back into the wild. The orangutan foundation is a member of the Great Ape Alliance, a coalition of 40 charities worldwide, working for the great ape conservation.
On all of our tours we employ local staff and are committed to the development and education of our staff providing training sessions, travel opportunities and other opportunities to participate in Community Based Tourism Projects within Cambodia. When clients book a tour with us they are also provided with information about local charities they can support and a guide to local restaurants and crafts.
We have been actively implementing green practices which stretch from our offices to our partners throughout the whole of South East Asia. We have spent 13 years enthusiastically researching socially and environmentally sensitive tourism opportunities in South East Asia.
At a local level we actively participates in reducing its environmental impact by recycling and reducing the amount of paper transactions by providing our information to our clients electronically. We also use fans in the office instead of air conditioning.
Notes
This is a trek that can be incorporated into a longer Symbiosis tailor made holiday to Malaysia that can be adapted and tailored to meet your dates, preferences and passions. Please contact one of our bespoke holiday planners to create the ideal itinerary for you.
* NOTE. Prices indicated on this website are shown as a guideline only and may be subject to currency fluctuations, banking fees and other changes outside our control. Pricing information is available in
other currencies
.