Indonesia Spas & Well Being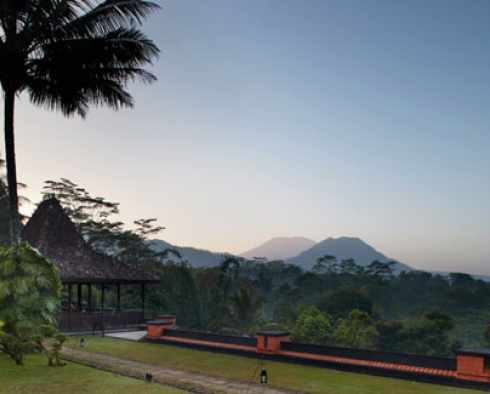 Price upon request
Wellness Retreat with MesaStila in Central Java
Choose where you sleep
MesaStila Wellness Retreat & Coffee Plantation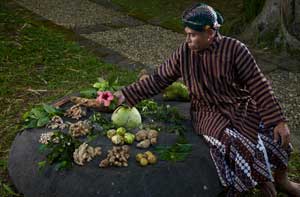 MesaStila offers a distinct Javanese flavor in activities and programs that include healthy eating; focused exercise; planned relaxation; stress management; cultural and educational programs; limitations on smoking; moderation in alcohol consumption and a variety of exceptional wellness inclusions and specially designed packages that will support a stay of wellness.
The essence of the retreat is defined through the calming and powerful environment in which MesaStila sits - encircled by eight magnificent volcanoes and set within fifty-five acres of gardens, plantation and tropical jungle.
Wellness Concept
Health is the most precious asset! People often face a lot of stress and settle into an unhealthy lifestyle during everyday life; so it is important to compensate for this by pursuing health and wellbeing during free time.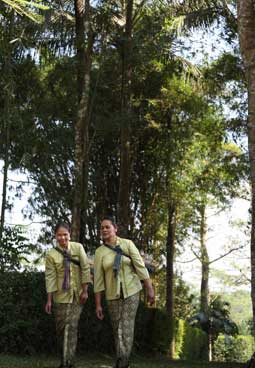 MesaStila offers an opportunity for personal growth and realizations about wellbeing, together with cultural and historical encounters that offer amazing stories of exploration.
Modern travelers are becoming more and more discerning and are looking beyond simply "room and breakfast". Passionate travelers are inspired by aspects of their life journey: from eco-friendly, cultural and heritage explorations, to inspiring wellness experiences.
The evolution of Wellness at MESASTILA is based around the integration of the elements of wellness in the diagram below; combined with pledge to focus on traditional, local, wholesome experiences that bring out the magnificence of the environment, the remarkable people and the real essence of Java.
Wellbeing
MESASTILA offers fitness-focused classes each day throughout the day in addition to the complete gym overlooking the jungles of Java. Most of the classes are supervised by a Master Trainer. Classes include:
- Aqua-Fit
- Bootcamp Training
- Cycling Tours
- Extended Jungle Trek & Stair Climb
- Jungle Gym
- Pencak Silat (Javanese Martial Arts)
- Power-Yoga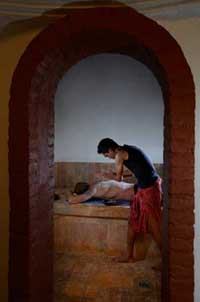 Spa
With the perfect balance of ancient and contemporary healing traditions, MESASTILA brings you the finest therapies from Asia and the Near East.
The Indonesian Archipelago has a long history of contact between Chinese and Arab traders, who introduced plants, herbs and spices; bringing insights from Indian Ayurvedic, Chinese and Greek medicine and Arab healing practices. The traditional Indonesian Jamu sellers are a result of these enormous influences and today these people are best described as "walking-talking pharmacies".
Cultural traditions were adopted as the traders traversed the region and one such ritual is the Hammam. With its origins in Turkey, MESASTILA is proud to house South East Asia's only authentic Hammam, where steam bathing combines functionality with decadent cleansing rituals.
The word Java today seems to be synonymous with coffee in so many parts of the world. The coffee bean, which is grown at MESASTILA, is a fabulous link with many of the aforementioned cultures. Coffee continues to hold a strong fascination and well-researched reputation for its excellent healing properties, high anti-oxidant levels and in is stimulation of the body and mind.
Whether you are seeking solitude from your demanding lifestyle, a cultural explosion and indulgent encounter, you will find something here within MesaStila spa and wellness experiences.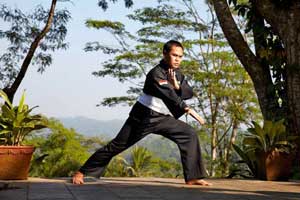 Wellness Retreat Guidelines
• To encourage a focus on health, smoking is permitted only in specific areas of the retreat
• Cuisine concept is a focus on Javanese fusion food with a healthy twist - local and organic produce, healthy cooking techniques, nutritious foods, fish and a limited use of meat
• Alcoholic beverages are restricted to wine and champagne available after 5pm; fresh juices and mineral water are served as a replacement for soft drinks
• The recommended minimum age for children is twelve years old; with a condition that they participate in retreat programs. Children aged betweem five and eleven may stay at the property only under strict parental supervision and with "limited access" to all areas of the retreat
• The use of mobile phones, laptops and PDA's are allowed only in the privacy of guest villas - we further encourage an absence of use, to help develop the relaxing process
• Guests are required to participate in compulsory activities defined in each retreat
• For comfort guests are encouraged to wear relaxing yoga attire or bathrobes provided in each villa
• It is a requirement that "pre-arrival forms" are completed and sent to the retreat upon confirmation of booking
• Only food and beverage provided by the retreat may be consumed within the retreat; thus mini?bars are stocked with healthy beverages and snacks
• To encourage a tranquil environment televisions are available in villas and can be connected upon request
Wellness Cuisine
The cuisine concept is a focus on Javanese-fusion food with a healthy twist - using local and organic produce, healthy cooking techniques, nutritiously dense foods, masses of fresh fruit and vegetables, local and regional carbohydrate staples, fish, some seafood and a limited use of meat. The essence of the resort's creation as refined by Corporate Executive Chef Darren Lauder: "to create deliciously-tasty food that brings out the flavors and style of cuisine so prevalent in the Javanese food creations; allowing local chefs to refine the foods that they love to eat themselves - while ensuring that we develop an immense nutritional integrity through the use of sustainable, local, organic and wholesome foods wherever possible"
Location
By Plane
MesaStila is located right in the centre of Semarang Airport, Jogjakarta Airport and Solo Airport. It takes 45 minutes by Plane from Jakarta to Semarang Airports, 60 minutes from Jakarta to Jogjakarta or Solo Airport and 60 minutes from Bali to Jogjakarta or Solo Airport.
By car
It takes about one and a half hour by car from Semarang Airport and two hours by car from Jogjakarta Airport or Solo Airport to MesaStila.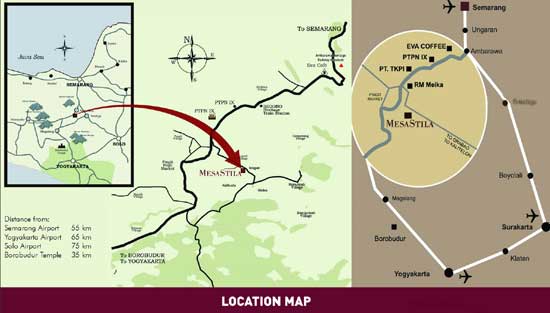 * NOTE. Prices indicated on this website are shown as a guideline only and may be subject to currency fluctuations, banking fees and other changes outside our control. Pricing information is available in
other currencies
.