Indonesia Escapes & Hideaways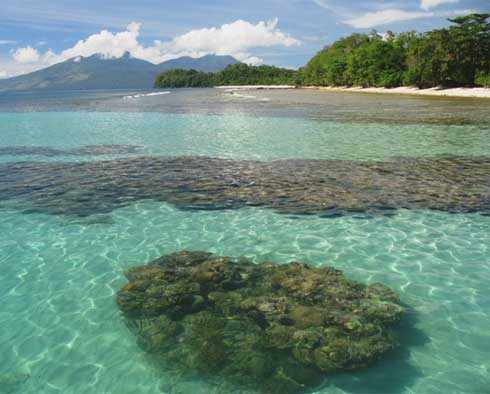 on the beach, Price upon request
Pulisan Jungle Beach Resort
Bangka Sea, Indonesia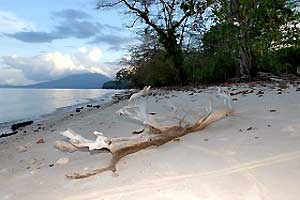 Did you ever want to get away from it all? Leave the rest of the world behind you? If you can do without aircon and luxury, then Pulisan Jungle Beach Resort in North Sulawesi is definitely an option... especially if you want to dive one of the world's most famous critter havens, the Lembeh Strait.
Pulisan's eight wooden beach chalets, built in traditional Minahasa style, nestle below high cliffs on the top end of a 1.5 km white sandy beach. From your window you have a spectacular view to Mt. Tangkoko National Park and the Lembeh Strait. No one will disturb your privacy here as the nearest village and road are 15 minutes away... It feels like being on a remote island.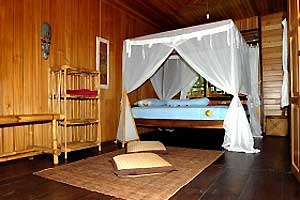 The wooden cottages are simple but clean and comfortable. Four beachfront bungalows have an Indonesian style bathroom, or mandi, where you take the water from alarge container and spoon it over you! Two larger deluxe beachfront bungalows have a western style bathroom and sit down toilet, and are well fitted for a family. Two smaller bungalows are equipped with Indonesian style bathrooms and squatting toilets are especially designed for single travelers.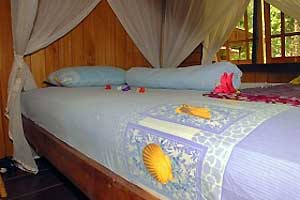 You will be cared for by our local staff from the village of Pulisan who are descendants of the Sangihese. As former fishing people and gardeners they are trained and educated within the project. You will find the traditional cooking delicious which includes fresh superior seafood, enriched by a choice of local vegetables. Vegetarians can also be catered for. As tourism is only very recent development in this remote area, you can look forward to a very authentic cultural experience. The Sangihese are great hosts.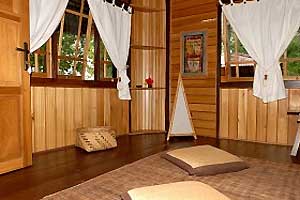 A safe alternative to remote Togean Islands & busy Bunaken, the resort is easily accessible in just a 2 hour drive from Manado, the capital of Indonesia's North Sulawesi Province. It is situated just around Cape Pulisan which is the utmost North-East of the North Sulawesi's Minahasa Peninsula. Snorkelers and divers will be thrilled by the uniqueness of the marine life of the nearby Bangka island archipelago with Gangga, Lihaga, Talisei as well as in the world renowned Lembeh Strait (30 - 60 minutes by boat).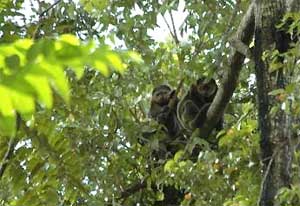 Pulisan is not a place for divers only; a stroll along the beach, flanked by jungle that is home to black tailless macaques, Maleo birds and red-knobbed hornbills, you might imagine yourself in Robinson Crusoe lost paradise. The beach is also frequented by giant sea turtles to hatch.... a nature lovers paradise.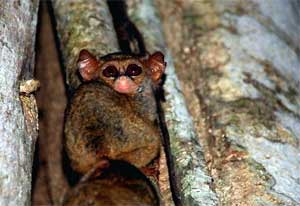 Tangkoko National Park, home to the world's smallest primate, the Tarsier, is only a 40 boat minutes boat ride away. If you enjoy nature, snorkeling, diving, fishing the traditional way, paddling an outrigger canoe along spectacular pancake rock cliffs - then this is the place for you. A little further afield, you can cycle around Tondano volcanic crater lake, hike a volcano or explore the Minahasa Highlands the easy way by car. Pulisan also has motorbikes for hire.
The Diving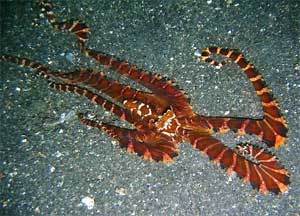 The diving from Pulilsan is away from the crowd and much of it is exploratory. The famous Critter capital of Lembeh strait is a short boat ride away too.
Pulisan has its own small but well organized dive base attached to the resort with a professional staff. It's all there, Coltri compressor, cylinders, weights and a range of equipment including wetsuits (all new, Mares & AMscuD), BCDs (all sizes), regulators (Mares & AMscuD), booties, fins. Divers usually bring their own additional accessories such as dive computers, torches and cameras. The same applies for optically adjusted masks. Rentals should be booked in advance.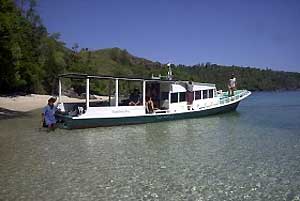 Pulisan's two sturdily built wooden boats, custom-made by local carpenters, take you to the dive sites, most of which can be reached in between ten (priest's rock) and seventy boat minutes (Lembeh Strait sites). One boat is thirteen metres long and offers a large sundeck, the other is eight metres.
General Info
Name : Pulisan Beach Resort
Destination : Indonesia
Location : North tip of Minahasa Peninsular, Sulawesi.
Seasons :
Capacity : (max. no. guests)
Room Facilities
Room Types : individual wooden chalets
Showers & toilets : 4 with western style bathrooms, the remainder with traditional "mandi" style with squat toilet
A/C : no
Hot Water : no
Entertainment : western style bathroom and sitting
Electricity : 220V
Safety
Fire warning system : N/A
Fire extinguishers : yes
Fire escapes : N/A
Dive location & resources
Dive location : Pulisan, Bangko AIslands and Lmbeh Strait
Dive facilities : In house dive centre
browse all escapes & hideaways
* NOTE. Prices indicated on this website are shown as a guideline only and may be subject to currency fluctuations, banking fees and other changes outside our control. Pricing information is available in
other currencies
.