Indonesia Escapes & Hideaways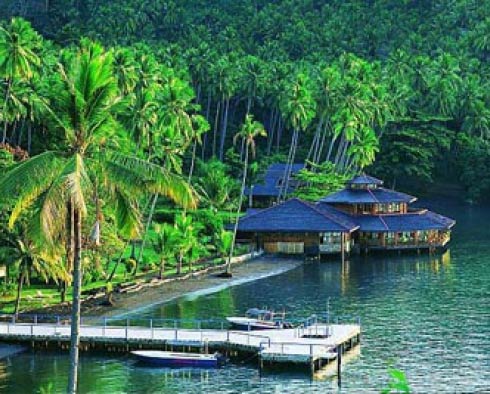 on the beach, From £103
Kungkungan Bay Resort
Lembeh Strait, Indonesia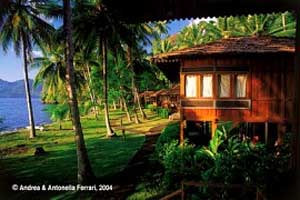 North Sulawesi's most deluxe option! This place is beautiful - isolated on the east side of the Minahasa peninsular and within a stone's throw of the extraordinary Lembeh Strait, famous for its macro and critter diving. There are also three World War II shipwrecks and one sunken Taiwanese fishing vessel to dive on. All wrecks are easily dived and are beautifully overgrown and teeming with reef life.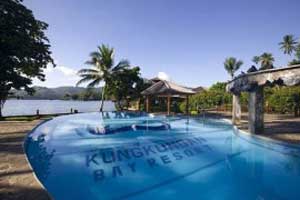 Novice divers and experienced divers alike will find fun and exciting dive sites unlike anything they may have seen anywhere else. In harmony with the surrounding nature, Kungkungan Bay Resort, or just 'KBR' to its many fans, is built on a former coconut plantation.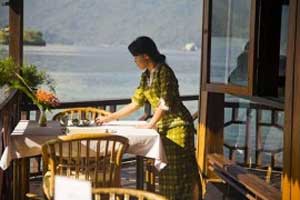 Kungkungan Bay Resort faces the Lembeh Strait and guests dining in the over-the-water restaurant have an unfettered view of this unique and peaceful setting.
Facilities at KBR include a private jetty with camera rinse tanks and hot showers, swimming pool with swim-up bar, lounge, internet access and lending library.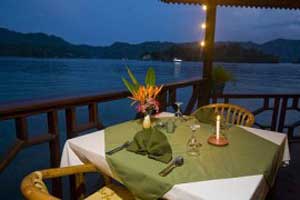 Restaurant service is available 24-hours of every day.
The Kungkungan Bay Resort's health spa caters to your every need from traditional massage to coiffeur treatments or sauna.
ACCOMMODATION
Kungkungan Bay Resort was specifically designed to achieve a pleasing aesthetic effect with minimum impact on the environment. By using local materials and traditional architecture and adding western style bathrooms and amenities the resort reflects the local Minahasan culture, while providing international standards of comfort, convenience, safety, and privacy.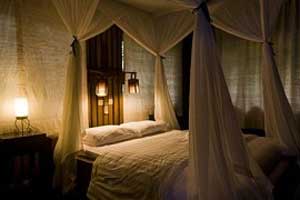 Beachfront Cottage Suites
Beautiful coconut wood cottage. There is a separate large sitting room with veranda, air-conditioned bedroom with queen bed, ceiling fan, mini-bar, hair-dryer and large shower room. Second bed can be added to some rooms, to increase occupancy to a maximum of 4 persons. All of the rooms are non smoking.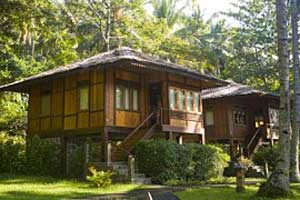 Beachfront Traditional Houses
Original traditional house style where all the rooms are non-smoking. Room has 2 queen beds, cable TV, ceiling fan, air conditioning, mini bar and well-equipped shower room. Our L-shaped room gives privacy for each bed. Perfect room for non-couples. Occupancy: maximum
4 people. We also have 1 family traditional house with 2 separate bedrooms. The main bedroom has a king-size bed and the smaller bedroom has 2 single beds and are connected to a separate lounge area. This house has all the amenities of the standard traditional houses.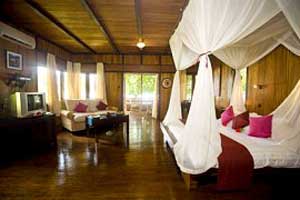 Beachfront Villas
Modern-traditional house style. Perfect room for couples or honeymooners. Each room is air conditioned and offers an open style with a huge living area, king bed, spacious veranda and large bathroom with bath facilities. All Beachfront Villas offer mini-bar, tea & coffee maker, hair-dryer and cable TV. Room service is available from 7AM to 9PM. All of the rooms are non smoking.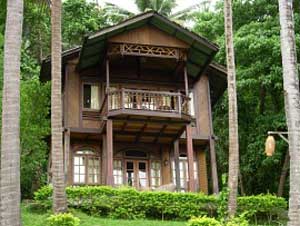 Hillside Villa
Located on a hillside within the resort is the Hillside Villa, an intimate and exclusive accommodation on two stories. This is KBR's version of the 'penthouse suite', with a stunning view and all the privacy a romantic couple could wish for. The Hillside Villa belongs to the same specification as the resort's Beachfront Villas, with ensuite shower room, air-conditioning on both levels,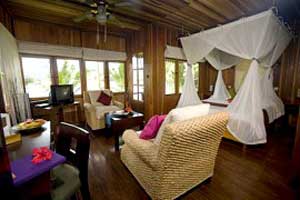 mini-bar, tea & coffee maker, hair-dryer and cable TV. Room service is available from 7AM TO 9PM. This is a non smoking room.
*KBR offers up to 4 dives per day and you can do unlimited shore diving on the "house reef", a dive that should not be missed.
browse all escapes & hideaways
* NOTE. Prices indicated on this website are shown as a guideline only and may be subject to currency fluctuations, banking fees and other changes outside our control. Pricing information is available in
other currencies
.