Indonesia Escapes & Hideaways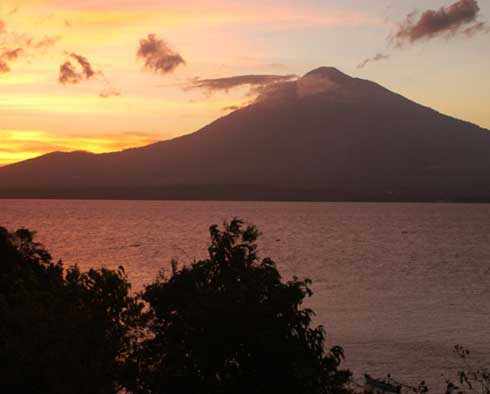 on the beach, Price upon request
Divers Lodge Lembeh
Lembeh Strait, Indonesia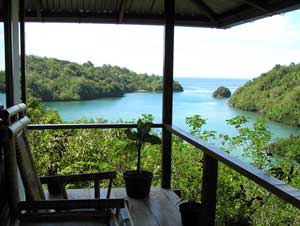 Divers Lodge Lembeh is situated on the south west tip of Lembeh Island, North Sulawesi, Indonesia. There are no roads on the Island. There are some villages and settlements, but none in the immediate vicinity of the resort. The resort can only be reached by boat from the town of Bitung across the Strait.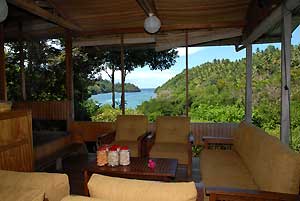 The resort is situated on a ridge and is an oasis of tranquility and natural beauty, surrounded by 25 hectares of protected area. In the west is Lembeh Strait and in the south and east you see the beautiful Bay of Walenokoko and the Maluku Sea.
Divers Lodge Lembeh is surrounded by sea and 25 hectares of nature where you may see a wide variety of big butterflies, monitor lizards and many species of birds, including king fishers and sea eagles... and, with a bit of luck, after sunset even a tarsier, the world's smallest primate.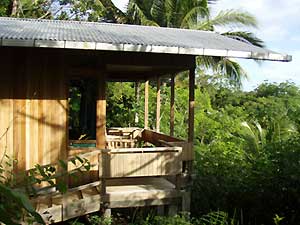 The resort consists of only nine houses. Six of these are guest bungalows. Divers Lodge Lembeh is a small intimate resort which can accommodate a maximum of ten guests. The bungalows are scattered around the hill and each has its own path and private access. In this way every guest is guaranteed privacy.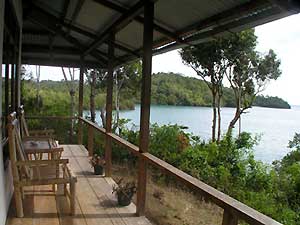 Every bungalow has a spacious terrace with chairs and a living/bedroom with a choice of either a twin bed or two single beds, a work table and a sitting area. The ensuite bathroom is equipped with a shower with running hot and cold water, a western toilet and a washbasin.
The bungalows are well ventilated and located to catch the cool sea breezes. If needed, a ceiling fan provides extra cooling. Air-conditioning is not needed.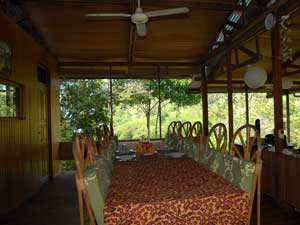 All guests take their meals together with Linda and Rob, the owners, at one long table. The restaurant with an open air lounge has a beautiful view of the bay and the sunset behind the volcano, Mount Klabat. The lounge is also the perfect spot to review your diving pictures or films, play games, read a book or enjoy a chat with fellow guests over a cold drink. A widescreen HDTV with surround home theatre sound system, a wide range of novels, DVD movies, music and marine life identification guides are provided for your use and enjoyment.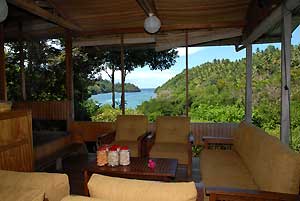 Wireless internet access is available in the restaurant and lounge area for free. There's a Laptop for guests to use to access the internet, and there is a computer room equipped with an up-to-date Computer with internet facility and CD/DVD burner. There is an excellent wireless GSM telephone network reception for those who have the facility on their cellular phones and also a GPRS network.
Although smoking is not allowed in the bungalows, the restaurant,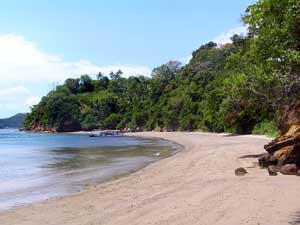 the lounge, the computer room and in the sheltered part of the boats, if you are a smoker you needn't worry! There are lots of places left where you can enjoy a cigarette, for example on your private terrace in front of your bungalow, in the gardens or on the beach.
Divers Lodge Lembeh is the perfect place for someone who likes privacy, while at the same time providing the opportunity to get to know other guests and make new friends.
THE ACCOMODATION:
3 spacious bungalows (dimension room 4,50 x 5,50 meters)
2 traditional bungalows (dimensions room 4,00 x 4,00 meters)
24 hours electricity with 220 Volt
Large bathroom with warm shower
European toilet
Terrace
Special table for your camera and a lot of privacy
Enough light to read your books
Ceiling fans, in the bigger rooms
Actually, it is not necessary to use an air conditioning because the houses are situated on a small hill with sea on both sides. The rooms are all very well ventilated and protected against mosquitoes. You do need not to bring a klamboo (mosquito net).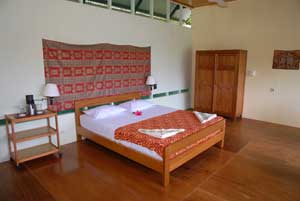 All rooms offer a superb view and will give you all the privacy you want.
THE RESTAURANT:
The small open restaurant, with great view at the bay and, further away, the Moluccan Sea is simple but nice. It does not have an extended menu. The tasty meals are always fresh prepared. For the breakfast you can have.
- Homemade bread
- Fruit
- Yoghurt
- Pancakes
- Nasi goreng
The local dishes for the lunch and diner can be adjusted to the taste of the guests who are not used to spicy food. Apart from rice we usually also serve french fries or pasta. For the ones who do not like meat or fish there are very good alternatives. You can use Divers' Lodge's television set and computer with cd-burner for your films and photos. Bring your own cables please.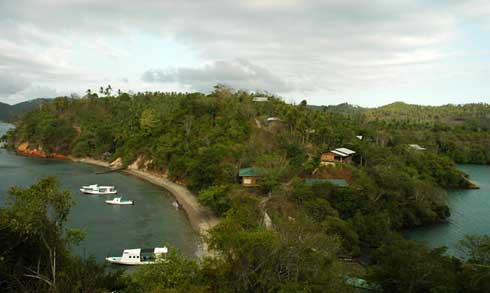 DIVING CENTER: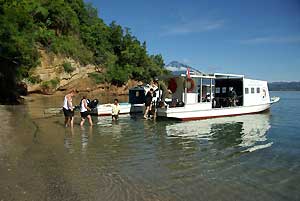 This unique piece of underwater world deserves also a unique dive center. The English speaking dive guides, Samuel and Wilson, were among the first who discovered diving in the area. Together they have made more than 10.000 dives in Lembeh Strait.
Andris, Atu and Man belong to the younger generation who have learned from their experienced colleagues. They will show you what you would miss otherwise and give all the time you need to discover the rest yourself.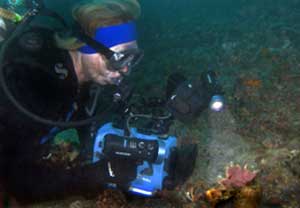 The resort's unique style of diving means only one or two divers with each guide. This guarantees that you can dive the way you like it. Although we dive without time limits we do not make decompression dives or dives deeper than 30 meters.
The boats used are traditional wooden perahu, but specially made for diving, equipped with a European toilet and a shelter against sun.
Rental equipment is available. PADI dive courses at all levels are given by Rob Sinke, a PADI Master Instructor who already educated more than 800 divers.
General Info
Name : Divers Lodge Lembeh
Destination : Indonesia
Location : Lembeh Island on the north tip of Sulawesi, Indonesia. 3 hour drive from Manado airport. The Lembeh Strait is one of the World's most celebrated dive spots for "muck" diving.
Seasons : Year round
Capacity : 10 (max. no. guests)
Room Facilities
Room Types : 6 guest bungalows only, each with spacious terrace and a living/bedroom with a choice of either a twin bed or two single beds, a work table and a sitting area. The ensuite bathrooms are equipped with hot showers, a western toilet and a washbasin.
Showers & toilets : en suite
A/C : no
Hot Water : Solar heated
Entertainment : Large flat screen TV with surround sound and DVD, library, games, wireless internet in lounge area
Electricity : 220V, 2 pin (round) (adaptors available)
Safety
Fire warning system :Yes
Fire extinguishers : yes
Fire escapes : N/A
Dive location & resources
Dive location : Lembeh Strait
Dive facilities :inhouse
browse all escapes & hideaways
* NOTE. Prices indicated on this website are shown as a guideline only and may be subject to currency fluctuations, banking fees and other changes outside our control. Pricing information is available in
other currencies
.