Indonesia Escapes & Hideaways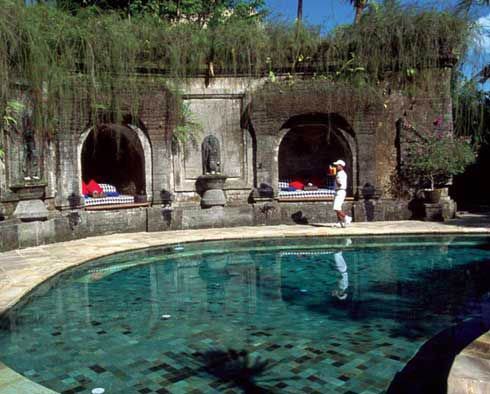 in town, Price upon request
Ibah Bali
Bali Ubud, Indonesia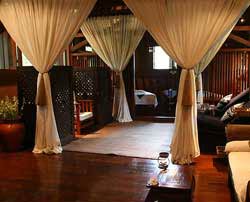 "Ibah" which means bequest in Indonesian was completed on the former site of the Tjetjak Inn in 1995 and offers visitors more than the amenities of a luxury hotel. Ibah is a hand crafted meditation in the art of relaxation.
Blending modern and traditional Balinese design, Ibah is one of Ubud's most established boutique hotels. Located on the banks of the Campuhan River, the hotel is within easy walking distance of shops, galleries and restaurants.
Ibah offers 15 uniquely designed villas with views of the Balinese countryside in the quiet Ubud hills near the middle of what has become the artistic and culturalcenter of the island.
AMBIENCE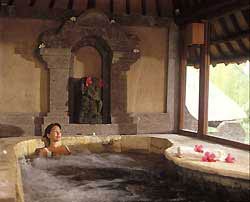 All rooms are named after flowers, have Roman blinds, wooden shower floors,air conditioning, ceiling fan, exhaust fans or air-conditioning in the bathrooms, beautiful ceramics, earthenware pots and earthenware or wooden dishes, and most have Javanese glass paintings. Roofs are thatched with elephant grass, some ceilings are visibly covered with woven bamboo mats. The roof tops have traditional designs made of ijuk,the black fibre of the jaka palm tree, with animal figures such as bullsor snakes.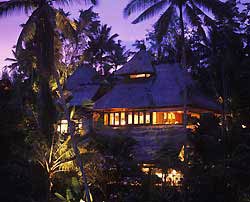 IBAH TREETOPS
Ibah Treetops has 4 spacious rooms in one large building. These rooms have a view of the rich rainforest valley, with the river below. The building is entered from underneath via a white stone cave. Steps go up to the two Deluxe suites, and steps go down to the two Standard rooms. The building has a wooden shingle roof and is constructed of natural stone and wood.
All of Ibah's rooms have a terrazzo floor and marble bathrooms. Each has a verandah, bedroom, bathroom and study.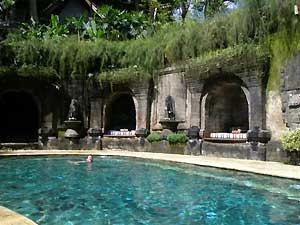 The two Deluxe Suites on the upper floor can be interconnecting as can the two Standard Rooms on the Lower level, or, for a large group, the whole building can be used as a single unit.
All rooms are fully air-conditioned and have ceiling fans. Each has a digital safe, IDD telephones, mini-bar and all comfort amenities. There are original pen and ink drawing and glass paintings on the walls, and our distinctive ceramics add to the decoration.
browse all escapes & hideaways
* NOTE. Prices indicated on this website are shown as a guideline only and may be subject to currency fluctuations, banking fees and other changes outside our control. Pricing information is available in
other currencies
.