Indonesia Escapes & Hideaways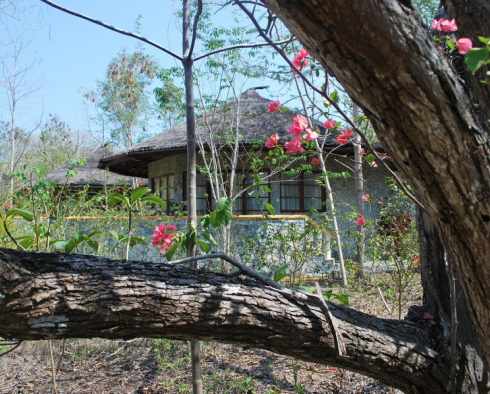 on the beach, Price upon request
Angel Island Resort
Komodo National Park, Indonesia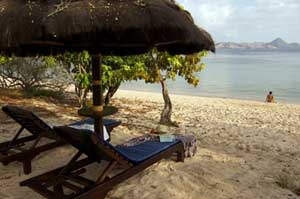 Indulge yourself and stay at Angel Island, 10 villas set in gardens of Hibiscus flowers in 15 hectares, on a private island on the edge of Komodo National Park, with 3 white sand beaches, 20 minutes by boat out of Labuanbajo - Flores. Angel Island resort is a small island to the West of Labuanbajo, Flores, which is in the Lesser Sundas province, East of Bali.
The villas are spacious and all set within 1 minute walk from the ocean.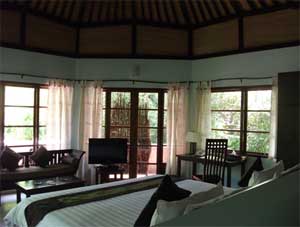 Each villa has remotely controlled A/C for your comfort, King size beds or twin 120cm beds.
There is a mini bar with snacks and drinks, personal mini safe for your valuables, water dispenser with hot and cold water for free tea/coffee anytime.
The Garden Bathroom
The bathroom ensuites with hot and cold rain shower and a cold water shower Urn in the garden, twin sinks with hot/cold water.
Room Terrace
Each room has a private terrace with sun-loungers and coffee table.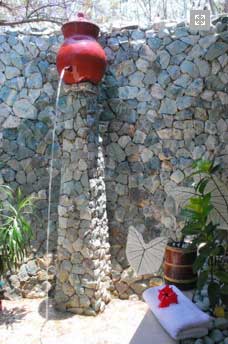 The Garden restaurant is set with a view of the ocean, with tables at the edge of the beach, so you are able to dine under the stars and moon and hear the waves gently lapping, or you can dine in the traditional wooden pavilions set intimately for two or our larger pavilion for up to 8, also placed at the beach.
The menu has a variety of wholesome Indonesian, European and Vegetarian dishes.
Fresh line caught fish will be served. however due to the destructive fishing practices used catching shell fish, octopus, Squid and cuttlefish, these are not served in the restaurant.
Birdlife
The Island is a breeding area for the migratory Pacific Black Duck during the months of October – April these are now protected on the island.
We have resident Collared Kingfishers, whose loud calls can be heard during the daytime.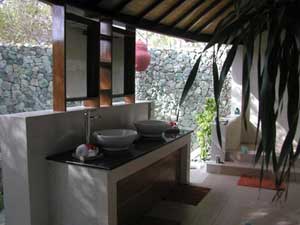 Pied Bush Chats can be heard and seen around the island, very curious birds and can sometimes be found watching you through the windows.
Olive backed Sunbirds can be seen everywhere on the island usually in the hibiscus flowers
Oriental White eyes can be seen in all the shady trees, chirping and calling to each other, especially in the morning and late afternoon.

Zebra Finches can be seen in small flocks darting from tree to tree as you approach
Black faced Munia, small groups flying low in the trees with a short call of tri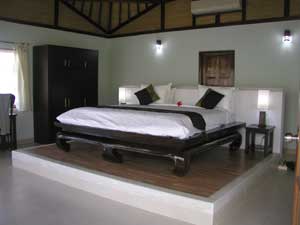 Little swifts that nest in the small caves at the back of the island can be seen near the beaches at dusk
Savanna Nightjar can be heard calling their distinctive chew-eep in the late evening as they hunt for flying insects
Spotted and Barred doves can be seen idly walking on the ground picking up seeds
Barred Button Quail can be spotted dashing into the underbrush
White bellied Sea Eagle can be seen circling above the islandBrahminy Kite also seen soaring high above island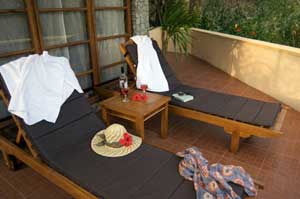 Black Kite
Pacific Reef Egret near the waters edge or perched on rocks looking for lunch
Great billed Heron often seen hunting for fish off the red beach or Sabolon beach

Frigate birds can often be seen diving into huge schools of fish jumping just off the beaches, the noise of the fish jumping and splashing is sometimes very loud.

The island is also a turtle nesting area anytime from November to May, any nests found will be closed off to protect the nest from being trampled inadvertently and are now of course protected from local egg collectors.
There are some very interesting Insect bug life and lots of butterflies
browse all escapes & hideaways
* NOTE. Prices indicated on this website are shown as a guideline only and may be subject to currency fluctuations, banking fees and other changes outside our control. Pricing information is available in
other currencies
.