Indonesia Escapes & Hideaways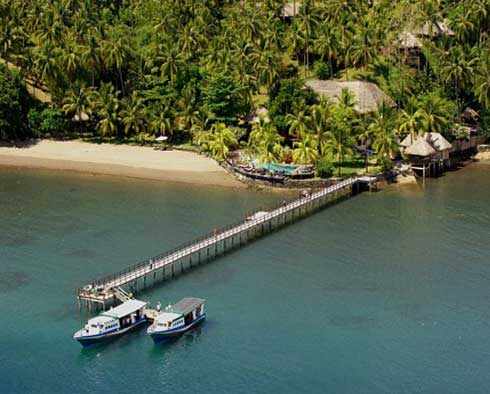 on the beach, Price upon request
Kima Bajo Resort & Spa
Manado / Bunaken, Indonesia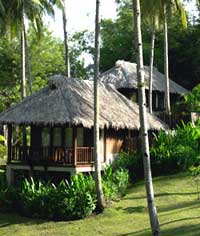 Nestled amongst undulating coconut grooves overlooking the tranquil Wori Bay and just minutes away from North Sulawesi's Bunaken National Park, Kima Bajo Resort & Spa is a small upscale boutique resort which offers romance, luxury and every comfort you could wish for, as well as immediate accessibility to the world-class diving of Bunaken Marine Park.

From diving or snorkeling in the crystal clear waters of Bunaken National Park to relaxing in the spa, hiking volcanoes, visiting traditional markets or walking through Tangkoko Nature Reserve in search of the world's smallest primate,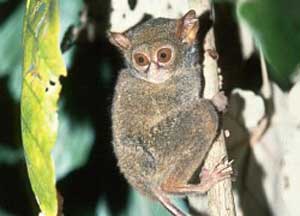 Tarsius Spectrum and some rare forest birds, Kima Bajo Resort is the place to be as you can experience this and more from one comfortable and convenient location.
A 40-minute drive south will bring you to the port city of Manado, with its predominantly Christian population and colourful colonial history. Here you can experience the culture of a thriving regional metropolis striving to embrace the 21 st century.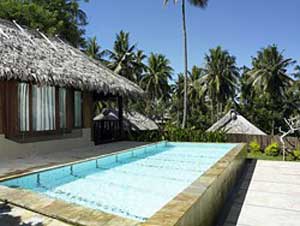 The choice of accommodation includes 19 villas, each with a sunken outdoor bath and shower, 1 Grand Villa with its own private pool, and 12 spacious Long-House rooms. Each room is provided with en-suite bathroom, air conditioning, safety deposit box, mini bar and TV.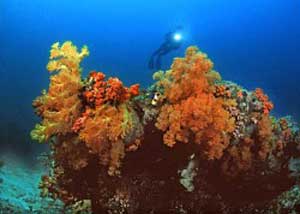 The Kima Bajo Resort is conveniently located just 25 minutes from Manado's international airport. Divers can expect world class dive and snorkel experiences while non divers can enjoy soft adventures in the surrounding Minahasa Highlands or relax at the pool with beautiful views of Bunaken Island and Manado Tua, and breathtaking sunsets over the Sea of Sulawesi.

Accommodation



Located throughout the grounds of the resort are 19 luxurious, garden or sea view, air-conditioned, resort-style Bunga villas with one super king-size or two single twin canopy beds, an outdoor sunken bath and shower, an indoor western bathroom and shower, and a private balcony.




The Grand Villa Suite offers our guests the upmost in comfort and luxury, with 2 exclusive, air-conditioned villa suites, satellite TV, an adjoining private swimming pool and a covered sun deck. The main suite's facilities include a super king size canopy bed, an outdoor sunken tub and shower, indoor western bathroom and shower, and a private balcony and entrance. The adjoining suite's facilities include 2 twin beds, a private entrance and an indoor/outdoor western bathroom and shower.



Also available for our guests are 12 spacious, air-conditioned villa-style longhouse rooms, with two twin beds or one king-size bed, connecting rooms, private ensuite western bathroom and shower amenities, and a beautiful, lush garden view.

All types of accommodation include: mini bar, individual water heater, telephone service, individual safe deposit box in each room and at the front desk, tea and coffee making facilities, hair dryer, and guest toiletries.



Nibong Bar and Restaurant
The Nibong Restaurant and Bar offer international and local Manadonese cuisine. Stepping down from the restaurant is the pool deck and private beach where one can be totally immersed in the spectacular sunsets with the conical Manado Tua rising from the horizon.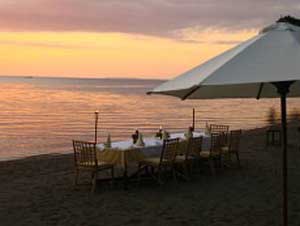 Needless to say, a setting like this is ideal for a table set for 2 on the beach, under the stars, and romance. It is not surprising that Kima Bajo is increasingly sought after for honeymoons and wedding photo-shoots.

The restaurant offers:
A selection of International, Indonesian and Minahasan menu items
Fresh smoothies and refreshing fruit drinks
A wide range of wine, beer, and spirits
Pool-side food and beverage service



Mayana Spa
Retreat into Kima Bajo's lush bamboo framed Mayana Spa with an array of spa treatments while lulling to the ebb and flow of the sea. Mayana Spa promises to rejuvenate and soothe battered urban souls with spa treats derived from a fusion of traditional jamu (Indonesian herbs) and conventional aromatherapy essential oils.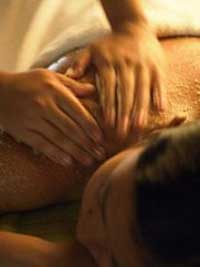 From invigorating massages to luxurious spa treatments, guests calm their nerves with the strong sensuous strokes of our trained therapists. Couples unwind at their personal spa cove while taking pleasure in the magnificent sight. Concocting and personalising your own jamu is an experience one would never forget at our spa. One saunters out of this haven with glorious radiant skin and yearning for more in their most ethereal being like never before.

The Mayana Spa facilties include the main gallery, 5 massage rooms (2 seafront view, 1 private, and 2 traditional huts, hydrotherapy villa, couples' cove with sunken hydro jet bath, and indoor shower and WC.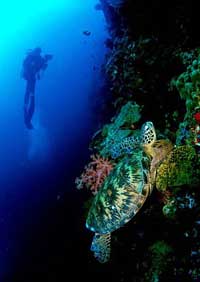 Diving & Snorkeling Bunaken and North Sulawesi
Manado is an exotic year-round dive holiday destination and an area of outstanding natural beauty. The lush coconut palms, sandy beaches and pristine reefs of the Bunaken National Park are set against a magnificent backdrop of volcanoes and teeming rainforests. North Sulawesi offers so many diving delights, including the famous and intriguing Lembeh Strait, home to scores of rare camouflaged critters. Said to be the epicentre for marine life, there are more species to be found here than anywhere else on the planet, with new discoveries being made every day.

Soft Adventures in North Sulawesi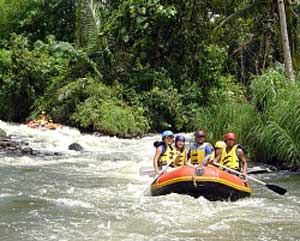 In addition to diving and snorkelling while staying at Bima Balo, you can also explore North Sulawesi's many natural wonders. Experience the cool mountain air of the flower city of Tomohon where you can enjoy the lively exotic market and enjoy local Sulawesi coffee with a slice of delicious coconut cake. Witness the many distinct churches filled with local worshippers. Then on to Lake Tondano where local restaurants, fringed by rice paddies, offer a refreshing retreat from the town.

For the more adventurous, white water rafting, hiking through the many farms, horse back riding and trekking in the rainforest of Tangkoko Nature Reserve are activities all within an easy drive of Kima Bajo. The Tangkoko Nature Rerserve is home to unique flora, birds and primates such as the Black Crested Macaques and the world's smallest monkey, Tarsius Spectrum.

Climate
The typical equatorial climate makes visiting this region possible any time of the year. The dry season usually starts in April through October but with global climate changes it is difficult to accurately predict the seasons. With average temperatures of between 26 and 28 degrees and humidity around 80%, even traveling during the wet season is pleasant.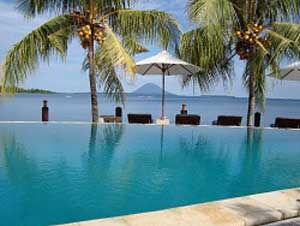 Kima Bajo Resort & Spa - Location and General Information
Manado is located at the north-western tip of the Indonesian island of Sulawesi, just south of the Philippines. Its people stems primarily from the Minahasans, while its heritage is interjected with Dutch, Spanish and Portuguese influences.
Bahasa Indonesia is the national language, but there are a variety of dialects spoken, with the majority of the population speaking Manadonese (a mixture of Indonesian, Malay and words from a few different European languages). North Sulawesi offers a wonderful combination of majestic volcanic mountain ranges, coupled with fantastic wall diving in the Bunaken Marine Park.

In spite the numerous developments in recent years and greatly improved air links, North Sulawesi remains relatively unspoiled and stunning in natural beauty and diversity of flora and fauna.

Kima Bajo Resort - Facilities / Services
Sea view swimming pool
Nibong Bar and Restaurant (see below)
Dive Centre
Mayana Spa
The Gallery – a mini library and TV lounge with board games
Room service from 7.00am – 9.00pm
Laundry Service
24 hour guest assistance
Private Romantic Dinner – on request
Private Beach BBQ – on request
Tours & Excursion assistance
Small yoga pavilion for self meditation
Unobstructed view of the sunset by the Pool
Private beach cove within a bay of volcanic therapeutic black sand

browse all escapes & hideaways
* NOTE. Prices indicated on this website are shown as a guideline only and may be subject to currency fluctuations, banking fees and other changes outside our control. Pricing information is available in
other currencies
.