Indonesia Escapes & Hideaways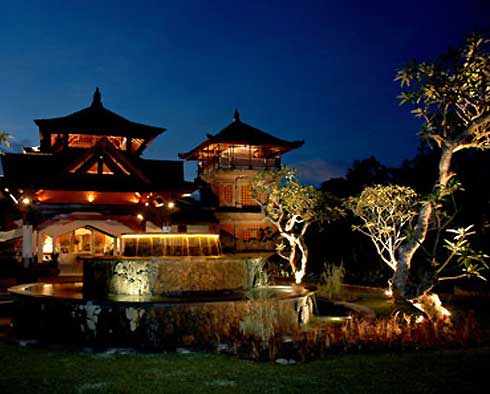 in the bush, Price upon request
Kamandalu Resort & Spa
Bali Ubud, Indonesia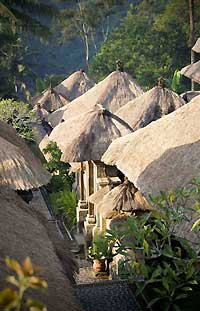 Kamandalu Resort & Spa is a five star boutique resort nestled in the emerald green rice terraces and the lush tropical mountains of Ubud, Bali, Indonesia, and takes the form of a traditional Balinese village.
The 58 luxurious villas of Kamandalu Resort & Spa blend harmoniously with the natural surrounding. Each villa is uniquely designed with a spacious bedroom, an indoor living space, a bathroom with a large sunken bathtub and a private tropical courtyard with an outdoor garden shower. Each villa overlooks the green valley of Ubud and has a private "Bale Bengong", Bali's famous day-bed. For the ultimate in privacy and luxury, some of the villas feature private free-form swimming pools.

Each of the Kamandalu's guest villas is uniquely designed and includes: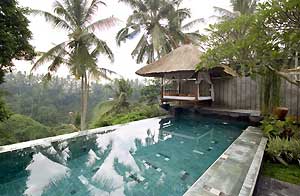 • Either a four-poster king bed or twin beds
• Air Condition
• A Personal Music System
• Satellite TV Programming
• Coffee and tea making facilities
• A Mini Bar
• An International direct dialing telephone
• An in-room safe
• A Hairdryer
ACCOMMODATION OPTIONS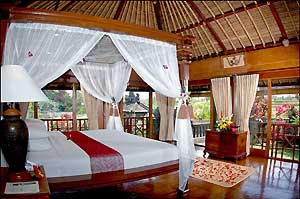 8 Ubud Chalets overlooking and surrounded by rice paddies
Size (m2): 114 m2
Bed Configuration: 3 with king sized beds and 5 with twin beds.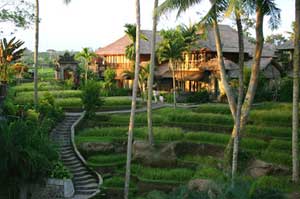 5 Duplex Villa (formerly Family Pavilion) - 10 bedrooms
All pavilions are combination of upper and lower bedrooms, ideal for a family or two couples traveling together. Surrounded by the terraced rice paddies.
Size (m2): 114 m2 x 2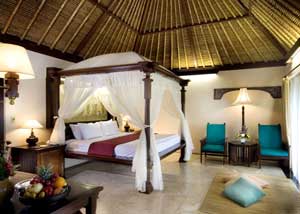 Bed Configuration: 5 pavilions with king sized beds and 5 pavilions with twin beds
19 Garden Villas, each with a panoramic view across Ubud's green valley and a day-bed.
Size (m2): 129 m2
Bed Configuration: 10 villas with king sized beds and 9 villas with twin beds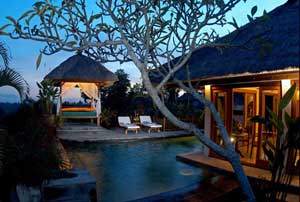 12 Pool Villas, all with large private free-form pools and day-beds.
Size (m2): 165 m2
Bed Configuration: 11 villas with king sized beds and 1 villa with twin beds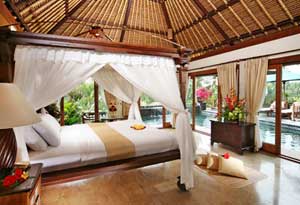 5 Deluxe Pool Villas, all featuring spacious bedrooms, separate living rooms, private free-form pools and day beds.
Size (m2): 300 m2
Bed Configuration: 5 villas with king sized beds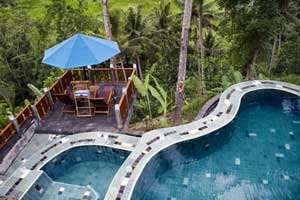 2 x Two Bedroom Pool Villas, each with two bedrooms, private free-form swimming pool and a day-bed.
Size (m2): 258 m2
Bed Configuration: one room with king sized bed and one with twin beds
Dining
Fine dining is an integral part of the Kamandalu experience. Exquisite Asian and Western seafood entrees, combined with the most succulent of tropical fruits and vegetables, are certain to win raves, as are heavenly dessert selection. And the ambiance simply couldn't be more delightfully exotic.
Petulu Restaurant

For a fresh morning breakfast or for a romantic evening, serving a delicious Asian cuisine, with a wide range of Western choices also available. Awarded the Best Restaurant of the year 2007 by Amex Indulgence & Indonesia Tatler Magazine (May 2007) & the Best Restaurant of the year 2006 by Indonesia Tatler Magazine (February 2006)

Seating Capacity : 50
Opening hours : 06:30 - 10:00, 18:00 - 22:30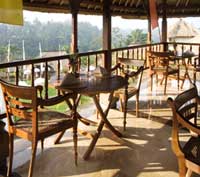 Cempaka Lounge
An ideal place for lunch in a relaxing atmosphere overlooking the valley and rice paddies.
Seating Capacity : 15
Opening Hours : 11:00 - 18:00
Swim Up Bar

The Kamandalu's swim-up bar serves cocktails and snacks in the middle of the swimming pool.

Seating Capacity : 6 
Opening hours : 08:00 - 22:00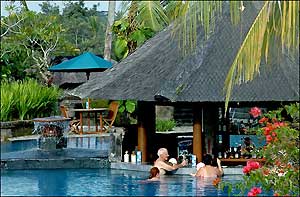 Villa Dining
Enjoy a private meal in your own pavilion or villa. Available from 11:00 - 22:00

Kamandalu Spa
The luxurious Kamandalu Spa offers traditional Asian healing principles combined with Western techniques for relaxation and rejuvenation.

Open from 9 am to 9 pm, facilities include:
1 Beauty Salon
1 Room with Sauna, Warm & Cool Jacuzzi for couples
1 Room equipped with sunken bath for couples
1 Riverside Spa for couples
1 Male Locker Room


KAMANDALU AROMATHERAPY OIL SELECTIONS

Relaxing: Vetiver, cananga and lavender. A shooting massage blend, which calms and relaxes all aspects of body, mind and spirit. Very beneficial for Scandinavian Massage.

Warming: Ginger, clove and cinnamon blend which warms the body and eases aches and muscular paint. Specially blended for Indonesian Massage and Stress Relief Massage.

Other Aromatherapy oils: lavender, yiang - yiang, orange, cananga, lemongrass, rose, rosemary or ginger.


Beauty Treatments

Pamper your skin and choose from a wide variety of treatments, including loofah scrubs, Javanese lulur and Thai honey facials. Spoil yourself with all-over body conditioning, starting from hair treatments to manicure and pedicure.


Hydrotherapy

Awaken your senses with invigorating water treatments that cleanse your pores and soothe your aching muscles. Enjoy hydrotherapy in combination with sauna, steam and hot or cold Jacuzzi, followed by a calming massage treatment.

Other features of the Kamandalu Resort & Spa:
Large free-form pool with a swim-up bar along with a children's pool.
Tennis court, floodlit for evening play
Games Room: Located on the lower ground floor of the main building.
White-water rafting, canoeing, surfing, diving and outing can easily be arranged outside of the resort
Complimentary scheduled shuttle service to Ubud center from 10 am to 9 pm
The Kamandalu Gallery offers Balinese arts and crafts as well as sundries
Service for children, baby cots and baby sitter services upon request
Internet access in room
Tour desk with hotel private car transfer and personal guide services
Postal service and foreign exchange facilities
High speed Wi-Fi Internet connection accessible from the Lobby, main swimming pool, Petulu Restaurant and Cempaka Lounge
In house doctor,10:00 - 16:00

browse all escapes & hideaways
* NOTE. Prices indicated on this website are shown as a guideline only and may be subject to currency fluctuations, banking fees and other changes outside our control. Pricing information is available in
other currencies
.