Thailand Escapes & Hideaways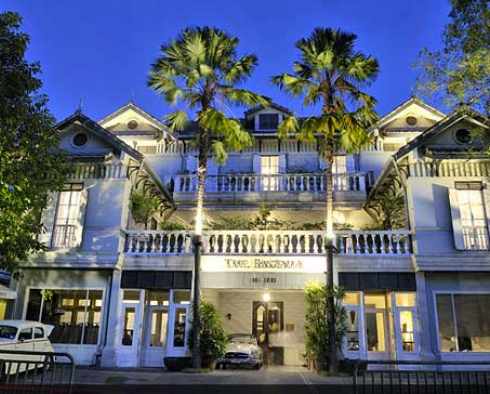 in town, Price upon request
The Eugenia
Bangkok, Thailand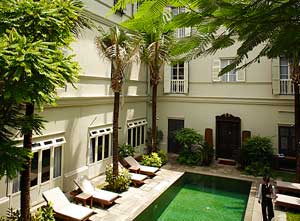 Managed by Lebua Hotels & Resorts, the 12-suite boutique hotel transports you to a more leisurely age, when privileged dilettantes sipped good coffee under swaying palm trees on balmy sub-tropical evenings. Surrounded by antique luxury, guests can enjoy the style and extravagance of a more genteel era, while also benefitting from a range modern comforts and innovations.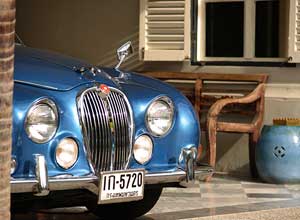 Accommodation
The cosy ambience extends through the suites, all of which are finely appointed with antique furniture and fittings, but also boast modern accessories like feather pillows and duvets, imported Belgian linen. The four poster beds, settees, dressers and desks in the suites date back hundred years and the period decoration even extends to the bathtubs, which are made of hand beaten copper and aluminium alloy.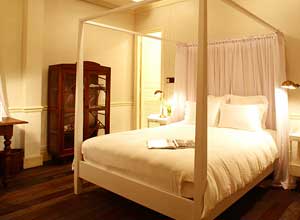 The Eugenia Suite
42 sqm
Queen size bed (double)
Entrance foyer
Separate bathroom with a copper bathtub
2 units
The Sawadee Suite
34 sqm
Queen size bed (double)
Entrance foyer
Separate bathroom with copper or aluminium bathtub
4 units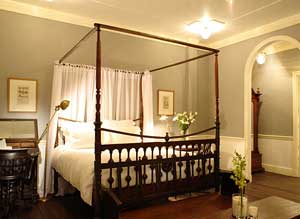 The Wattana Suite
34 sqm
2 single beds (twin sharing)
Bathroom with copper or aluminium bathtub
3 units
The Siam Suite
22 sqm
Double bed (double)
Bathroom with aluminium bathtub
3 units
Facilities
In keeping with the the graceful surroundings, The Eugenia by lebua offers exceptional, personalised service. The Front of House team is always pleased to meet your every request and do their very best to make your stay as comfortable and relaxed as possible.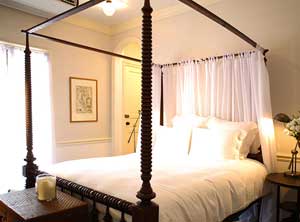 Special touches like a complimentary seasonal afternoon fruit-plate and soft drinks, plus WIFI internet, and free VOIP telephone calls ensure convenience and ease.
Relaxing amid legendary Thai hospitality, you can stay in touch with the world and share The Eugenia experience with friends online.
For recreation and indulgence, the garden pool, terrace and teak wood 'Thai Sala' exude a sense of private peace. While for more social moments, the lounge on the ground floor is the perfect place for travellers and local residents to gather and enjoy drinks and snacks, exchanging stories and making new friends in the exotic, colonial atmosphere.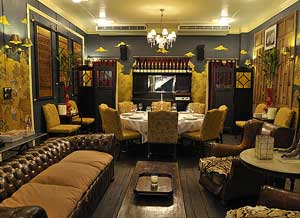 Dining
DB Bradley Restaurant
For lunch and dinner, The DB Bradley Restaurant is the perfect spot for inspired culinary adventures. The dining room is named after a Christian American missionary Dr. Dan Beach Bradley who arrived in Siam in 1835 with western ideas and later served as doctor, printer, writer, government advisor and the unofficial American Ambassador. He started the first non-government run newspaper, introduced vaccinations to the Siamese people, and even taught Kings Mongkut and Chulalongkorn.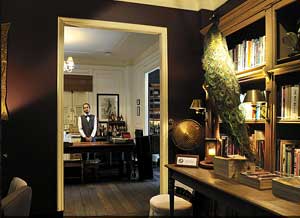 In the restaurant that proudly takes this visionary's name, diners enjoy an eclectic menu of international gourmet cuisine, influenced by fine Asian elements and served in style with gentle classical music providing a fitting soundtrack to the feast.
Events at The Eugenia
For your special party or event, you may rent the entire hotel (rooms and public areas), or just the dining room, the lounge and adjoining areas. We have catered for such events where the parties vary in size from 20 to 150 persons with international gourmet a la carte, canapes, tapas, or buffet, a full bar, DJ or "live music".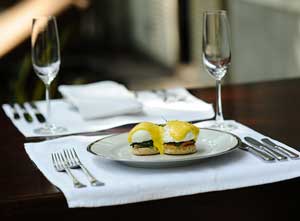 For smaller events in a cosier atmosphere, you can book the Private D.B. Bradley Dining room able to receive from 8 to 20 people. Any decoration, candles, flowers, ambience can be arranged for you to make the event more personal, according to your expectations and mostly unforgettable.
browse all escapes & hideaways
* NOTE. Prices indicated on this website are shown as a guideline only and may be subject to currency fluctuations, banking fees and other changes outside our control. Pricing information is available in
other currencies
.