Thailand Escapes & Hideaways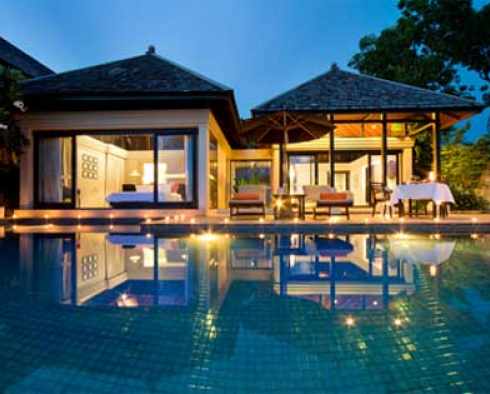 in the bush, Price upon request
The Phuket Pavilions
Phuket, Thailand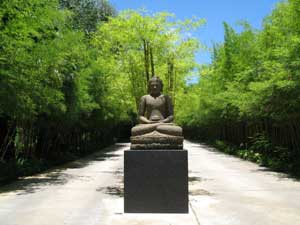 LOCATION
Phuket, the exotic pearl of the Andaman Sea, was voted by The New York Times as the "Number One World Luxury Destination Of The Year" in January 2009. This tropical paradise's glory is in its marvelous coastline, which is fringed with white powdery beaches and tranquil broad bays, bathed by pristine blue waters and set against a backdrop of green hills, coconut groves and rubber plantations.

The Phuket Pavilions is situated just a short drive from the airport, yet hidden away in lush seclusion, perched on a hilltop overlooking the Layan Beach area.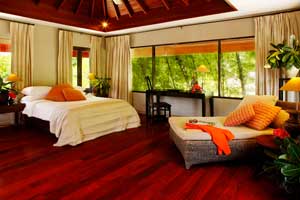 ACCOMMODATION
Private Pool Villas
Arrival at your villa at The Pavilions is one of life's delights. Step through the luxuriant gardens to a home designed to delight the senses. You'll find an airy Asian design with elegant touches of Europe. Indulge in the extraordinary space… revel in this precious time together.
Tropical Pool Villas
The Pavilions Tropical Pool Villas are magnificent hideaways set amidst lush tropical greenery, with unparalleled privacy. Indulge your passions and savour the freedom of cooling dips with no tan lines. Your romantic outdoor sala leads into your private pool. These villas offer 310 square metres of tranquil space: places to dream, to rejuvenate, to love.
Ocean View Pool Villas
These luxuriously spacious villas overlook Phuket's Layan Beach, with breathtaking ocean views. Skinny-dip from your private sala to the edge of your pool and drink in the views of tropical landscapes and the ocean below. With 310sqm of total privacy, there is plenty of space to rejuvenate and indulge the senses.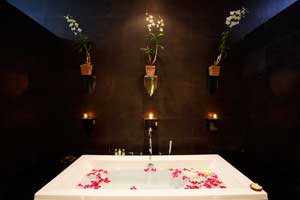 Plantation Pool Villas (Opening in Nov 2010)
18 Magnificent Plantation Pool Pavilions are named after the tropical rubber plantation on the original site; much of which has been preserved. Set within a terraced hillside, these magnificent modern Asian pavilions are accessible by a cable-driven funicular. Aside from the breathtaking views of the lush-green landscape, each Pool Pavilion has a generous private infinity edge pool and an exquisite personal spa room, complete with a steam room and a private courtyard.

From the private pool to the romantic outdoor sala, the Plantation Pool Pavilions offer 275 sqm of total privacy and overlook sweeping valleys and a serene lake, and their interiors and private terrace pool areas are designed for luxurious intimacy.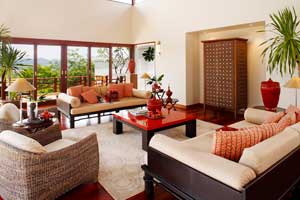 Last but not least, the pavilions include a most exclusive fully equipped private spa with its own steam room and outdoor courtyard, where staff access via a separate side entrance, ensuring guests' privacy is never compromised.
Plantation Pool Penthouses (Opening in Nov 2010)
The 6 Plantation Pool Penthouses are nestled atop a terraced hill and represent the very best in luxury living. These crowning architectural achievements offer two levels of total privacy and tranquility . Indulgent, intimate and romantic, they provide the perfect sanctuary for couples.

Covering an impressive 400 sqm, these residences offer unparalleled views of the surrounding tree-lined valleys and hills.

The interiors reflect the discerning taste of world-famous designer Rene Ozorio, who has beautifully combined a contemporary style with expert touches of Asian craftsmanship, creating a stylish East-meet-West balance in tribute to the location's Sino-Portuguese heritage.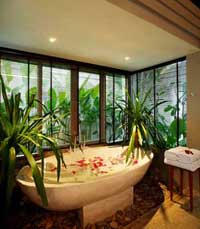 The ground floor comprises a spacious lounge-cum-dining room, guest bathroom, infinity pool, outdoor romantic sala and an expansive terrace. Upstairs, sliding doors separate the exquisitely appointed master bedroom and dressing room from the adjoining en-suite and free-standing Jacuzzi tub. The bedroom opens to an outdoor terrace where couples can lounge and fully appreciate the panoramic views.

***The Plantation Pool Villas and Penthouses include a most exclusive fully equipped private spa with its own steam room and outdoor courtyard, where staff access via a separate side entrance, ensuring guests' privacy is never compromised.
Three Bedroom Pool Villa
High on a hilltop overlooking lush green valleys, these villas are designed for escapes with loved ones. Sensually designed with utter privacy in mind, these modern Asian villas with their touches of European heritage, are devoted to the luxurious pursuit of relaxation. From the romantic outdoor sala to the large infinity pool, they offer 595sqm of luxurious space.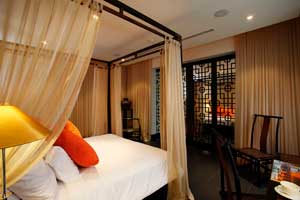 SPA PLEASURES
Spa pleasures are a seamless way of life at The Pavilions, Phuket. Your villa is a private spa sanctuary where you will be indulged with heavenly treatments designed to revive, refresh and pamper. The menu selections include highly specialized traditional Thai techniques as well as Western spa rituals.

The Pavilions, Phuket has selected Aromatherapy Associates as world leaders in products as effective as they are luxurious. You'll experience the difference with sensuous treatments using these precious essential products.
About Aromatherapy Associates
Co-Founders Geraldine Howard and Sue Beechey are considered pioneers of modern day aromatherapy.They have been sharing the therapeutic benefits of essential oils for over 30 years.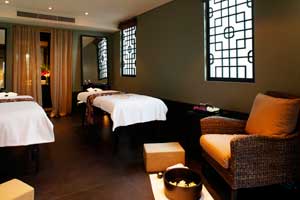 Starting out as therapists in the early 1970s, they were privileged to be involved in the emerging practice of aromatherapy. They experienced first hand the fantastic positive effects of essential oils on the physical, mental and emotional wellbeing of clients.

Every ingredient in every product has a positive role to play. They use bases such as regenerative Damask rose water instead of plain water. They also use vitamin and omega-rich plant oils such as jojoba, evening primrose and arctic strawberry seed oil, and shea and murumuru butters. These have a natural affinity with essential oils, helping them to work to their best potential. They support fair trade, organic and traditional agriculture and believe plants grown without chemicals have more benefits and fewer side effects for the skin and body.

Aromatherapy Associates do not use:
Mineral or sulphonated oils which can block the performance of the essential oils
GM ingredients
Sodium Lauryl Sulphate (SLS)
Petrolatum
Propylene Glycol
Synthetic colours or fragrance
Parabens
Ingredients that have been tested on animals – and we don't test our finished products on animals
Animal derivatives, except for silk and beeswax, which are animal by-products.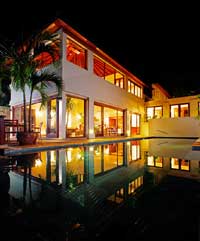 THE FOOD OF LOVE
Good food and delicious drinks add joy to the romantic journey. Come and enjoy your cocktails at a sunset ritual at 360° then relax with Asian and Western tapas, or dine on a balcony above a starlit landscape at The Plantation Club.

If you prefer the intimacy of your villa, The Pavilions has created some treats, from your 'dreamy breakfast' to signature 'love potion' cocktails, to candlelit poolside dinners, to tantalising sharing platters.
Experience The Plantation Club, a 'Grand Residence' which draws its character from another era and a gentler way of life. Reaching back to its origins and rubber plantation location, The Pavilions has created a Club for pure enjoyment. Inspired by the beautiful colonial houses on the trade routes, and by Phuket's rich trading history, it combines accents of Chinese and Portuguese heritage with the Southern Thai art of living. Perfect for delicious dining, evening drinks and lazy afternoons with Tiffin.

The Restaurant
Try an authentic selection of Thai dishes as well as colonial Mediterranean options and enjoy the cool breeze in the shaded balcony restaurant with sweeping views of the horizon. Watch the mist lift over the forest during the early birds' breakfast. Visit also the Bar, with cosy, intimate corers to chill with a drink and snacks and The Terrace for lounging with a cocktail.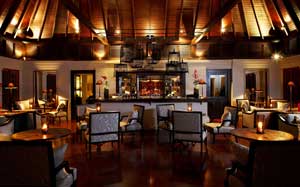 The Bar
Sink into the roomy armchairs and sofas and relax in the shaded sanctuary of The Bar. Amidst the swaying of palms, the slow breeze of air from the ceiling fans and the slatted views through wooden louvres, enjoy a cooling respite from the tropical sun.
Take a leisurely coffee with the morning papers or a light lunch over a good read. Afternoon tea is served with all the indulgences of cakes, sandwiches, scones, not to mention the cream and exotic jams!
Snacks and drinks by the bar, a nightcap over the hushed sounds of the jungle.

The Terrace
The perfect place for a sunset view over the bamboo forest, soft breezes swaying the lush green tree tops. The Terrace is a tranquil space where the elements are gathered to give you a sense of calm and serenity. An alfresco lounge, cooled by waterfall walls and alive with the sounds of nature.
Private Dining at The Pavilions is sweet seduction. Be tempted with a Champagne supper, or the resort's signature Love Potion cocktails at sunset. Indulge in a sensual Pleasure Platter for two... or take it slowly with a candlelit à la carte dinner on your dreamy terrace.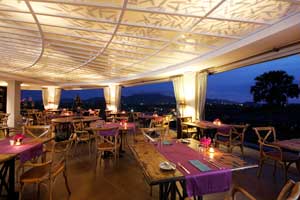 THE LIBRARY
A place for play, not work; the air-conditioned Library offers a fabulous library of music, books, and entertainment. Catch up with daily newspapers and magazines and browse the internet at your leisure. The resort has a charming collection of books and DVDs for your enjoyment. Take a little time out to indulge in a favourite classic, a provocative new work, a fascinating history or a little pure escapism!
FRANGIPANI
A haven of necessities and indulgences, the Frangipani Boutique offers those last minute essentials for your holiday, plus tropical fashions, accessories, Spa products and gifts. Choose Thai handicrafts and lasting happy memories with keepsakes from The Pavilions.
browse all escapes & hideaways
* NOTE. Prices indicated on this website are shown as a guideline only and may be subject to currency fluctuations, banking fees and other changes outside our control. Pricing information is available in
other currencies
.