Thailand Escapes & Hideaways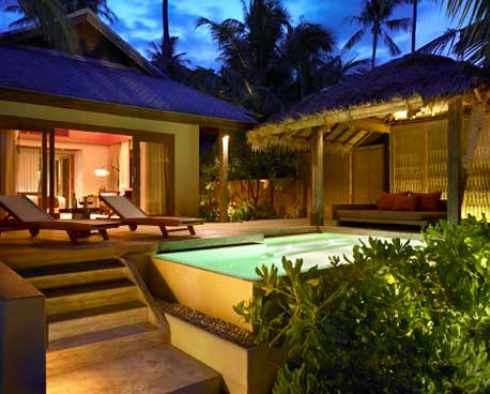 on the beach, Price upon request
Rasananda Resort & Spa
Koh Phangan, Thailand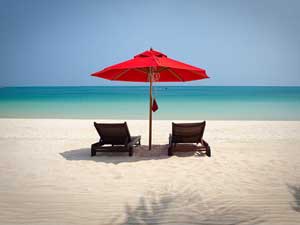 To some Rasananda is a dream. Yet for a chosen few, it is a journey to a hedonistic haven where the discovery of one's true self within an environment of unique handmade luxury set amidst a tropical landscape is as certain as the cool ocean breeze. Contemporary yet uniquely Thai, Rasananda is the ideal beach hideaway where romantic barefoot indulgence defines the tropical experience.
Explore new plateaus of enjoyment while relaxing beneath towering palms swaying gently in the sensual, sea breeze. Drift the day away in a warm gentle sea, wrapped in the comfort of the bay and witness magical sunrises that lead to days of personalized yet relaxed service. Days filled with the opportunity to do it all or do nothing at all.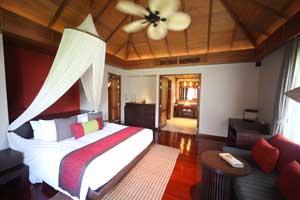 As guest, you will experience Rasananda's 'blissful dreams' mattress adorned with 500 thread count linens and indulgent comforts such as 32" flat screen with Apple TV, DVD, CD and home theatre accented by rich wood and stone as well as hand-woven silks. All Villas and Suites comprise indoor and outdoor living areas totaling a minimum of 100 square meters to more than 250 square meters of spectacular detail.
LOCATION
While well known around the globe for its world famous festivities, Phangan Island or Koh Phangan actually has isolated hideaways which bring the gift of tranquility to discerning travelers. Rasananda is an oasis of 44 villas and suites sprawled over 200 meters of sea-view frontage along the pristine white sands of Tong Nai Pan Noi beach, northeast of Phangan island, just 30 minutes away by private speedboat from Samui.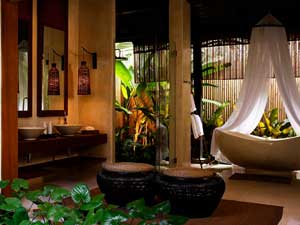 Aside from the most exclusive and secluded Ton Nai Pan Noi beach, other shores abound on the island which make for exciting beach hopping. There is the well known Haad Rin beach, which is most famous for the monthly "Full Moon Party"; Chaloklum bay by the fishing village of Ban Chaloklum; the popular Haad Kuat or "bottle beach"; and the coral reef beaches of Mae Haad. Most beaches around Phangan are suitable for swimming and relaxation and reachable by road and sea.
In addition to the breathtaking shoreline, the island is rich in waterfalls as well as natural flora and fauna, and is said to have been one of King Rama V's favorite forest parks.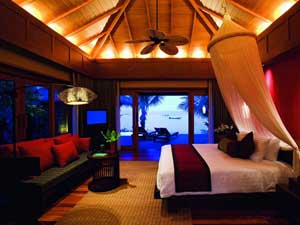 There are highly interesting spots for sightseeing as well, such as the historical Wat Kow Tham Temple, the 400 year old Wat Nai, and the Chinese inspired Kuan Yin Shrine. Check with your resort host for recommended itineraries and activities.
ACCOMMODATION
All rooms are equipped with a ceiling fan, rain shower, espresso machine, 32" flat screen LCD TV, Apple TV, a DVD player with home theater, CD/MP3 player, and an iPod docking.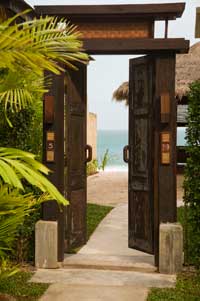 Garden Suite with Pool: 120 m2
For a spacious yet private experience at Rasananda, this suite is surrounded by high walls and an old wooden gate entrance, and offers 130 square meters of indoor and outdoor living space with a large terrace and sun beds; bordered by a tropical garden.
Garden Suite with Terrace Pool: 100 m2
The 2nd floor Garden Suite with Terrace pool has a large terrace with sun beds overlooking the tropical landscape and the horizon. This spacious, 100 square meter suite has a private pool at the edge of the terrace and offers an intimate setting including underwater seating with a whirlpool for 2.
Thai Villa with Pool: 180 m2
Uniquely designed, the Thai Villa with Pool is a 180 sqm. 2 story structure secluded by a high wall and antique wooden door entrance; which embodies the laid back atmosphere associated with Thai living style in the past; including an open air living space on the ground level endowed with large daybeds, a giant hammock, gardens, and a pool; and a bedroom on the higher level.
Lagoon Pool Villa: 140 m2
Designed for romance and seclusion, the 140 sq.m. Lagoon Pool Villa stands alone with its large wooden terrace and a sala with retractable doors for maximum privacy. Located on the lagoon wing blessed with extensive water and a tropical landscape.
Ocean Garden Suite with Terrace Pool: 100 m2
The 2nd floor Garden Suite with Terrace Pool is a piece of 100 square meter luxury with its own sun lounge; granting a perfect blend of privacy and sea-view from its 50 square meter pool terrace.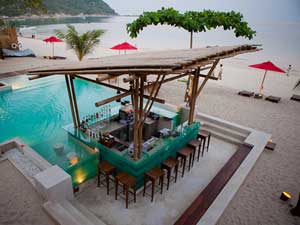 Ocean Garden Suite with Pool: 200 m2
Experience the pleasure of the sun and sand of the stunning shoreline without ever leaving your suite in the 200 sqm. Ocean Garden Suite with Pool; superbly afforded the luxury of a wide open pool near the beach, a sala with daybed, and a large tropical garden with a spectacular sea view.
Ocean Pool Villa: 260 m2
For the ultimate Rasananda experience, the stunning Ocean Pool Villa stands on its own, right on the beach with its massive 260 square meters of indoor and outdoor living space. Relax in your own large terrazzo tub or fall into silent rest in the bedroom overlooking the calm blue sea just steps away.
The villa comes with an open-air bathroom, a refreshing garden court, a private pool on a wooden terrace with a tropical sala and large daybed.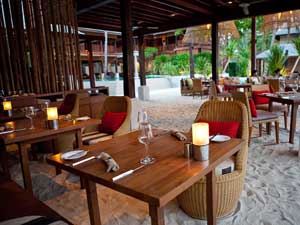 DINING:
There is nothing more memorable than the enjoyment of the silent sparkle of the perfect champagne with the one you love.
Cool ocean breezes and soft white sands make the perfect setting for the resorts signature dining outlet, Bistro @ The Beach. Al fresco and covered dining seaside with cuisine inspired by a blend of local techniques and Michelin trends fuse to create and experience that resonates with understated luxury all the while overlooking the sparkling bay and the central water garden.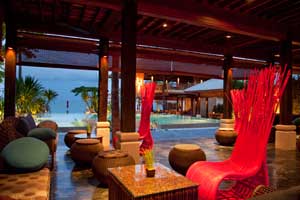 Red or White? Vintage or New World? The choices are yours at The Lounge offering an incredible selection of wines, champagnes and cigars. With more than three hundred bins, The Lounge is a connoisseurs' dream.
Dining at Rasananda is an experience. A feast for the eyes, a journey of the mind and a delectable treat for the palate.
SPA
Two-Day Wellness Journey
This wonderfully therapeutic experience will leave you calm and glowing from head to toe with an array of time-tested treatments to reinvigorate your entire body. No matter how you felt upon arrival, following this complete cleansing and relaxation treatment, you will be renewed and revitalized.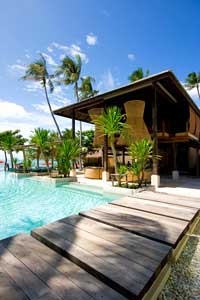 Tropical Steam - in our Steam Cave
Experience Rasananda's signature herbal steam treatments in a natural cave, with an array of medicinal herbs gently boiled and steeped in clay pots that bring countless benefits including detoxifying the body, cleansing the skin and clearing respiratory passages. The treatment is recommended before a massage, as the steam opens the pores to allow the therapeutic oils to be more effectively absorbed into the body.
Traditional Baths
The quintessential de-stressing experience.
Modern science is only beginning to understand the manifold ways that herbs affect the body and mind, but here in Thailand we have long known that our traditional southern herbal baths are the ultimate relaxant after a hectic day. With the water softened to a state of liquid luxury, the skin is softened and nourished at the same time. Experience the relaxation of soaking in a fresh herbal bath and the benefits of both aromatherapy and direct application of herbal nutrients to the skin for one of our most pleasant and healthy therapies.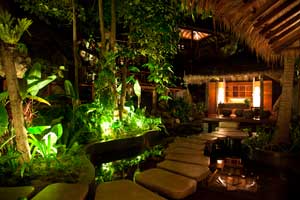 Yoga Session
Inspired by the Lotus Position or Padnasanam, these Yoga sessions reflect the growth stages of the lotus to best suit individual levels of adeptness.
Budding Lotus - The basic class guides you through the practice of Asana (postures), Pranayama (deep breathing) and Dhyana (meditation).
Blooming Lotus - This class deepens your understanding of Yoga and the philosophy and theoretical essences of Ashtanga (Eight Limbed) Yoga.
Blossoming Lotus - Suitable for serious practitioners of yoga, this class broadens your expertise with the integration of Yoga practice and philosophy for a harmonious life.
browse all escapes & hideaways
* NOTE. Prices indicated on this website are shown as a guideline only and may be subject to currency fluctuations, banking fees and other changes outside our control. Pricing information is available in
other currencies
.