Thailand Escapes & Hideaways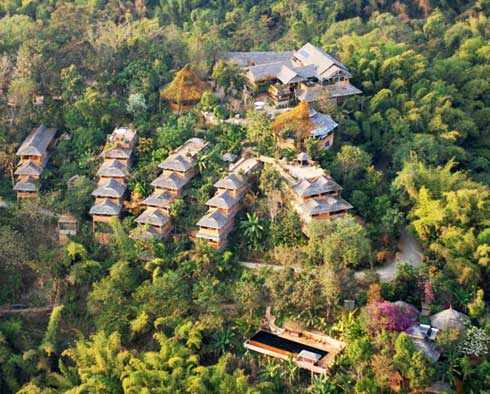 in the bush, From £92
Phu Chaisai
Chaing Rai, Thailand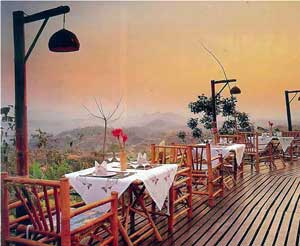 From the outside, this small and romantic resort is just a cluster of ordinary bamboo huts with thatched roofs, but once you step inside you realise that these huts are special. Devoid of brand name decorative items and expensive furniture, Phu Chaisai chose to build with local materials.
The air is just one of the many attractions of Phu Chaisai (Mountain of Clear Hearts), an enchanting little "boutique" resort l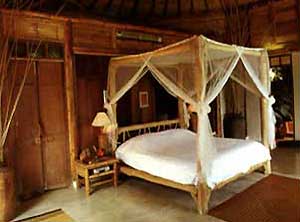 ocated in the hills outside of Mae Chan, in Chiang Rai Province of Northern Thailand. The relative silence is another. The breathtaking views afforded from the generous terraces and the bright and airy rooms, as well as most of the common areas, is yet another.
The resort is ideally for the traveller who wants to get away from it all without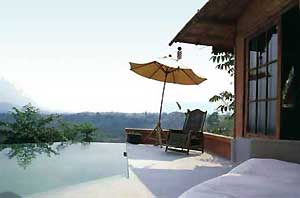 leaving the comforts of home, to get off the beaten track but without going to far. The rooms call "cottages", are stacked three high in seven hillside clusters and constructed in traditional hill tribe style with mud floors, bamboo walls, and leaf roofs.
All of the furnishings are made of bamboo, from the tables and chairs to the door handles and light fixtures, even clothes hangers and soap dishes.
Phu View Restaurant & Bar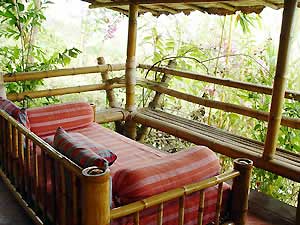 The open-air restaurant with a panoramic mountain views of Doi Mae Salong offers an extensive simple menu, but not too simple. The menu includes outstanding "Sai Oua" (Northern sausage) made from scratch, and even pizza and bread baked fresh daily. Most vegetable and herbs are grown organically on the property, with the goal of being as close to self-sufficient as possible.
Swimming Pool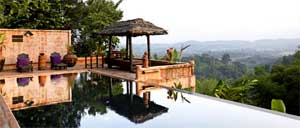 The swimming pool is modest – it is better described as a "wading" pool – but beautifully designed. There is also an outdoor lounge next to the pool with fully-stocked bar. This is a good spot to curl up with a holiday paperback in the afternoon or have small parties in the evening.
Phuchaisai Spa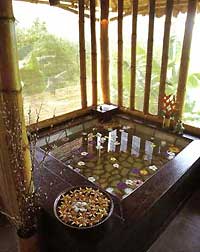 With treatment rooms in keeping with the resort's bamboo design, offering an extensive choice of health and beauty packages comprising proven treatments from Thailand and around the world.

The Spa utilises a whole host of herbal preparations, fresh ingredients and professional aroma therapy-based skin care to provide a tantalizing range of one hundred percent natural scrubs wraps and skin treatments. There is no better way to relax than to have your cares massaged away, as you enjoy the wonderful scents of Thailand in this unique open-air spa.

Fresh water from the surrounding mountains feeds the Phu Chaisai Spa at the Phu Chaisai Resort.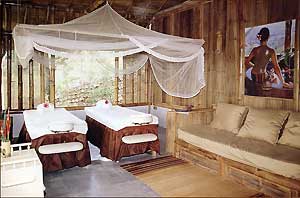 Built almost entirely from natural materials, with emphasis on bamboo, the spa's roof is tiles with local "tong tung" and what little concrete there is has a natural red tint from using clay.

The rural luxury of the Bamboo Spa provides a perfect escape in a tranquil setting, and all seven-spa rooms come with panoramic mountain views of Doi Mae Salong.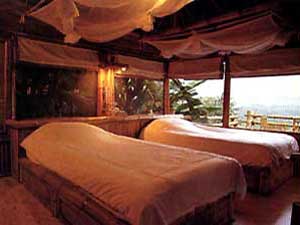 Attention to the tiniest details are evident everywhere, from the scent of lemongrass oil in the air and the rose petals floating in a pool, to the soft lighting – and even the rabbits that roam free in the spa's garden.

The spa can be defined as refreshing and rejuvenating for both body and mind. The long list of massages and facial treatments on the menu certainly attest to this.


Activities :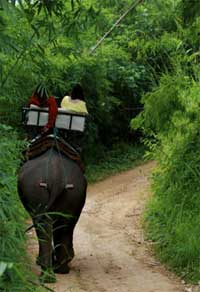 Elephant Rides: Phu Chaisai offers elephant rides through the local mountains and lush jungle. The shortest ride is 30 minutes around the resort. a longer 1 hr ride, you will take you to explore nature, visit a hill tribe village, and watch the romantic sunset from a hilltop.
Pottery Class: 08.00 – 17.00 hrs. (Clay is free of charge)
An in house professional potter is on hand each day at the pottery-making corner waiting to teach and advise anyone who wants tot turn their hand... and some clay... Thai style.

Thai Cooking Class (1 day advance booking is required): 1 hour
A great experience to learn famous Thai cuisine with Khun Nor, the Phu Chaisai's executive chef. Khun Nor will share with you her cooking secrets including ingredients, preparation and presentation tips of the most popular Thai dishes. At the end of the class, you can enjoy dinning on your creations in the Phu View restaurant.

Umbrella Painting Class: 08.00 – 17.00 hrs.
An uniquely Thai art, painting on paper umbrellas - make your own souvenirs to take home and the end of your stay.

Walk Rally & Trekking (1 day advance booking is required): 09.00 – 18.00 hrs.
Guided and Lead by professional local staff on a trekking tour from the resort to the Phu Camp where the delicious Thai lunch will be served. Sighting on the way flocks of teal and tea plantations, and experience tea picking and testing. Return to the resort from the Phu Camp by Bamboo raft and enjoy a romantic dinner at the Hilltop Villa.

Horseback Riding @ Sree Mok Farm: 1 hour
Enjoy horseback riding with Khun Mok, a well-experienced horseman who will teach you the ropes of riding a smaller breed of horse that is said to have come from Mongolia.
Depending upon your time available, you may visit some of these other natural attractions:
- Waterfall
- Tea plantation
- Rainforest
- Hill tribe village
- Mountain temple
- Mae Kham river

Nearby Tourist Attractions :
Chiang Saen
Chiang Saen was an ancient town located on the bank of Mekong River. Originally called Wiang Hiran Nakhon , it served as the main town before King Mengrai established Chiang Rai as the capital in 1262. Traces of the old double city walls and many other antiquities still remain both within and outside the district town.
The Golden Triangle
The Golden Triangle is about 9 kilometres from the Chiang Saen old town to the north. This is where the borders of three countries, Laos, Myanmar and Thailand, come together. There are remains of many ancient places and structures.
Doi Tung
Doi Tung is located in Mae Fa Luang district, about 2,000 metres above sea level. These include the Doi Tung Palace and the Mae Fa Luang Garden, Akha and Muser tribal villages. There are also viewing points and the Phra That Doi Tung Holy Relic, an old religious site atop the mountain.

Doi Mae Salong
This small hill town is renowned as the Tea and coffee growing centre of Thailand.
Rafting
Take your pick of the leisurely bamboo rafting on tranquil rivers in the North or the more exciting whitewater rafting.
browse all escapes & hideaways
* NOTE. Prices indicated on this website are shown as a guideline only and may be subject to currency fluctuations, banking fees and other changes outside our control. Pricing information is available in
other currencies
.