Thailand Escapes & Hideaways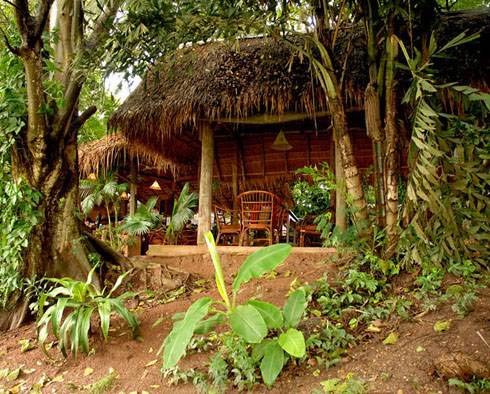 in the bush, Price upon request
Mut Mee Guest House
Nong Khai, Thailand
Mut Mee is a beautiful tropical tree filled garden on the banks of the Maekong River in the small border town of Nong Khai in the far north-east of Thailand, in the region known as Isaan.
Across the Maekong is Laos and its capital Vientiane is only sixteen kilometres away. Suitable for everyone... from the cool, young and intrepid... to my wonderful mother... and families with children...The lodge provides inexpensive and clean accommodation in houses around the garden and a restaurant serving delicious vegetarian and non-vegetarian Thai and Western food.
Nearby there is an Art Gallery belonging to Lisa, one of Mut Mee's owners. And Professional Yoga Masters Pancho & Beatrix offer Yoga, Reiki, Astrology & Meditation for much of the year.On hand are also Personal Fitness Training, a well stocked Bookshop, and a sunset Boat Cruise which leaves from the temple next door at 5.30pm every evening. It's an hour trip down to the ancient sunken chedi and back.
There are many attractions in Nong Khai, including the world famous Sculpture Park known as Salakaewkoo (with some sculptues reaching over seven stories high)... the Thai-Lao Taa Sadet Market...and the Phu Phra Bat Historical Park (site of ancient settlement and cave paintings under strange mushroom shaped rocks, which were inhabited more than 3000 years ago).Just to the south-east are the Wet Lands with giant Fishing Cranes and beyond are villages, lakes and a Silk Research Station which together make a wonderful one day bicycle or motorbike tour. To the west are the Flower Lands where commercial flower cultivation is the main source of income, once again easy to reach on a bicycle using the lodge's detailed maps.
Bicycles are available for hire at Mut Mee and motorbikes are just outside. Even cars (with driver or drive yourself) are easy to arrange & useful, especially if you're short of time and want to visit both the Sculpture Park and the Historical Park in one day.
Although there are all these things to do, still one of the nicest activities here at Mut Mee is simply sitting by the quiet river, relaxing and watching the water go by.
General Information
Name : Mut Mee - The Favorite Place
Destination : Thailand
Location :
Seasons :
Capacity (max no. guests) :
Accommodation
Room Types :
Showers & toilets :
A/C :
Hot Water :
Further Information
Electricity :
Fire warning system :
Fire extinguishers :
Fire escapes :
Entertainment :
browse all escapes & hideaways
* NOTE. Prices indicated on this website are shown as a guideline only and may be subject to currency fluctuations, banking fees and other changes outside our control. Pricing information is available in
other currencies
.