Thailand Escapes & Hideaways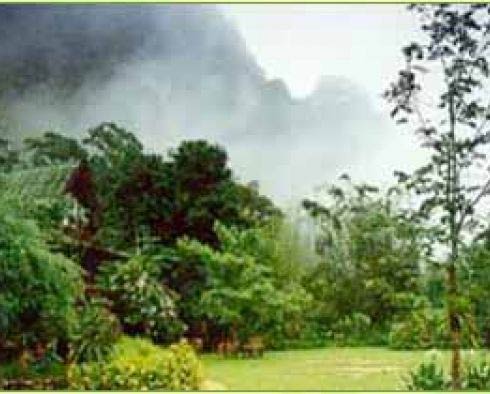 in the bush, Price upon request
Khao Sok Riverside Cottage
Khao Sok National Park, Thailand
Khao-Sok Riverside Cottages is a family owned and operated business located 1.5 Kilometers east of the Khao-Sok National Park Headquarters.
Khao-Sok National Park is famous among Thai and foreign travelers alike as a part of one of Thailand's largest national wildlife preserves. The Khao-Sok Riverside Cottages offer high standard housekeeping and comfort combined with delicious Thai food to make a perfect place to experience the wonders of the National Park.The cottages are constructed of natural slab wooden planks and are fully furnished. Each bungalow has either a large double bed or twin single beds, all with mosquito nets hanging from the ceiling. The pathways between the cottages are covered with river rock or are elevated wooden bridge style walkways. The restaurant is located beside the river and overlooks the banks of the river and the rainforest on the other side.
The Khao-Sok Riverside Cottages offer many activities and tours including Elephant Treks, Jungle Treks and River Tours. Packages are available which include meals and activities as well as lodging. We invite you to our cottages to inspect and sample our standard of service and hospitality.
The River
The Sok River is accessible all year round and can offer a great morning or afternoon's entertainment. Either by swimming, canoeing or floating along lazily on an inner-tube, the river offers a nice cool way to view the scenery and wildlife along the riverbank.
The Trails
The hiking trails inside and around the park are extensive and exciting. Some trails are maintained on a regular basis and can be the highlight of a stay at Khao-Sok. Marvel at the sites and sounds only found in the forest.
The Elephants
A very popular way move upstream and enjoy a different vantage point over forest from high at majestic Asian Elephant.
Khao-Sok Riverside Cottages has 12 thatched roof cottages each unique in size, shape and design. Some cottages have double beds and others have twin single beds. Although mosquitoes are not a major problem nets are provided over all of the beds. Windows may be opened on two sides of the room to enjoy the cool breezes that pass through the resort.
Elevated wooden plank bridges and river rock lined pathways allow pleasant strolls between cottages and restaurant and activities. The area of the resort borders the National Park and is very quiet. Often the only sound heard is that of the Sok River that flows gently past the restaurant and joining meadow.
General Information
Name : Khao Sok Riverside Cottage
Destination : Thailand
Location :
Seasons :
Capacity (max no. guests) :
Accommodation
Room Types :
Showers & toilets :
A/C :
Hot Water :
Further Information
Electricity :
Fire warning system :
Fire extinguishers :
Fire escapes :
Entertainment :
browse all escapes & hideaways
* NOTE. Prices indicated on this website are shown as a guideline only and may be subject to currency fluctuations, banking fees and other changes outside our control. Pricing information is available in
other currencies
.