Thailand Escapes & Hideaways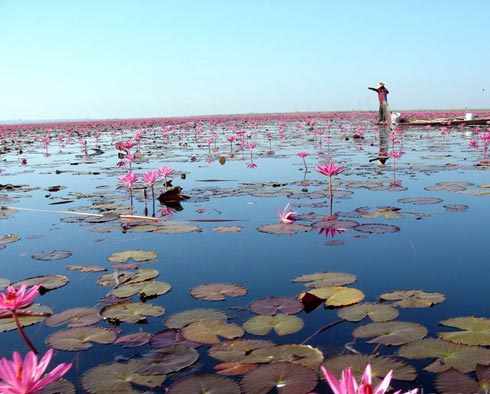 in the bush, Price upon request
Gecko Villa
Udon Thani, Thailand
Located between three small rural villages, Gecko Villa is a private 3 bedroom house, nestled amongst paddy fields in Thailand's Isaan plateau, available for rent.
In the rural heartlands of Thailand's Northeast, yet easily accessible by road, rail or air, Gecko Villa is an ideal place to relax in complete privacy amongst the emerald paddy fields, and savour the forgotten rhythms of rural life.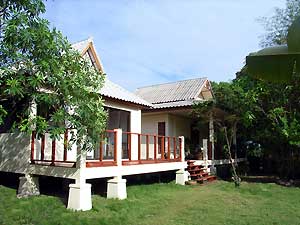 Gecko is set in over 60,000sqm of private grounds, with a walled garden and a large variety of mango, banana, passion fruit and other plants including chillis, papaya, galangal, herbs and more. The villa is fully catered and serviced.
Accommodation:
Gecko Villa's large air-conditioned Master Bedroom features a teak wood King Sized bed, en suite toilet & basin area, and adjoining garden shower. The second air-conditioned bedroom also has an en suite bathroom and shower.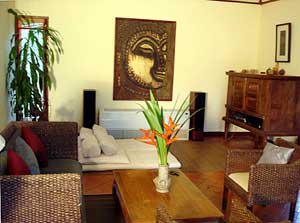 The large air-conditioned living & dining room, with Satellite TV (BBC, CNN, TV5 etc.), CD player and sound system, has extensive wooden decks and outside seating. Water hyacinth sofas and armchairs with comfortable cushions, as well as cotton futons, offer plenty of space to relax in comfort, whilst the large indoor dining table is just the place to enjoy indoor meals and conversations. Additional sleeping arrangements can also be made here.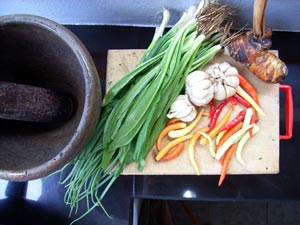 The Villa has a fully equipped kitchen with refrigerator, freezer, kettle, coffee maker, hob and oven. Outdoor barbecues can also be arranged.
Further extensive wooden decks and outdoor hardwood tables, chairs and benches also permit guests to enjoy outdoor meals, or to relax with a drink al fresco.
The private swimming pool is finished in hand-made tiles, in mottled hues of green from celadon to emerald.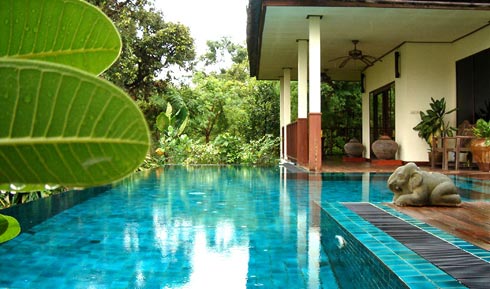 Activities around Gecko Villa
Learn to cook Thai food
Learn how to cook Thai food, concocting sumptuous dishes you can later recreate at home. Try your hand at Isaan specialities such as Spicy Beef Salad with Mint (Laap Neua), and Green Papaya Salad (Som Tam), or try traditional central Thai dishes such as Spicy Prawn Soup (Tom Yam Kung), Grilled King Prawns with Chili, Lime and Coriander (Kung Pao) etc. There is no charge for this!
Explore the surroundings
Go walking (or take our bicycles) and explore the surroundings, rich in temples & villages, lakes & farms, and the listed wetlands of Nong Harn. Participate in the giving of alms to monks, or enjoy a local "Puk Xieow" ceremony. Or fish at the large nearby lake and photograph original scenes & characters. Should you wish to visit the local school with your children, please do not hesitate to ask!
Learn to drive a Skylab - or Isaan "Tuk Tuk"

Skylab is the local name for the motorized rickshaws that constitute such a feature of rural life in northeast Thailand, where they are used to carry any number of goods to market: frogs or chickens, plump mangoes or knobbly jackfruit, noodles, fresh vegetables or huge sacks of chillies. The name derives from NASA's skylab that re-entered earth's orbit in 1979. Getting to grips with a Skylab can be an unnerving experience, but the private grounds of Gecko Villa are a safe place to brave an attempt! The more sane may prefer to experience the skylab as a passenger - an authentic way to surprise the villagers as you go local on the way to the market.
Join the rice planting or harvesting!

Help us plant or harvest the green or golden rice fields - some local rice whisky may help you along. Perhaps you would like to try your hand behind the plough, or even try to ride a water buffalo.
Rockets, Dancing, Drinking...

Watch the rocket festival; join in local festivals and experience the rhythms of Mor Lam dancing. And if learning our language and culinary secrets gets tiring, enjoy our food and rice whiskey and listen by your pool as cicadas take the pulse of the night...
Thai Massage
Relax by the pool and indulge in an hour or two of traditional Thai massage. The local village practitioners will be happy to massage away your aches and pains (approx THB300 / hour.)
Muay Thai

Should you be interested in Thai boxing, The Gecko Villa staff will be happy to arrange for a retired championship boxer to put you through your moves, and show you a few new ones...
Fireworks & Field Mice!
For special occasions, the Gecko Villa will be happy to organize a firework display for you or arrange for a late night session of field-mouse hunting with muskets, accompanied by the local champion! If you dare not eat your catch, you can always enjoy a rice whisky instead!


Ban Chiang & its Museum

The National Museum & Dig Site displays antiques, including earthenware pots from 4,000 to 7,500 years old. "The most important prehistoric settlement so far discovered in SE Asia" (UNESCO).
Na Kha Village is famous for its hand woven cloth, and Na Yoong Nam Som Park for its 30 metre waterfall. At Phu Phra Bat Park see pre-historic paintings over cliff faces; caves, caverns & relics.


Nong Khai lies on the banks of the mighty Mekong River, opposite the Lao capital, Vientiane. Catch the spectacular Longboat Races if you can!


The Road to Loei: an adventurous trip by bicycle or car follows the Mekong river along the Lao border to the town of Loei, with dramatic hilly terrain, jungle views & waterfalls.
Golf
There are five golf courses near Udon Thani: 

Victory Park near Nong Khai (18 holes - 4 x par 3, 10 x par 4, 4 x par 5)
Sri Thani (9 holes - 2 x par 3, 5 x par 4, 2 x par 5)
Udon Golf Club (At KM18 to Nong Bua Lamphu) (9 holes - 2 x par 3, 5 x par 4, 2 x par 5)
Airforce (Lions Military) (9 holes - 2 x par 3, 5 x par 4, 2 x par 5)
Army (Nong Samrong) (9 holes - 5 x par 3, 2 x par 4, 2 x par 5)
Action and Adventure / Extreme Sports:
Skydiving, parachuting, microlight and ultralight flights may be arranged together with climbing wall fun.
browse all escapes & hideaways
* NOTE. Prices indicated on this website are shown as a guideline only and may be subject to currency fluctuations, banking fees and other changes outside our control. Pricing information is available in
other currencies
.