Thailand Cooking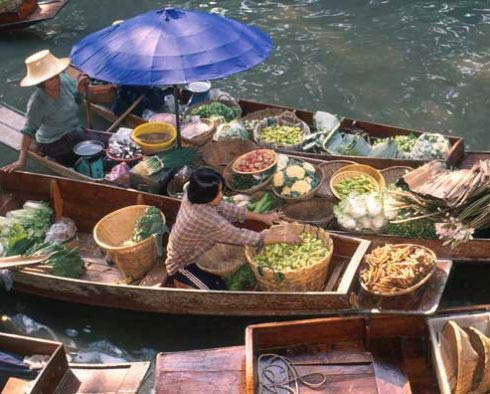 From £955 per person*
A Feast of Thailand
Overview
|
14 Day Bangkok, the North & the South
Thai Food for Thought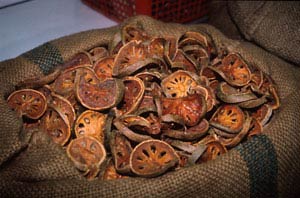 Take a gastronomic tour of Thailand's finest restaurants, including a candlelit dinner while sailing on Bangkok's majestic Chao Phraya River. Visit the kitchens and witness the chefs in action.
Allow us to guide you through the bewildering maze of roadside hawker's stalls where lies a treasure trove of delicious regional and local epicurean delights.
Thought for Food
Participate in workshops at the best Thai cooking schools, including the evocative "Thai House" in Bangkok's Nontaburi district (pictured), or the famous Oriental Hotel next to the river. Master the intricate techniques used by the country's most celebrated chefs in the preparation and presentation of fine Thai food.
Saunter through local markets, the heart and soul of Thai living, where hoteliers, restaurateurs and family folk congregate each morning. Learn to recognise the myriad of Oriental herbs and spices, vegetables, fruits and seafoods, and realise the art of careful selection. Visit citrus groves and pineapple plantations.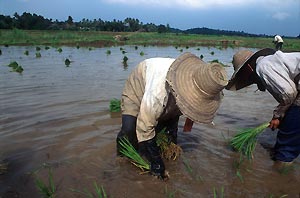 Marvel at the ingenious network of ducts and channels that irrigate Thailand's innumerable rice terraces. Inspect fish and prawn farms which supplement the fisherman's catch to ensure an abundant supply of the freshest produce.
Visit the enchanting Damnoen Saduak floating market where everything from fresh vegetables, fruit and seafood to cooking utensils are traded by women in flat-topped straw hats.

Savour a plate of steaming curry from a passing sampan as the boat ladies skilfully jostle to manoeuvre alongside potential customers.
A Serving of Thai Culture
Make a pilgrimage to the most revered Thai temples, resplendent Thai palaces and ancient Thai monuments. Compare the differing architectural styles of the past dynasties. Make merit by offering food to saffron-robed monks on their early morning alms round. Applaud the subtlety and grace of the Kingdom's top performers of classical Thai ballet as they entertain you over a kantoke banquet of northern Lana cuisine.
Browse the countless shops and ubiquitous market stalls displaying the finest arts & crafts and visit artisan villages to observe the craftsmen at work.
A Taste of Adventure
Journey by elephant to the mountain villages of the ethnic Akha, Hmong, Lisu, Lahu, Mien or Karen, each sporting their own highly distinctive and colourful tribal costumes. Join them for lunch on simple hilltribe fare.
Ride the rapids by bamboo raft with our experienced navigators as the river snakes its way through spectacular mountain scenery.
Explore the infamous Golden Triangle, renowned for its fields of brilliant poppies, and a bustling frontier town linking Thailand with neighbouring Burma.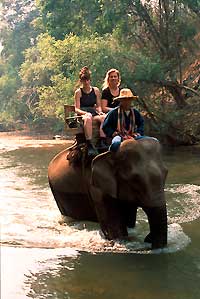 Safari by 4WD jeep through dense jungles, mountain forests, rubber plantations and National Parks. Picnic on some of the rural favourites of the south. Paddle kayaks through the dramatic seascapes of Phang Nga Bay - home to "James Bond" Island - where spectacular limestone formations jut vertically out of the sea. Or in Khao Sok National Park where tropical rainforest tumbles right into the water, and gibbons, macaques and hornbills play overhead.
Scuba dive or snorkel amongst the kaleidoscopic tropical fish and vibrant living corals that fringe the warm waters of the Andaman Sea.
A Relaxing Tonic
Be invigorated by a herbal steam sauna and authentic thai massage at a secluded jungle hideaway. Discover the healing qualities of prae root, a traditional nature therapy, and refresh yourself with herbal teas and fresh tropical fruit juices.
And for Dessert....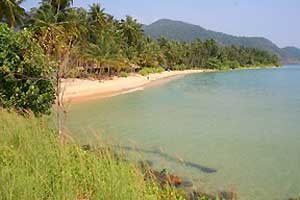 Golden sunshine, turquoise seas and some of the best beaches in the world.
This menu represents just a selection of the wonderful things to see and do in Thailand and, as such, is a "moveable feast". Email us to discuss how we can create a Feast of thailand to suit you.
Notes
This is a tailor made holiday concept which can be adapted and tailored to meet your dates, preferences and passions. Please contact one of our bespoke holiday planners to create the ideal itinerary for you.
* NOTE. Prices indicated on this website are shown as a guideline only and may be subject to currency fluctuations, banking fees and other changes outside our control. Pricing information is available in
other currencies
.