Thailand Birdwatching
Price upon request
Southern Thailand Kayaking Expedition
Despite the development that has taken place in many parts of Thailand over the past decade, there are still many spots of awesome undisturbed natural beauty. Kayaking is one great way to discover life away from the roads where nature is left to flourish.
This kayaking expedition takes you to two very different such places, both of them designated national parks, where the wildlife and natural environment remains pristine.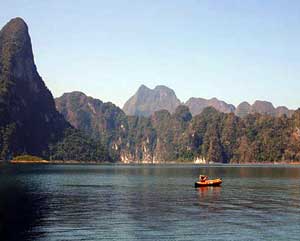 Khao Sok National Park is an area of rainforest with a vast lake created by a dam. Because it was already a protected area before the area was flooded, there is no human encroachment along the lakes shores, offering us an unparalleled opportunity to get close to the forest while remaining silently on the water. The wildlife appears to be unconcerned by our presence and thus the results are spectacular!
Long-tailed macaques, pig-tail macaques, dusky langurs, banded langurs, up to five species of hornbill and even gibbons are seen on almost every trip. There are too many other bird species that you will see to mention here. Orchid lovers will find countless species clinging to the trees in the shallow waters.
Accommodation is in floating raft houses tethered close to the shore, and your bath is a dive in, climb out, soap down and dive in affair - truly back to nature.
Despite its remoteness, the raft's chef produce excellent Thai food and there is always a supply of cold beer!
This component can be taken on its own if you do not have enough time for the whole trip. See Khao Sok Bird & Wildlife Adventure.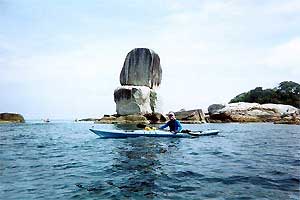 Part 2 of the expedition takes us out to sea to the Tarutao National Marine Park. A different kind of nature experience here with numerous uninhabited islands fringed with sparkling white sand beaches set in turquoise waters.
Tarutao is a marine national park is on the border between Thailand and Malaysia. In fact, Langkawi, one of Malaysia's most popular beach destinations, is just five miles from Tarutao.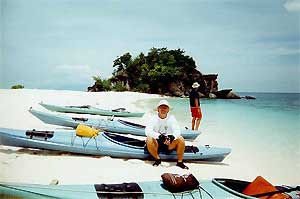 Designated by UNESCO as an ASEAN Heritage site, Tarutao consists of 51 islands, including seven large ones. The main island, Koh Tarutao, features tidal rivers, old-growth mangrove forests, old-growth hardwood forests, primary nipa palm forests (this palm's fronds are customarily used for roof thatching), limestone karst islands and lots of wildlife. Crab-eating Macaques (monkeys) are common on Tarutao. We often see them walking the mudflats at low tide searching for crabs or whatever else they can eat. Dusky langurs, cute black monkeys with white rings around their eyes, are common too. We frequently see monitor lizards. They get as big as 60 pounds and as long as six or seven feet! We do see a huge one occasionally, but the smaller one are much easier to see.
There is a park headquarters with bungalows where we land. The long beach in front of the park adds much beauty to an already stunning scene. A tidal river next to the park is where we do our first bit of exploring. Actually, you could spend several days exploring just this one area. We paddle in a mangrove forest beside steep limestone cliffs. There are lots of birds in the mangrove. Brown-winged Kingfishers, bright orange birds with brown wings and a blue back, are often seen. Oriental Pied hornbills and Southern Pied hornbills regularly cross over the mangrove channels or soar along the side of the massive limestone mountains. Greater Ratchet-tailed Drongos, medium-sized black birds with two very long tail feathers, flutter between trees at the park headquarters in their constant search for insects.
Some of the islands outside the park have small fishing communities whose lifestyles have scarcely changed in centuries, offering us a cultural encounter that is becoming increasingly hard to find.
Scuba divers might consider extending their stay in Thailand to take a 4 day liveaboard dive trip to the world class dive sites of the Similan Islands National Park, further north - famed for whaleshark and manta ray sightings.
Notes
This is a tailor made holiday concept which can be adapted and tailored to meet your dates, preferences and passions. Please contact one of our bespoke holiday planners to create the ideal itinerary for you.
* NOTE. Prices indicated on this website are shown as a guideline only and may be subject to currency fluctuations, banking fees and other changes outside our control. Pricing information is available in
other currencies
.