Papua New Guinea Sports & Adventure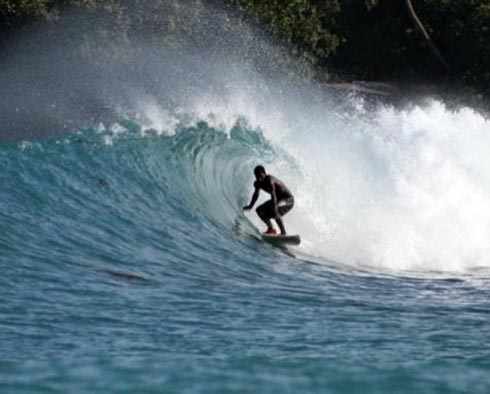 Price upon request
Surfing Kavieng, New Ireland
Kavieng is located just a couple of degrees south of the equator, and during the northern hemisphere monsoon, the north coast and the string of island leading to the west, enjoy uninterrupted North Pacific Ocean swells, ideal for surfing. The peak surf season extends from November through late April.
Kavieng and its environs form part of the Bismarck Archipelago, an extensive chain of islands with fringing coral reefs. Kavieng is reasonably well known for having access to a good range of quality left and right breaks in relatively close vicinity. All breaks are reef breaks, and vary in their degree of difficulty, depending on the size and direction of the swell, and the depth of the reef. A surfer's paradise with consistent swells between 3 - 5 foot, getting up to 6-8 foot and sometimes bigger. All breaks can be surfed on most tides and the set ups vary depending on conditions.
The Kavieng area hosts the Kavieng Surf Club (KSC), which is affiliated with the Surfing Association of Papua New Guinea (SAPNG). In an effort to promote sustainable development of this growing sport, the Kavieng Surf Club manage and oversee the Kavieng Area Surf Management Plan, essentially a surf quota system which limits the number of visiting surfers to 20 per day. This limit is for the whole Kavieng area, regardless of where the surfers stay, with prescribed base fees generated and dispersed between the KSC, SAPNG, and the resident communities adjacent the resource.
This Management Agreement is not exclusive to Kavieng, as other forms exist in other parts of Papua New Guinea, with the aim of fostering local club development, community development initiatives, good relations and just as importantly, sustainable surfing development and a truly unforgettable PNG surfing experience.
It is necessary to book into the quota prior to arriving in Kavieng, as it does book out well in advance, as you would imagine. When making your booking with us, we will confirm availability within the surf quota, and book you in on your behalf.
With 9 breaks in the Management Plan, and only 20 surfers plus a handful of local surfers, waves are guaranteed to be uncrowded.
Most of Nusa Island Retreat's guests are in the older age bracket (35-60) who have travelled to many surfing destinations around the world, and are looking for uncrowded waves. So although they are very experienced surfers, they are not looking for the huge, gnarly waves that young surfers search out.
Nusa Island Retreat operates 6 long boats to access the breaks, and surfers need to prepay Surf Transfers for the duration of their stay. This transfer fee allows unlimited boat access to all of the breaks within the Management Plan area. There are no set transfer times, as boat drivers are available to take you surfing whenever you want to go surfing. Nusa Island Retreat tries to spread groups around the different breaks, rather than piling you all onto the one peak, but essentially you choose where you want to surf. The boat and driver stay with you at the break for the entire period that you are in the water, ready to return you to the retreat when you are ready.
Nusa Island Retreat is the only accommodation facility in the Kavieng area that caters for surfers by providing boat transfers to the breaks, so the majority of surfers do stay here.
SURF BREAKS
PIKININI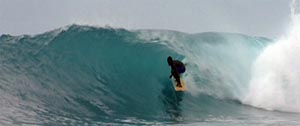 Extremely fast, heavy barreling, very shallow right-hand coral reef break. Given the right conditions and swell direction, waves can peel for up to 200m. Works best on a low to mid-tide, with a west to north-west swell direction. A mini Kirra. Reef boots are a must.

NUSA LEFTS (also known as KARANAS)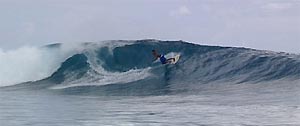 Situated across the harbour from Pikinini, Nusa Left is a fast breaking, very reliable barreling left-hander that jacks up out of deep water, with a very shallow end section. It works best on mid to low-tide with a westerly swell direction and an easterly wind. Keep an eye on the outside bomby, as this can also be ridden on the right conditions.

NAGO ISLAND
This picturesque little island has both a left and right-hander. The left-hander is a bit of a wave magnet and very consistent. A great hotdog, fun wave that has a nice tubing inside wall section. Likes low to mid-tide as it can be a bit fat and break too close to the inside ledge on high tide. It does not like too much swell, but can still be fun on a light onshore. This is one of the most surfed breaks in the area. The right-hander on the other side of the island has a very fast, long wall. It likes a mid to low tide, is a little inconsistent, but a great ride when it's on. Keep an eye on this break when the swell comes up.
EDMAGO ISLAND
Edmago is a smaller island situated South West of Nago, in between Nago and Ral. It has a very good quality left-hander, given the right swell and wind direction and is best at mid-tide. The right-hander is also best at mid-tide and can pick up more swell than the left.
LONG LONGS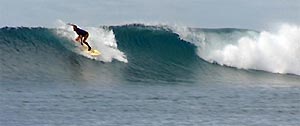 A right-hander, good on a big swell. Works best on a mid-tide with a north wind. Long Long is a more forgiving wave than most of the other reef breaks. The water is deeper and long rides, with a nice wall, ending with a hollow bowl section can be had. Good for long boards and mid size fish fun boards and twin fins.

RAL ISLAND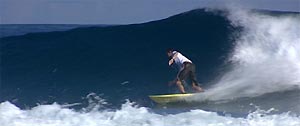 A small, uninhabited island situated further out to sea. A great place to go if there is no swell anywhere else, Ral attracts more swell than the other breaks in the region. Best surfed on small, clean swells, the right-hander can at times be peaky like a beach break, and sometimes can line up like a point break. The left is not as consistent as the right, but worth checking. Both waves pack a bit of punch once the wave height gets bigger. Ral can also handle more surfers than most of the other breaks.
WHAT TO BRING
We recommend that you take a short board (6'0 - 6'4) and something a bit longer and thicker (6'8 - 7'2). Also a fun fish-style board for those slightly smaller and fuller days. Long boards are also suitable for some of the breaks.
Short and long sleeve lyrca rashies
Reef Booties
Brimmed surf hat
Spare fins & leg ropes
UV Solar Repair Ding Kits
Tropical Warm Water Wax
Good quality sunscreen, up to 50+
Well stocked medical kit
Please remember that you will be surfing reef breaks and that most end sections need to be negotiated with care. Pull in, but don't forget to pull out!!
* NOTE. Prices indicated on this website are shown as a guideline only and may be subject to currency fluctuations, banking fees and other changes outside our control. Pricing information is available in
other currencies
.