Laos River Cruises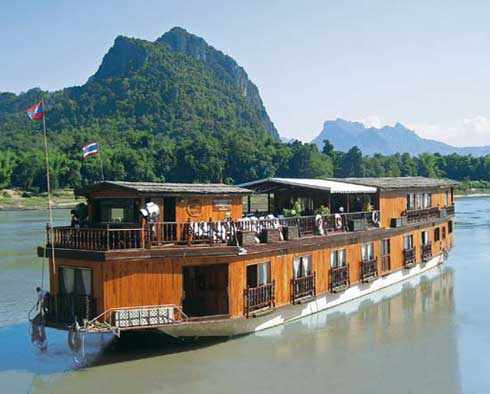 Price upon request
Mekong River Cruise, Northern Laos
Overview
|
Luang Prabang/Vientiane
|
Luang Prabang/Golden Triangle
|
Luang Prabang Round Trip
|
Vientiane/Golden Triangle
Choose where you sleep
RV Mekong Explorer

RV Mekong Sun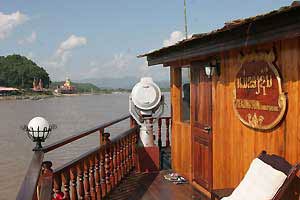 The Mekong Sun is the first river cruise boat designed to operate on the unpredictable waters of the upper Mekong between Chiang Saen in northern Thailand in the heart of the Golden Triangle, to the royal city of Luang Prabang and the Laotian capital, Vientiane.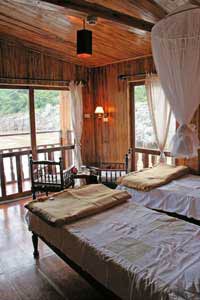 On the Mekong Sun there will be no captain's dinner or any entertaining games like bingo. Rather, guests may make land excursions to encounter the lives of the local people who live along the river banks with visits to villages and rural temples. On board there is an optional programme of educational talks and films, such as on the French Mekong Expedition of the 1860s, the daily life of a Buddhist novice or the plants and fruits of the Mekong region, to help you to enhance your appreciation and enjoyment of the local culture.

The exclusive river vessel Mekong Sun (built in 2006) enables you explore in comfort a region that has until now been hard to reach. She sails over 450 miles through fantastic river landscapes, passing by World Heritage Sites and aboriginal villages.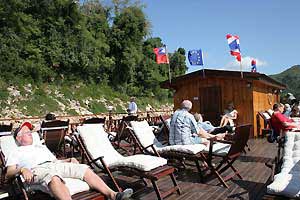 The upper Mekong is one of the most difficult rivers in the world to navigate. The Mekong Sun manages to master tight gorges, labyrinths of sandbanks and can ride safely through violent chutes. Water levels are prone to drop about 2 m overnight. On this part of the Mekong quiet and calm parts of the river alternate with most dramatic and exciting shore sceneries: Tropical lush green mountains, impressive rock formations and secluded villages along the river banks.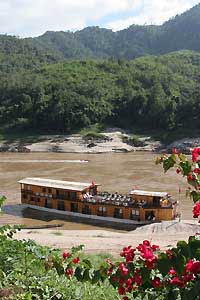 Your journey includes visits to the lovely UNESCO World Heritage Site, Luang Prabang, one of the most beautiful towns in South-East Asia, travelling along the secluded and impressive landscapes in northern Laos and into the once notorious region of the Golden Triangle.

Kindly note: Every river cruise on the upper Mekong is a pioneering experience and is subject to ever changing river conditions varying from flood waters to shallows. Therefore, changes to the itinerary or schedule are not unusual and each journey will be individually adapted to ensure that all highlights are included.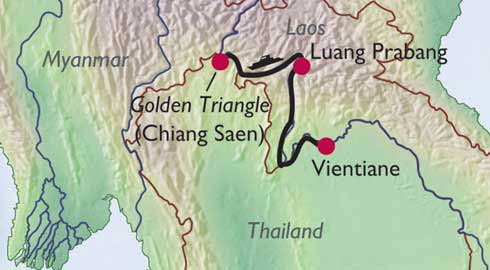 Notes
This Mekong River cruise can be incorporated into a Symbiosis tailor made holiday to Laos that can be adapted and tailored to meet your dates, preferences and passions. Please contact one of our bespoke holiday planners to create the ideal itinerary for you.
* NOTE. Prices indicated on this website are shown as a guideline only and may be subject to currency fluctuations, banking fees and other changes outside our control. Pricing information is available in
other currencies
.