Laos Nature & Wildlife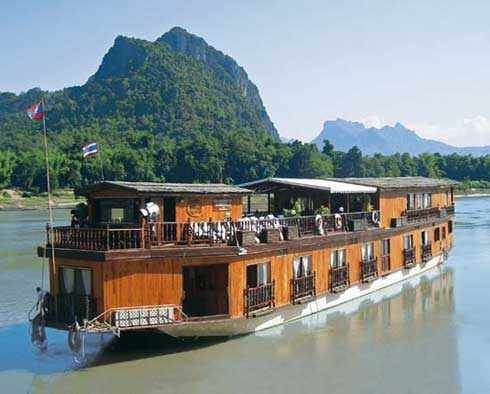 Price upon request
Mekong River Cruise, Isaan
Overview
|
Nong Khai/Mukdahan
In Thailand's north east, the Mighty Mekong River forms a border between the country's least developed and most unspoiled region, Isaan, and the exotic landlocked country of Laos. With relatively undeveloped infrastructure, a river cruise aboard a luxury house boat proffers a wonderful opportunity to explore this great river and the life along its banks.
The River itself varies in depth and flow rate depending upon the season, swelling during the monsoon season from June to October as local rains combine with melting snows descending from the Himalayas upstream.
During the dryer months from November to May, sandbanks appear making navigation an adventure while silting river banks bring lush richness to farmers living along the Mekong's route. This is also a time when fishermen compete to catch the world's largest freshwater fish, the Mekong Catfish.
A relic of the power struggles between ancient kingdoms on both sides of today's border, there are several ancient cities along the mekong's route with gilded temples displaying the differing achitectureal styles that reflect histroy's influences.
Notes
Every tour and river cruise along the upper Mekong is a pioneering experience and is subject to constantly changing road and river conditions, including flood waters and shallows. Therefore please understand that we must reserve the right to alter the itinerary of this cruise due to the logistical complexities involved. Small deviations in the tour program are sometimes necessary, depending on weather and river conditions. For safety reasons and according to navigating conditions, these programs may be amended without previous notice.
* NOTE. Prices indicated on this website are shown as a guideline only and may be subject to currency fluctuations, banking fees and other changes outside our control. Pricing information is available in
other currencies
.