Laos Escapes & Hideaways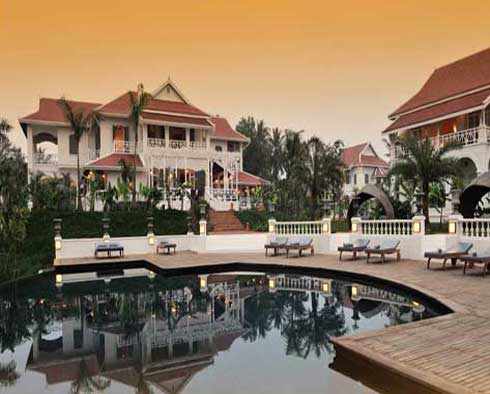 in the bush, Price upon request
The Luang Say Residence
Luang Prabang, Laos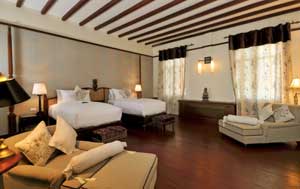 ACCOMMODATION
The Residence:
Boasting 24 exquisitely appointed luxury suites, The Luang Say Residence extend through 6 stand alone pavillions and offer a contemporary reflection of life in the French colonial era.
The foyer in the main residence is built from local stone, its diamond shaped interior reminiscent of houses from the colonial period. A wooden ornamental staircase rises through the centre of the lobby to an open floor where a skylight illuminates the space and draws in the mountain breezes.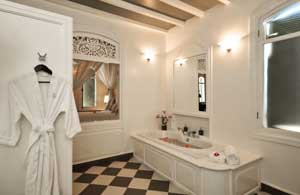 Each of the 5 pavilions behind the main residence was built using different materials such as brick, wood and cob (a mixture of clay and straw). The varied façades not only add character, but also place these inspiring pavillions in their historical context.
Nineteenth Century French explorers in the upper Mekong region played a special role in the discovery and development of Luang Prabang. Each pavilion therefore bears the name of one of these adventurers and includes a small memorial garden housing a fine bronze statue.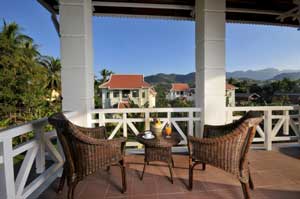 Pioneer Suites:
Each suite offers Twin or King Sized beds draped with cosy netting. Wooden trim adds a soft, elegant touch to the rooms and each suite boasts ample living space that includes a lounge area equipped with a writing desk and divan. Contemporary comforts include air-conditioning, a flat-screen TV, mini bar, in-room safe, hair dryer, bathrobe and slippers.
The Pioneer Suites offer soothing views from their open terraces and exterior lounges. Mountain scenery can be enjoyed from the 1st floor suites, while the ground floor suites look out onto the tropical grounds. Inside, private bathrooms also open onto intimate gardens with sliding windows providing natural light.
The walkway leading to the five pavilions passes over ponds flowered with Water Lilies, Heliconia, and bordered by Arekiers. The rest of the landscaped gardens boast exotic grasses and trees, with banana palms, royal palms, oil palms and fox tail palms, creating a peaceful, relaxing tropical retreat.
Explorateur Suites:
On the upper floor of the main residence, each of the four spacious Explorateur Suites displays its own unique character and decor. Connected by wooden corridors and a communal outdoor terrace, these extravagant one-bedroom suites can accommodate couples or small families in absolute comfort.
Each suite offers twin or king sized beds with ample living space that includes a lounge area equipped with a writing desk and divan. The Explorateur Suites come fully equipped with individual air-conditioning units, a flat-screen TV, personal mini bar and refrigerator, in-room safe, hair dryer, bathrobe and slippers.
The indulgent, spacious bathrooms feature oversized, egg shelled lacquer bathtubs, walk-in showers and double vanity units. The suites also have a modest entrance lobby and dressing room and open onto their own private, garden view terraces.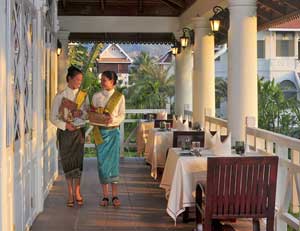 DINING
Restaurant "Le Belle Epoque":
La Belle Epoque at The Luang Say Residence sits directly behind the grand entrance foyer and affords guests wonderful views over the inspiring tropical garden.
Retractable window panels open up to welcome in the cooling mountain air, and diners can choose to enjoy their meal either inside or al fresco with a total of 50 covers guaranteeing every guest a table.
LEISURESBar, Library, Fumoir:
1861 at The Luang Say Residence feels like a traditional colonial cafe. Mirrors on the walls create an appealing sense of space and during the day the room is filled with natural light.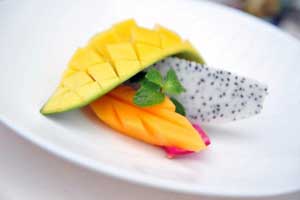 Original colonial era furnishings include studded leather sofas, marble tables, and traditional bistro chairs on the terrace. During cooler months, a marble fireplace warms 1861 while a modest library corner adds an intimate ambience.
In keeping with the heritage theme of the resort, 1861also features a display area with French and local ethnic hunting weapons, hunting trophies and photographs of Indochinese hunting trips. Insect collections and botanical boards about Laotian flora and fauna add a fascinating twist, along with historical maps of the region.
Fine wines come from around the world, while a range of enticing cocktails.
A seasonal, healthy and creative menu changes quarterly and features a tempting selection of regional dishes from Laos and other countries in South East Asia. Delicious local delicacies take diners on a memorable taste adventure.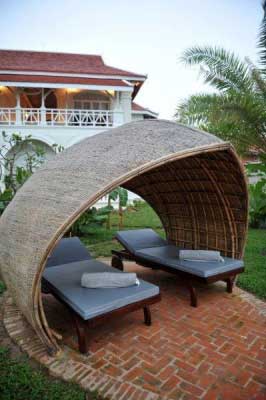 The Dining Room delights and surprises its guests with simpleyet sumptuous cuisine, attractively priced and served in impeccable surroundings. The heritage ambience and fine flavours also make the restaurant a popular venue for cocktail parties and special events.
Swimming Pool:
The 20 meter freeform swimming pool at The Luang Say Residence offers guests a cool, relaxing retreat. Cushioned sun beds are shaded with replica umbrellas once used when explorers rode elephants through the Laotian hills.
Surrounded by tropical foliage, with a friendly, helpful team on hand to serve drinks and snacks, a day by the pool is the perfect way to unwind or take a break from trips and tours around the town.
browse all escapes & hideaways
* NOTE. Prices indicated on this website are shown as a guideline only and may be subject to currency fluctuations, banking fees and other changes outside our control. Pricing information is available in
other currencies
.