Laos Escapes & Hideaways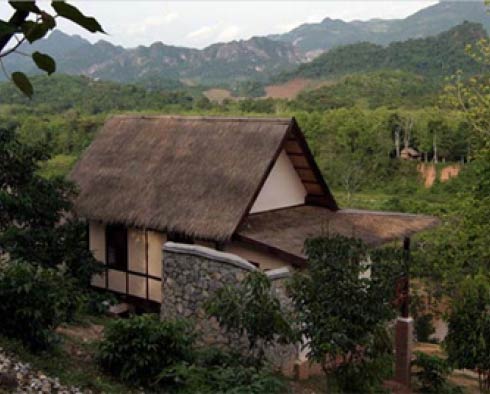 in the bush, From £61
Lao Spirit
Luang Prabang, Laos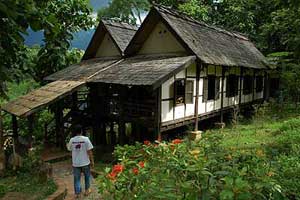 Surrounded by forest and just 15 km from World Heritage site, Luang Prabang, Laos, The Lao Spirit Eco is a delightfully appointed small eco-resort and a great place to stay for people who like to be absorbed by nature. Across the river is the Elephant Park Project, that provides a safe haven for retired working elephants while offering an opportunity for visitors to learn about this majestic giant mammal.
Lao Spirit is set by the banks of the Mae Khan river surrounded by lush green, mountainous scenery. 5 large well appointed, comfotable, locally designed and built bungalows blend in perfectly with the environment. Furnished with local antiguities and intricately carved wooden pieces, each has a large terrace on which to can enjoy the dramatic river sunsets.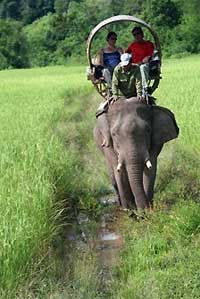 Though close to the city, a number of jungle based activities are available including elephant rides, river kayaking and treks to visit hilltribe villages.
The Lao Spirit Resort also boasts a German chef who specializes in both European and Asian dishes... he can even whip up a great buffalo fillet steak!
A great way to get to Lao Spirit from Luang Prabang is to rent mountain bikes and follow the unpaved roads along the Mae Kham River, passing through scenic rice paddies, mountains and several rural villages.
"This is a wonderful place to stay and great value for money. Great bungalows, friendly staff and a beautiful location. "Andy Twelves, Manchester, England Jan 13, 2007 - (source TripAdvisor.com)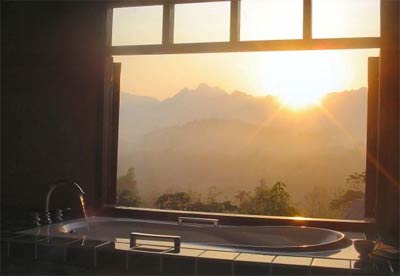 General Information
Name : Laos Spirit
Destination : Luang Prabang, Northern Laos
Location : about 30 minutes drive (13km) from Luang Prabang
Seasons : All year
Capacity (max no. guests) : 20
Accommodation
Room Types : bungalows: single / twin / suite
Showers & toilets : all rooms have private Showers and Toilets
A/C : Suites only
Hot Water : All rooms have hot water
Further Information
Electricity : 220v
Fire warning system : Y
Fire extinguishers : Y
Fire escapes : N/A
browse all escapes & hideaways
* NOTE. Prices indicated on this website are shown as a guideline only and may be subject to currency fluctuations, banking fees and other changes outside our control. Pricing information is available in
other currencies
.