Laos Escapes & Hideaways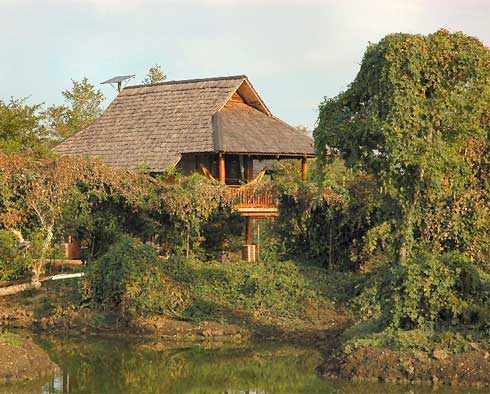 in the bush, Price upon request
Kingfisher Ecolodge
Champasak, Laos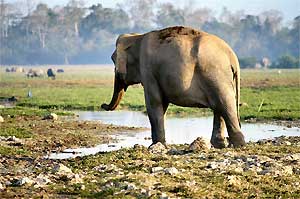 Set among lush wetlands, the bungalows and eco lodges at Kingfisher lodge have been built with traditional materials and large windows; with the aim being to offer spectacular views and complete immersion into the biodiversity that surrounds you. The simple, quiet environment at Kingfisher is perfect as a base for the numerous activities that they offer.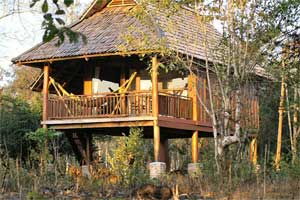 Traditional building materials and workmanship have been blended with modern concepts and architecture in the creation of Kingfisher Ecolodge.
The six double room, wooden stilt houses (30 sqm.) all have a glass frontages and a spacious veranda (14 sqm.), offering uninhibited views of the wetlands. This gives a great feeling of space and oneness with nature. They each have private bathroom with western standard facilities.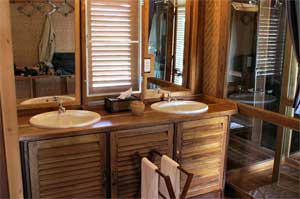 The hot water (solar powered) shower room, which is separated from the toilet area, is built to allow you a view through the front wall to the wetlands. The bungalow's lighting is supplied by an individual solar system or directly connected to the hydroelectric powered grid.
The "Eco" rooms are simpler and cheaper with shared bathroom facilities in a separate building, but all still have a view over the wetland and are built from wood and bamboo with lighting supplied by a mix of solar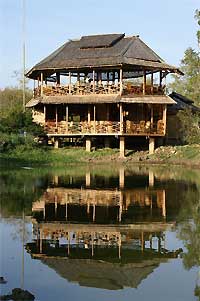 system and grid electricity.
All rooms have a ceiling fan and electrical plugs.
THE RESTAURANT
Kingfisher Lodge's open two storey restaurant, serving Lao and western dishes prepared mainly with organic food, is set up directly over a pond and overlooks the wetland area.

There is no television or music at Kingfisher Ecolodge in deference to the sounds of nature. It is, however, possible to connect to the internet and to make international phone calls.
ACTIVITIES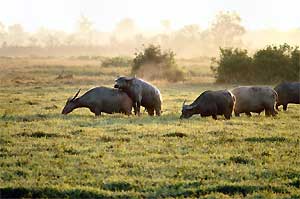 Elephant rides: Managed by the villagers of Ban Khiatngong, this activity will bring you to the top of Phou Asa or around the village and the wetland.
This activity is now an important source of income for the villagers and it helps them to avoid selling the elephants.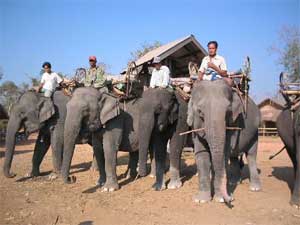 Elephant Riding School: four hours in one day (2 hours in the morning and two hours in the afternoon). In the first two hours you will learn the basics controls and, if the trainer will consider your skills appropriate, in the afternoon you will lead the elephant up to Phou Asa.
Jungle Elephant Safari: Starting from thethe village of Khiat Ngong, you will be led inside the jungle that surrounds the area. From the top of your elephant you will have a particular point of view of the dry dipterocarp forest that characterize Xe Pian protected area and experience the jungle environment while cicadas and birds sounds.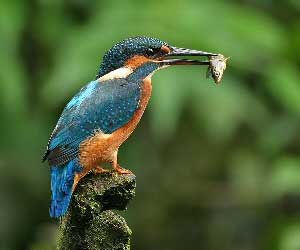 Trekking to Ta Ong village: During this two-day trek you will explore Xe Pian Protected area's diverse forests with knowledgeable village guides, who will teach you about its many medicinal plants and non-timber forest products and point out signs of wildlife (tracks, scat and habits).
Ride canoes or boats (water level permitting) up the Ta'Euang river viewing a variety of colourful birds, bamboo forests and, if you are lucky, monkeys too. In the evening, stay overnight in an ethnic Brow village, Ban Ta Ong, and enjoy traditional hospitality and local food in this remote and natural setting.
One Day Hike in the Forest: The trail will bring you inside the tropical forest that covers the surrounding area of this famous archaeological site, on the way back you will visit Phou Asa.
Birdwatching: a one-day trip to spot several exotic bird species.
General Information
Name : Kingfisher Lodge
Destinatio n : Laos
Location : just outside Ban Khiat Ngong, Pathoumphone district, Southern Laos
Seasons : All Year
Capacity (max no. guests) :

Accommodation
Room Types : Four double room stilt wooden bungalows (27 sqm.) with a spacious veranda (13,5 sqm.) set along the wetland border an d immersed in the wild growing flora of this area.
Showers & toilets : Bungalows have private shower room, 'eco'room share bathrooms
A/C : N
Hot Water : Y - solar powered
Further Information
Electricity : Yes - limited supply from generator & solar power
Fire warning system :N/A
Fire extinguishers : Y
Fire escapes : N/A
Entertainment : Nature! Elephant rides, jungle treks, mountain biking, walks...
browse all escapes & hideaways
* NOTE. Prices indicated on this website are shown as a guideline only and may be subject to currency fluctuations, banking fees and other changes outside our control. Pricing information is available in
other currencies
.