Thailand Nature & Wildlife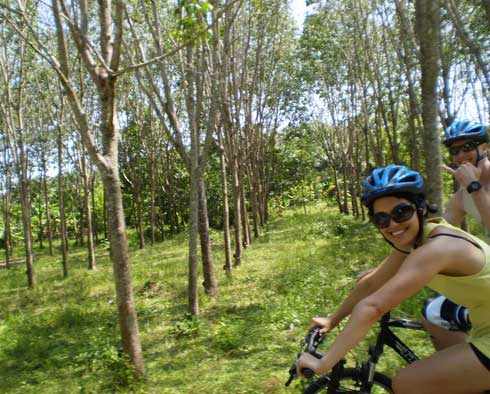 From £341 per person*
Khao Sok & Lake Lan Cheow by Bike
Overview
|
3 Day, 2 Night
This 3 day bike tour will have you traveling through three of Thailand's Southern provinces, Phuket, Phang Nga and Surrathani.
As you head away from the Andaman Sea and the ocean views, you will experience the spectacular beauty of the mountainous areas with dense green rain forest. The areas you visit and bike in are home to many birds and other wildlife, including Hawks, Hornbills, gibbons and monkeys to name a few. Wild tigers and Elephants also pass through these National Parks that form a corridor for the larger mammals of South East Asia.

You will be cycling through rubber tree plantations, old Thai towns and National parks along side rivers and waterfalls.

The Khao Sok & Cheow Lan Lake Adventure Tour is much more than just biking; on the second afternoon you will arrive at spectacular Lake that covers 165 square Kilometres, where you will have plenty of time to swim, kayak, hike, and take sightseeing trips via local long-tail boats on the lake to appreciate the scenery and spot the local wildlife.
A visit to some impressive caves with stalagmite and stalactite formations is also part of the program.

Trip Profile

This Biking tour combines on and off road riding. The on road riding is on well surfaced roads, while the off road trails on the first morning through rubber plantations are easy for all, regardless of their biking experience. In the afternoon you will get to tackle more off road sections within the Khao Sok National Park, where the trails are wide with some hilly sections. However a cool refreshing river awaits to cool you down.
The second day consists of on road biking with some hilly sections but none that are too steep.
Riders will followed by a support vehicle with the exception of the off road sections, when the support vehicle, full of refreshments and spare parts, is always not far away and within radio contact with your tour leader.

* For those wishing to join from or end in Khao Lak, will only visit two provinces, Phang Nga and Surrathani… which is the area where most of the cycling takes place anyway.

Notes
This cycle adventure can be incorporated into a Symbiosis tailor made holiday to Thailand that can be adapted and tailored to meet your dates, preferences and passions. Please contact one of our bespoke holiday planners to create the ideal itinerary for you.
* NOTE. Prices indicated on this website are shown as a guideline only and may be subject to currency fluctuations, banking fees and other changes outside our control. Pricing information is available in
other currencies
.