Thailand Fishing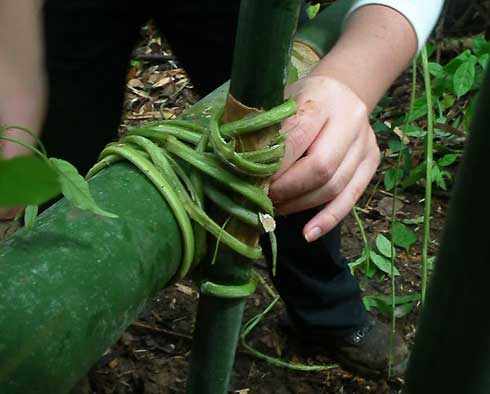 Price upon request
Jungle Survival Skills Training
Choose where you sleep
Khao Sok Floating Rafthouses
Exploring South East Asia's rich rainforests is a must for nature enthusiasts, but to also come away with a whole set of new survival skills will take the experience to a whole new level. What you will learn on this jungle survival course will sharpen your senses, restore a sense of enablement and self esteem dulled by years of consumerism, and may even one day save your life!


Thailand's History of Outdoor Survival Skills
One of the many things that impress visitors to Thailand is the ability of the locals to live off of the land. Today, most Thais don't have to rely on the jungle for sustenance, though they have retained much of their ability to identify wild edible and medicinal plants.

Wild Edible Plants & Jungle Crafts
In addition to knowing a lot about the plants in the jungle, many Thais still know how to make temporary shelters and many other jungle crafts that would make being lost in the verdant terrain… not so uncomfortable.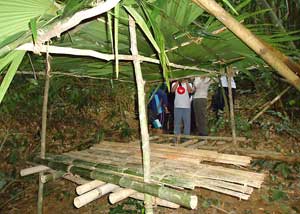 Our Jungle survival course guides are well-adapted to living off of the land. All came from simple backgrounds and fairly poor families and, growing up without access to modern technology, they have developed the skills to live in the jungles of Southern Thailand with the bare minimum of tools.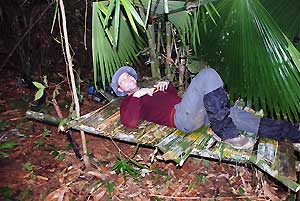 Unlike what is often portrayed on TV survival shows, you will learn how to conserve energy and not take chances. True survival is all about making decisions that affect your longevity, and a focus on safety is paramount to this end. You will not jump off of any cliffs, cross raging rivers, or scale rock faces to get a better idea about where you are located. That might make for more interesting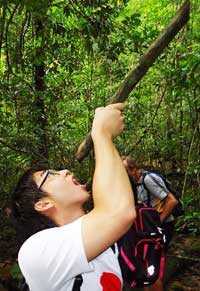 TV viewing, but it is not what you will do in a true survival situation.
Combining Jungle Survival with Wildlife Watching

We offer a variety of jungle survival courses in Thailand, one of which takes place in Khao Sok National Park. This course combines jungle survival with wildlife viewing from a comfortable kayak.

Conservation
As far as picking wild edible plants go, we would not pick any plant that is uncommon or rare. Rare plants will be pointed out, but not eaten. In other words, we'd only sample plants that are very common and that are capable of growing back rapidly.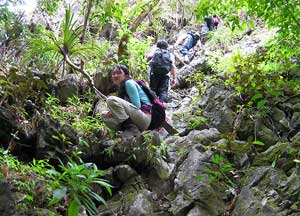 Luckily for you, there are many plants that fall into this last category. You'll get to eat directly from the jungle. Many of these plants are actually commonly found in the regular markets of Thailand!

We do not kill any animals. We will show you how to set up animal traps, but we do not actually use them to capture animals.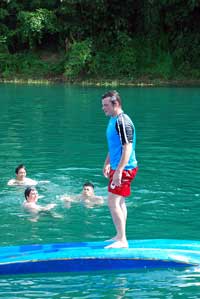 Our Jungle survival courses address the following:

Survival kit items
What to take
What not to take
Items specific to tropical conditions
Click here to see survival kit information
Water (avoiding dehydration is your #1 priority)
Learning to find water on land
Learning how to find water in vines
Finding water in bamboo
Conserving water
Transporting water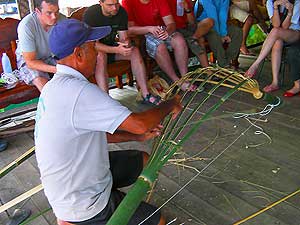 Fire
How to use a flint and steel (flint and magnesium fire starters)
How to make a friction fire with bamboo (see YouTube video)
The tinder > kindling > Fuel building schemes
Types of fires
Fires for warmth
Fires for cooking
Fires for signalling
Underground fires
Cooking basics
Strategy
Setting priorities (basic needs)
Preparing for the unexpected
Weather concerns
Food
Wild edible plant
Boiling water in bamboo
Fishing with hand lines and bamboo poles
Hunting weapons
Building traps and snares
Food preparation
Shelter
Finding suitable site
Types of shelters (including natural shelters)
Building shelters with only a knife and know-how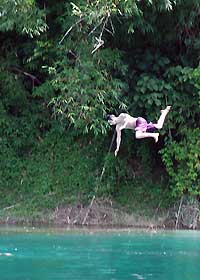 Rope
Making rope from plants
How to tie knots
Finding your way back
Reading signs
Determining direction
Reading weather
How to use a compass and map
Moving
Solo through the jungle
In a group
Planning food and water while traveling
Signalling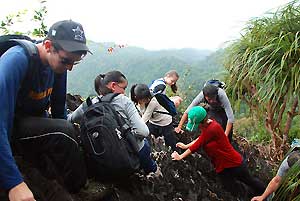 Our mission with this endeavour is to help you build the confidence to stay calm if you ever find yourself lost. You should be able to analyse your situation and figure out the best course of action.
Jungle Survival Destinations
You can choose from Khao Sok National Park where kayaking is included in the course. This is a comfortable way for you to see the jungle and experience one of the most beautiful national parks in SE Asia. This is the preferred destination for survival training as it offers the largest area of old-growth jungle in the region as well as hosting abundant wildlife.
* NOTE. Prices indicated on this website are shown as a guideline only and may be subject to currency fluctuations, banking fees and other changes outside our control. Pricing information is available in
other currencies
.