Thailand Birdwatching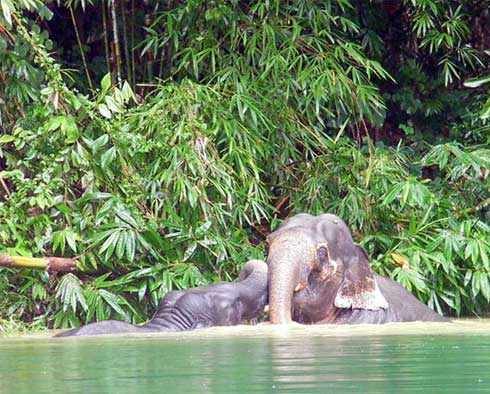 Price upon request
Khao Sok Bird & Wildlife Watching Adventure
Overview
|
What people say
|
Scheduled trips
Choose where you sleep
Khao Sok Floating Rafthouses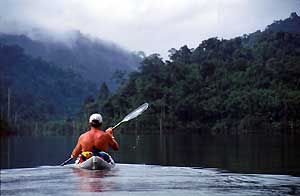 If watching a wide variety of exotic birds and other animals is a high priority for you, Khao Sok National Park is just the ticket. It is the ultimate wildlife sanctuary in southern Thailand. There are few places in South East Asia where there is such an abundance of wildlife and how relatively easy it is to see it. By using kayaks to quietly paddle along the shores and into forested inlets, the wildlife seems unafraid of us and it is amazing how close you can get before disturbing them.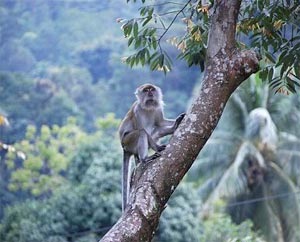 Monkeys are very common, especially Dusky Langurs. These gregarious black and silver monkeys are famous for their leaping ability. Luckily for us, they have defined arboreal pathways... just like our ground trails. This means that you can bet that if you see one make a leap, there will soon be others using the same branches.
Pig-tail Macaques, Long-tail Macaques and even Stump-tail Macaques are common in the park.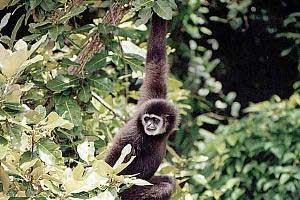 If you're into photography, this means you'll have a very good chance to get one of those once-in-a-lifetime wildlife shots!
White-handed Gibbons, an endangered species of ape, are common in the park. Their wacky morning calls will certainly surprise and entertain you.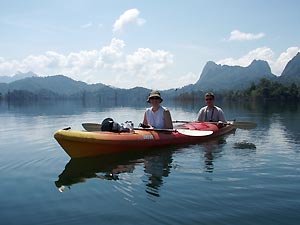 We have also seen other rare animals such as Malayan Tapirs, Serows (a type of mountain goat), Yellow-throated Martens, Asiatic Black Bears and Bintarungs (a cross between a bear and a cat).
Several species of hornbill are frequently seen at Khao Sok, including the Great Hornbill. This ancient bird is so big that its wings make a loud "whooping" noise when it flies. You can even hear them when they glide. Their massive yellow bills and the yellow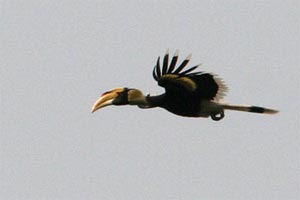 slash in their wings makes them very easy to recognise in flight. Interestingly, the way you tell the sexes is that the males have red eyes. Females have white eyes. The male also has a black area under the cask, the resonating sound chamber resting on top of the bill. The female's cask is solid yellow.
Common sightings besides the Great Hornbill include Bushy-crested, Oriental-pied, Wreathed and occasionally the very strange-looking Helmeted Hornbill. You will hear the bizarre call of the Helmeted Hornbill even if you don't see one. Their call is most unusual.
In addition to hornbills, a delightful variety of exotic tropical birds call Khao Sok home. If you're a birder, this place is pure heaven!
Plus, there are plenty of big ficus, dipterocarpus, leguminosae, mimosoidaeae and other emergent trees, as well as a good variety of epiphytic plant to discover.
You can also make hiking and mountain climbing trips in Khao Sok. There are trails of varying degrees of difficulty from very easy to extremely strenuous.
Trips to Khao Sok can be arranged on a personalised basis at any time of year - though expect to get wet during the monsoon season between May and October - particularly August/September. We also have a number of scheduled, join-in departures for individuals to join.
* NOTE. Prices indicated on this website are shown as a guideline only and may be subject to currency fluctuations, banking fees and other changes outside our control. Pricing information is available in
other currencies
.